"La scienza non funziona mai come ci si aspetta: è questo il suo lato più affascinante…"
Il nostro viaggio comincia da qui, dalle parole che lo scienziato Nikola Tesla rivolge a Robert Angier, uno dei protagonisti del film The Prestige, diretto da Christopher Nolan. Un film profondo, straordinario e magico. Concetti che si sposano molto bene con la serie tv Westworld prodotta dall' HBO.
Le due opere infatti presentano similitudini concettuali e analitiche non troppo latenti. Una vigorosa stretta di mano tra il grande schermo di ieri e il piccolo schermo di oggi. Un treno fumante che percorre gli stessi binari e deraglia, nella medesima direzione. Una direzione tetra,angosciante e per nulla piacevole.
Gli uomini di scienza, accecati dalla magia del progresso, non riescono a scorgere il ghigno diabolico che si cela dietro alle loro creazioni. Allo stesso modo, essere schiavi delle proprie ossessioni, porta inesorabilmente al più infelice degli epiloghi, senza via di scampo.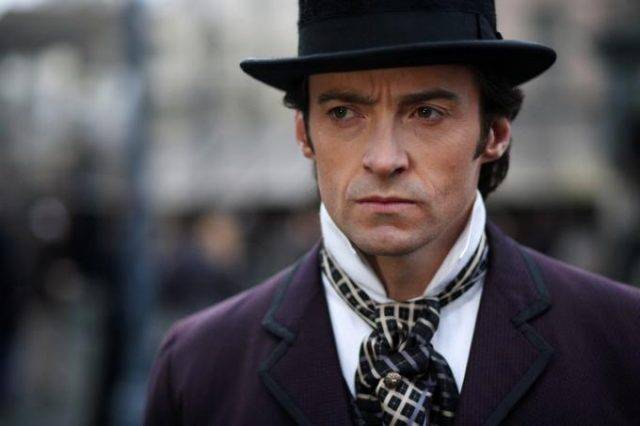 L'etica dell incoscienza è il primo grande elemento comune a Westworld e The Prestige. A dire il vero, un incoscienza apparente, poiché sia Robert Ford che i due illusionisti sono ben consci dei tragici avvenimenti in ballo nel giocare a fare Dio.
Vedi, il sacrificio, Robert, è il prezzo di un buon numero. Ma tu che cosa ne sai del sacrificio?
In The Prestige abbiamo, attraverso un progresso usato per fini teatrali, la clonazione. I due illusionisti si sfidano senza esclusioni di colpi, per la fama e la gloria. Per averla devono essere pronti a tutto, anche a sporcarsi le mani. A vivere un'intera vita di menzogne, le stesse che propinano al pubblico nei loro spettacoli.
In questo Westworld non è da meno. Robert Ford mente a tutti, pur di mantenere i suoi segreti. Mente persino al suo più fedele collaboratore, Bernard, il quale altro non è che una copia del suo compianto socio, morto anni addietro in un tragico "incidente".
Il grande Dantòn, nome d'arte di Robert Angier in The Prestige, e Bernard in Westworld rappresentano due facce della stessa medaglia. Una realtà contaminata dalla finzione dalla quale nessuno esce vincitore. È l'estremo atto del sacrificio, consumato in nome di un effimero e terreno atto di gloria. Poco importa se questa gloria è per Robert Ford il trionfo dell'innovazione e per Dantòn essere considerato il miglior illusionista sulla piazza.
Credi sia facile farlo ogni notte e non sapere se sarai l'uomo nella botola o quello del prestigio?
Se parliamo di similitudini concettuali e non estetiche, l'etica viene completamente demolita su più livelli. Il Grande Dantòn compie un evoluzione del tutto paragonabile a William in Westworld. Colui che non avrebbe ucciso neanche un uccellino per il suo numero di magia, finisce per sacrificare migliaia di cloni, per poter entrare nella Hall of Fame degli illusionisti.
Così come per William, la morte della moglie (in Westworld la "morte" concettuale di Dolores) diviene solo un pretesto per osare sempre di più e commettere atti brutali, senza vergogna e senza riserve. Non c'è spazio per compassionevoli atti di sensibilità e amore, solo il freddo e macchinoso atto del demonio.
Rimane dentro di lui, in un angolo buio della sua coscienza, una parvenza di paura. L'unico sentimento che lo rende ancora umano e fragile a ogni spettacolo. Il grande illusionista in cerca di successo potrebbe essere l'uomo che viene acclamato o la copia che brutalmente annega, in gran segreto. Questo terrore è il risultato di una realtà grottescamente capovolta. Una realtà in cui lui stesso comincia a vedere sfocato, e nella quale progressivamente perde coscienza di sé. L'uomo che sopravvive è davvero Robert Angier?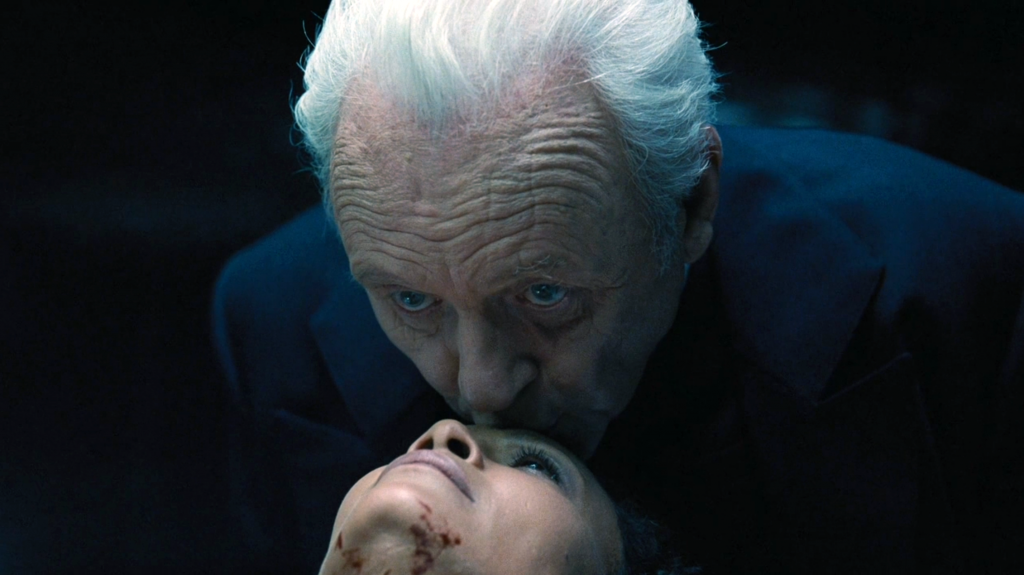 Questa domanda è la conclusione di una denuncia etica ben visibile. La prima di numerosi livelli, i quali come un torrente che straripa, si dirama in più direzioni. Tra queste, sul macro cosmo delle emozioni umane, la correlazione tra Bardon e Bernard di Westworld è evidente, seppur con le dovute differenze.
Per quanto concerne il capolavoro distopico della HBO, Bernard instaura una relazione controversa con Theresa Cullen, capo della sicurezza del dipartimento di Westworld. Morirà per mano dello stesso Bernard, una volta resasi conto della sua vera natura. Così è lo stesso per Bardon e il suo clone in The Prestige. Essi, anche se uguali nell'aspetto, sono in tutto e per tutto due persone diverse, con differenti emozioni e caratteri. La moglie del "reale" Bardon si ucciderà, ritenendo insostenibile una vita in cui suo marito le mentiva costantemente. Una vita condivisa con due persone diverse.
Come se non bastasse, è vero che Bernard in Westworld è pilotato da Robert Ford, e quindi senza una sua netta coscienza, tuttavia in The Prestige non è differente. Partiamo dal fatto che Bernard, con il passare del tempo, otterrà una consapevolezza che lo porterà a essere completamente umano e indipendente. In qualche modo abbiamo nel clone di Bardon un percorso diametralmente opposto. Egli, seppur espressione di una persona reale in carne e ossa e quindi padrone di una coscienza, diviene complice e burattino dell'illusionista. Fa tutto per lui, persino morire al suo posto.
Ora state cercando il segreto ma non lo troverete, perché in realtà non state davvero guardando. Voi non volete saperlo. Voi volete essere ingannati.
Gli universi in The Prestige e in Westworld sono un enorme menzogna. Un illusione a cui la gente si abbandona. Gli spettatori vogliono stupore, adrenalina e meraviglia. Che sia un trucco di un artista in un teatro o la creazione di un mondo finto e perverso in cui "tutto è concesso". Il divertimento non necessita di grette spiegazioni, andrebbero a castrare lo scopo di chi paga il biglietto.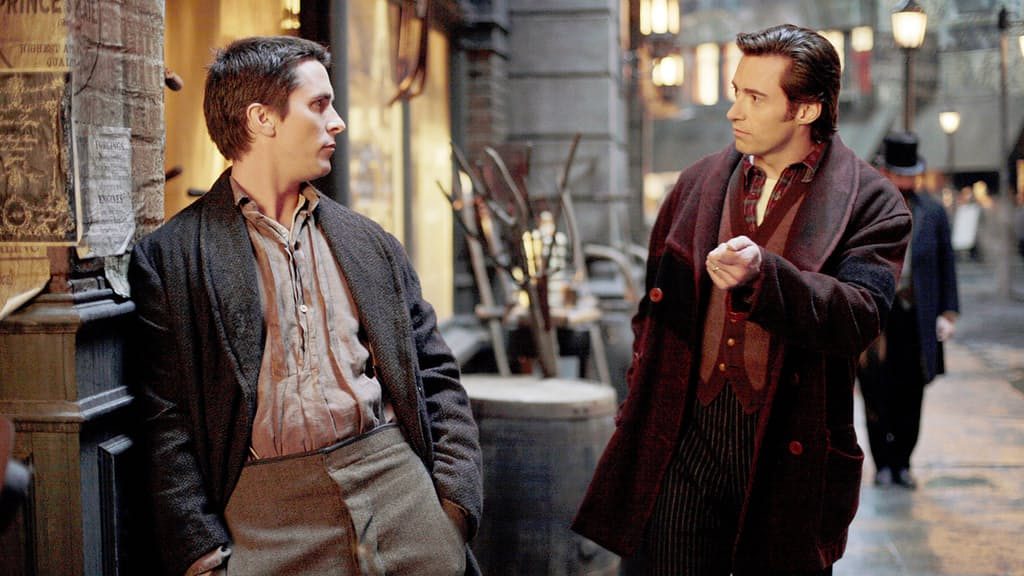 In questo angosciante e quanto mai attuale panorama, la distopia si fa largo silenziosamente tra le vite degli esseri umani. Un fittizio benessere che non si pone domande e spiana la strada all'aberrazione, figlio bastardo della scienza e del progresso.
Un segreto, quello degli illusionisti, per mantenere brillante la loro carriera. Un segreto la missione dei residenti, per i clienti di Westworld e tutti coloro che ci lavorano.
Un mistero per l'umanità intera che ogni mattina si fa il caffè, si guarda allo specchio distratta ed è convinta di essere se stessa. Fino a quando arriverà il punto di non ritorno.