# #
Introduzione
Prima del grandissimo successo riscosso nell'universo Marvel e della carriera nel grande schermo, Elizabeth Olsen si nascondeva dietro l'ombra del suo importante cognome e delle due celebri gemelle. Nonostante non abbia avuto un'infanzia da bambina prodigio come le sue sorelle, la Olsen è riuscita tuttavia e mergere e a mostrare il suo indiscusso talento.
# #
La giovane attrice inizia così pian piano a interessarsi all'industria del film, studiando teatro e sperando di poter – un giorno – affermarsi tra i grandi della recitazione.
Elizabeth Olsen è riuscita a costruirsi una carriera di tutto rispetto, diventando nel giro di pochi anni una delle star più popolari del grande schermo.
Nella seconda metà degli anni 2000 lavora a fianco di attori di grande spessore come Robert De Niro, Cillian Murphy e Bryan Cranston, prendendo parte a importanti pellicole cinematografiche. Ma è nel 2014 che la sua carriera prende una piega inaspettata: con la sua interpretazione nei panni Scarlet Witch, l'attrice entra a far parte dei film del Marvel Cinematic Universe.
# #
Della sua famiglia si conoscono i successi, i fallimenti, gli scoop e i pettegolezzi. Ma cosa sappiamo realmente della grande eroina Marvel? Dopo aver trascorso alcuni anni a coltivare varie passioni, come la pallavolo, il teatro, e aver studiato recitazione, lontana dagli scandali e dai gossip, Elizabeth Olsen riesce a inserirsi nell'industria dello spettacolo e ad affermarsi con degli ottimi risultati.
Carismatica, talentuosa, poliedrica: la "terza" sorella Olsen si è fatta strada non solo nel grande e piccolo schermo, ma anche nei nostri cuori, conquistandoci sin da subito con la sua innata bravura e la sua genuinità. Scopriamo dunque tutto quello che c'è da sapere su Elizabeth Olsen, la star di WandaVision.
Carriera
Elizabeth Olsen, ancor prima del grandissimo successo riscosso nel grande schermo e della popolarità ottenuta grazie all'iconico ruolo di Scarlet Witch nei film Marvel, ha recitato in alcune produzioni delle gemelle Olsen. La fama delle sorelle, infatti, la precede e per un bel po' di anni l'attrice preferisce rimanere in disparte e allontanarsi dal competitivo mondo dello spettacolo. Scoraggiata dalla superficialità di molte testate giornalistiche e dalle pressione dei media nei confronti delle sorelle, la Olsen continua gli studi e prende temporaneamente le distanze dal cinema, cercando di sfondare in altri ambiti.
Ma la passione per la recitazione diventa sempre più forte, a tal punto da spingerla a seguire i passi delle sorelle.
É nel 2011 che Elizabeth Olsen ottiene il suo primo grande ruolo nel film Martha Marcy May Marlene, affiancata John Hawkes, Sarah Paulson e Hugh Dancy. Nello stesso anno prende parte alla pellicola horror Silent House e alla commedia Peace, Love & Misunderstanding, in cui recita insieme a Catherine Keener, Jane Fonda e Jeffrey Dean Morgan. L'anno successivo, invece, la vediamo co-protagonista nell'intenso thriller Red Lights, in cui recita a fianco di Robert De Niro, Cillian Murphy, Sigourney Weaver e tanti altri.
Tra il 2012 e il 2013 la Olsen recita in diverse pellicole di vario genere. Ricordiamo Liberal Arts, Kill Your Darlings, in cui interpreta Edie Parker, la moglie del poeta Jack Kerouac, Very Good Girls (insieme a Dakota Fanning e Demi Moore), Oldboy e In Secret, ispirato al romanzo di Émile Zola Teresa Raquin.
Nel 2014 recita nel film blockbuster Godzilla, affiancata da Bryan Cranston e Aaron Taylor-Johnson. Johnson e la Olsen si riuniscono l'anno dopo, , entrando a far parte del MCU indossando per la prima volta i panni di Wanda Maximoff e Pietro Maximoff nelle scene post-credits di Captain America: The Winter Soldier.
Segue un periodo di grande attività per la star di WandaVision, non solo al cinema ma anche nel piccolo schermo. Nel 2015 prende parte, insieme a Tom Hiddleston, al film I Saw the Light . Dal 2017 al 2018 recita invece nella serie tv Sorry for Your Loss in cui interpreta la protagonista Leigh Shaw, e nei film Ingrid Goes West, Kodachrome e Wind River, affiancata dal collega Jeremy Renner.
L'industria del Marvel Cinematic Universe, tuttavia, cambia la sua vita. La rivediamo infatti nei panni di Scarlet Witch quasi in tutti i film sugli Avengers, ovvero: Avengers: Age of Ultron, Captain America: Civil War, Avengers: Infinity War e nell'acclamato Avengers: Endgame, diretto dai Russo Brothers. Recentemente è tornata nel piccolo schermo grazie alla serie WandaVision, in onda su Disney+ dal 15 gennaio 2021, incentrata sul personaggio di Wanda Maximoff e Vision, dopo gli intensi eventi di Avengers: Endgame.
L'attrice tornerà al cinema nel film Doctor Strange in the Multiverse of Madness, affiancando Benedict Cumberbatch nel ruolo da protagonista.
Marvel Cinematic Universe: Scarlet Witch e gli Avengers
La carriera di Elizabeth Olsen, sebbene sia iniziata soltanto una decina di anni fa, gode già di tantissimi successi. Tuttavia, la popolarità la investe soprattutto nel 2014, quando entra nel cast di Captain America: The Winter Soldier ottenendo il ruolo dell'eroina Wanda Maximoff.
Si tratta di un personaggio tormentato, che ha sofferto parecchio nel corso della sua storia e che – nonostante tutto – è riuscito sempre a reagire. Ed è proprio questo aspetto ad averlo reso così interessante agli occhi di Elizabeth Olsen. Ecco cosa ha dichiarato a tal proposito al magazine Elle:
Josh Whedon (il regista) mi ha spiegato che Wanda Maximoff è sempre stata il simbolo di una salute mentale tormentata, partendo dal suo dolore, dalla sua depressione, sino al modo in cui altera completamente la realtà dei fumetti. Quello che mi ha catturato, dopo aver letto il copione iniziale, è che lei non è forte soltanto grazie alle sue abilità, ma anche grazie alle sue emozioni.
Secondo molti fan della saga del MCU, Scarlet Witch è uno degli eroi più forti dell'interno universo Marvel. non solo per i sui straordinari poteri grazie ai quali può manipolare la realtà ed entrare nelle menti altrui, ma anche grazie alla sua resilienza.
L'attrice di WandaVision ha ammesso più volte di essere ormai affezionata a questo ruolo e di nutrire un particolare interesse per i personaggi femminili intensi e complessi: "Ottengo sempre i ruoli di donne molto problematiche nei film indipendenti. Adesso (con Wanda Maximoff) sono una donna problematica in un grande franchise della cultura pop." (Pop Culture)
Il successo di WandaVision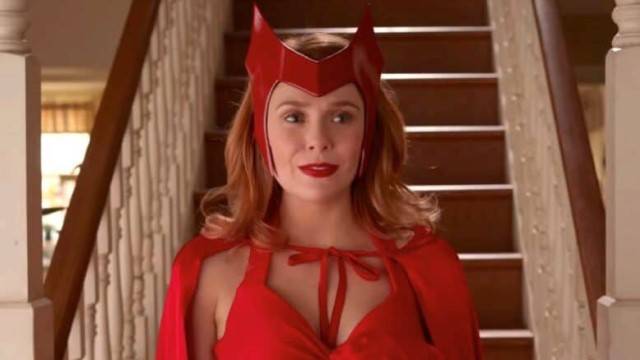 Sbarcata su Disney+ il 15 gennaio 2021, WandaVision è la serie tv rivelazione di questi ultimi mesi. Incentrata sul personaggio di Wanda Maximoff e le sue straordinarie abilità, essa esplora la realtà fittizia creata dalla protagonista e le sue relative dinamiche. Saltando da sitcom degli anni '60 a caricature degli show più popolari degli anni '70, WandaVision celebra con creatività la storia del mondo seriale, cercando di alternare la leggerezza e l'ironia tipiche delle comedy del passato all'intensità e l'azione tipiche dei film Marvel.
La serie tv è formata da nove puntate, ognuna delle quali dura all'incirca 60 minuti. Fanno parte del cast Elizabeth Olsen, Paul Bettany, Kathryn Hahn, Kat Dennings e tante altre star. Si ispira parzialmente ai fumetti Avengers West Coast e House of M, i quali raccontano le vicende di Visione e una Scarlet Witch vittima non solo delle proprie emozioni, ma anche dei suoi grandi poteri.
Il viaggio di Wanda e Visione è, a questo punto, una storia di puro e innocente amore e di profonda connessione con un'altra persona. Ma è stato anche molto traumatico. La tragedia è sempre stata parte della loro storia. Nel nostro show, cerchiamo di cancellare quella parte e di avere un nuovo inizio. (Elle)
Gli episodi di WandaVision, rilasciati con cadenza settimanale, sono disponibili sul catalogo di Disney+.
Vita privata
Elizabeth Olsen ha sempre avuto a cuore la propria privacy. L'infanzia e l'adolescenza vissuta quasi nell'ombra del successo delle gemelle Ashley e Mary-Kate Olsen le hanno permesso di osservare dall'esterno cosa voglia dire essere una star, e di comportarsi oggi nel modo più discreto possibile in modo da evitare futili, insistenti gossip. L'attrice ha spesso raccontato del disagio vissuto da ragazzina e delle sofferenze vissute sulla pelle delle sorelle, a causa dell'accanimento dei paparazzi. A tal proposito, ecco cosa ha rivelato a The Telegraph.
Capisco che non è normale essere preoccupata di essere fotografata, quando stai crescendo, da uomini strani che ti inseguono in auto in giro per Los Angeles. (…) Tutto questo mi ha fatto disprezzare quel tipo di persone e le riviste di gossip.
L'attrice nel tempo libero è molto attiva nel sociale. Dopo aver girato il film Wind River, che racconta la storia di una violenza sessuale, ha deciso di fare settimanalmente volontariato presso il Rape Treatment Center. Inoltre, insieme al fidanzato Robbie Arnett ha preso parte al Latitude Project, un progetto che prevedeva un viaggio in Nicaragua per aiutare le popolazioni del posto e varie attività di volontariato. Le sue parole a Vanity Fair:
Mi sono preparata per diventare una volontaria. Ho recitato in Wind River ed ha avuto per me un grandissimo significato perché non ho mai ricevuto abusi. Non ho mai avuto nulla a che fare con simili situazioni. (…) Non ho bisogno di dire alla gente che tipo di beneficienza faccio.
Il fidanzato di Elizabeth Olsen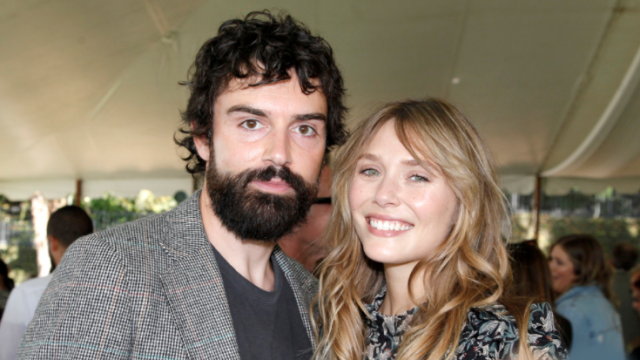 Da sempre scettica e distante dal mondo del gossip, fatto di paparazzi, scatti rubati e interviste indiscrete, Elizabeth Olsen ha custodito gelosamente la propria vita privata. Tuttavia, in determinate circostante, l'attrice di WandaVision si è lasciata andare a interessanti dichiarazioni circa la propria sfera sentimentale.
Nel 2012 conosce l'attore Boyd Holbrook sul set di Very Good Girls e tra i due esplode la passione. Si trasferiscono insieme nel 2014 e, un paio di mesi dopo, si fidanzano ufficialmente. Purtroppo però la loro storia non riesce a decollare: i due attori si lasciano nel 2015. Proprio in quell'anno, secondo alcuni rumors, la donna avrebbe intrapreso una storia con Tom Hiddleston, suo collega in I Saw the Light. Queste voci sono state tuttavia smentite dalla stessa interessata.
Al momento Elizabeth è fidanzata con l'artista Robbie Arnett, musicista della band Milo Greene. La coppia è apparsa per la prima volta insieme pubblicamente nel 2017, e da allora non si sono più lasciati. I due amanti, che dal 2018 vivono insieme, pare siano pronti a fare il "grande passo". Affiatati e complici, nelle cerimonie o nei salotti televisivi i due hanno espresso il loro desiderio di approfondire la propria storia. La Olsen, in particolar modo, ha raccontato a Modern Living di voler costruire un giorno una famiglia nella loro nuova casa.