Attenzione: evitate la lettura se non volete imbattervi in spoiler sulla sesta stagione di Vikings
Premi in vista per l'ormai ex coprotagonista di Vikings Katheryn Winnick, interprete dell'indimenticabile Lagertha. Benché abbia ormai detto addio al suo personaggio a metà della scorsa mid-season, l'attrice non ha tuttavia abbandonato completamente la serie tv targata History.
Dopo l'uscita di scena del suo personaggio infatti, la Winnick ha continuato a lavorare per Vikings nelle vesti di regista.
E a quanto pare questo nuovo ruolo continua a portarle merito e fortuna almeno quanto ha fatto quello di coprotagonista. L'attrice canadese infatti, dopo aver interpretato per ben sei anni il ruolo della coraggiosissima shield-maiden – senza dubbio tra i personaggi più amati di sempre dai fan – ha abbandonato i panni di Lagertha nell'episodio 6×06 di Vikings, Death and the Serpent.
L'episodio che mostra la tragica fine di Lagertha per mano di un Hvitserk ormai preda di debilitanti allucinazioni, è stato un colpo al cuore per i fan. Questo nonostante in molti sapessero come il suo personaggio fosse in realtà stato trascinato all'interno di Vikings decisamente troppo. E nonostante la sua morte fosse stata annunciata già diversi anni prima dal veggente, che profetizzò come la sua fine sarebbe avvenuta per mano di uno dei figli di Ragnar.
E l'indovino di Kattegat purtroppo non ha mai torto. Il tempo è passato ma la profezia si è avverata. E con essa il timore dei fan: per quanto atteso l'addio di Lagertha non è stato facile da digerire una volta avvenuto.
Unica magra consolazione è la consapevolezza di non aver perso del tutto Katheryn Winnick dalla famiglia Vikings. L'attrice ha abbandonato il suolo ruolo in scena abbracciandone subito uno dietro la macchina da presa, e al momento sembra proprio questo quello che sta per darle maggiore soddisfazione. L'attrice si è infatti cimentata nel ruolo di regista per alcuni episodi della prima parte di Vikings 6, e per tale ruolo è ora nominata come miglior regista agli importanti WIN Awards.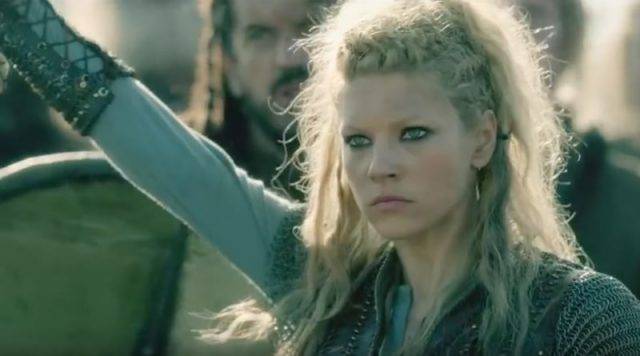 Lo ha annunciato ai fan direttamente dal suo profilo Instagram, sottolineando la sua eccitazione per una nomination giunta per quello che è "appena" il suo debutto alla guida della macchina da presa. Insomma Katheryn Winnick non si fa mancare nulla: è bella, talentuosa, e incredibilmente versatile.
Hail Lagertha! E congratulazioni!