Dopo anni di sangue, battaglie e muri di scudi, Vikings ci ha salutato con i suoi ultimi 10 episodi. Con l'epilogo, Michael Hirst è riuscito a dare la giusta conclusione ai suoi personaggi (chi più, chi meno), emozionando gli spettatori con grandi tragedie, ammirevole eroismo e diversi rimandi al passato. Ora che la serie si è conclusa, guardarsi indietro e rivalutare ciò che abbiamo visto nel corso delle stagioni è quasi inevitabile. Quando History Channel aveva annunciato l'uscita dello show, l'idea era stata accolta con scetticismo. Il canale non aveva mai prodotto degli originali e molti temevano che questa mossa fosse solo un tentativo di replicare il successo di Game of Thrones.
Ma con la sua prima eccezionale stagione, Vikings ha fatto ricredere anche i più diffidenti. Nonostante avesse molto in comune con il colosso HBO, la serie è riuscita a trovare la sua identità, traendo ispirazione da fatti reali. Lo show si basa infatti sulle saghe dell'era dei vichinghi, storie affascinanti e complesse, ancor più vivide delle leggende popolari. Grazie a questo materiale e una sana dose di libertà creativa, lo showrunner ha dato vita a un dramma storico unico, che ha ripercorso uno dei periodi più affascinanti della storia europea. Ma così come l'Epoca Vichinga, anche lo show doveva arrivare alla sua fine. Ed è così che abbiamo dovuto dire addio ai grandi eroi che abbiamo imparato ad amare.
Intrecciando realtà storica con narrazione romanzata, Vikings ha intrigato milioni di spettatori. Ma ciò non significa che sia sempre stata impeccabile.
Se fino alla terza stagione non c'erano state grosse critiche, a partire dalla quarta la situazione è cambiata. La morte di Ragnar ha portato a una scissione non solo nella serie, ma anche fra i fan. Convinti che Vikings non potesse esistere senza Ragnar, molti spettatori hanno deciso di abbandonare lo show o comunque di seguirlo con distacco. Anche se non tutti condividevano questo pensiero, la creazione di Hirst ne ha comunque risentito, in particolare con un calo di ascolti e un decrescente interesse nelle stagioni successive. Inoltre, la concorrenza di show simili e la staticità di personaggi che fino ad allora avevano avuto un meraviglioso percorso personale (basti pensare al trattamento riservato a Lagertha) hanno ulteriormente penalizzato la serie.
A distanza di anni, il dibattito fra chi crede che la serie sia morta con Ragnar e coloro che hanno apprezzato anche ciò che è venuto dopo è ancora acceso. Ma da che parte sta la verità?
Per quanto la fine del protagonista nella 4×15 sia stata sconvolgente, gli episodi successivi sono stati fra i più entusiasmanti della quarta stagione. Vedere i Ragnarsson e un popolo diviso trovare il modo di unirsi per vendicare la memoria di un padre, di un re, di un eroe che era stato fondamentale per la storia vichinga è stato emozionante. La reazione dei personaggi ha avuto un impatto così forte proprio perché nata da sentimenti che il pubblico stesso aveva provato. Chi era già a conoscenza delle storie legate a Ragnar Lothbrok sapeva che l'uomo avrebbe potuto incontrato la sua fine per mano di Re Aelle. Ma vedere la sua disfatta sul piccolo schermo e assistere alla performance finale di Travis Fimmel ha avuto un sapore diverso.
Grazie ad All His Angels, questa versione dei fatti ha preso vita come non era mai successo, consacrando così il personaggio come una vera e propria leggenda.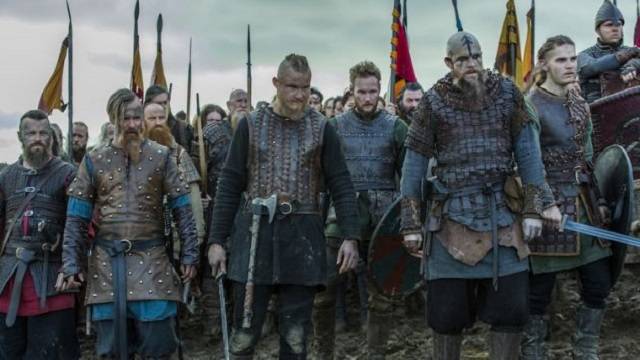 Tuttavia, per quanto la vendetta della Grande Armata Danese sia stata soddisfacente, la morte di Ragnar è rimasta comunque un'arma a doppio taglio. Con essa, lo show ha perso un personaggio carismatico e magnetico, che per quattro stagioni era riuscito a tenere in piedi la serie. Perdere un protagonista così grande e complesso ha chiaramente lasciato un enorme vuoto, nonostante ci fossero altri personaggi incredibili. Basti pensare a Lagertha, shieldmaiden inarrestabile, o a Floki, costruttore di navi instabile e geniale. E che dire di Bjorn la Corazza, primogenito di Ragnar e grande guerriero? Personalità il cui nome bastava per trasmettere tutta la loro potenza. Ma si sa, una volta che è venuto a mancare il protagonista – e che protagonista! – a molti è sembrato che non ci fosse più un senso nel portare avanti la storia.
Eppure ci sono serie tv che lo hanno fatto, continuando a stupire anche dopo essere ricorse a un plot twist del genere (Ned Stark e Game of Thrones vi dicono qualcosa?).
Vikings ci ha sicuramente provato ma, ahimé, non ci è riuscita subito. Inizialmente il passaggio a una narrazione corale non è stato affrontato nel migliore di modi. Al di là delle vecchie conoscenze, lo show ha introdotto nuovi personaggi e storyline. Se da un lato un'abbondanza di materiale può essere positiva, dall'altro può rivelarsi distruttiva se gestita malamente. Questo è esattamente ciò che è successo nella quinta stagione. Anche se alcune linee narrative hanno portato qualcosa di interessante allo show, altre hanno solo creato confusione: i viaggi di Bjorn in Sicilia e Nord Africa, l'esplorazione dell'Islanda, l'introduzione del Vescovo Heahmund e la storia d'amore con Lagertha. Questi sono solo alcuni degli elementi che, nonostante il potenziale, hanno finito per mostrarci quanto lo showrunner non avesse le idee chiare su come sviluppare certi intrecci.
Per cercare di compensare l'assenza di Ragnar, Vikings ha puntato molto sui suoi figli.
Dopo aver seguito il percorso di Bjorn nel corso degli anni, abbiamo avuto la possibilità di conoscere meglio anche i suoi fratelli. I loro conflitti ci hanno mostrato quanto ognuno di loro avesse ideali diversi, ma anche quanto ciascuno avesse ereditato qualcosa dal padre. Eravamo già a conoscenza dell'eroismo di Bjorn, ma è stato un piacere ritrovare l'astuzia e ambizione di Ragnar in Ivar, così come il suo spirito d'avventura e scoperta in Ubbe. Invece, ereditandone le incertezze e dipendenze, Hvitserk ne è uscito fuori come il Ragnarsson meno forte, ed è forse per questo che le sue storyline non sono mai riuscite a conquistare il pubblico.
Forse i Ragnarsson non avranno avuto lo stesso carisma del padre, ma le loro vicende sono state fondamentali non solo per mostrarci l'eredità di Lothbrok, ma anche la storia del popolo vichingo. D'altronde la serie si è sempre chiamata Vikings, non Ragnar. Molto probabilmente tanti fan hanno odiato le ultime stagioni proprio perché convinti che lo show fosse solo la storia di questo personaggio. È vero, sarebbe sciocco negare la sua importanza, così come sarebbe inutile negare la delusione generata dalla quinta stagione. Quello che è finito per essere un capitolo di transizione ci ha regalato più smorfie che sorrisi, ma ha anche spianato la strada per un epilogo che, nonostante i difetti, ha saputo stupirci.
La sesta stagione ha infatti fornito un'ultima avventura ai personaggi prima che calasse il sipario.
Forse non tutti saranno d'accordo, ma negli episodi finali c'è molta della grandezza delle prime stagioni: il regno di Bjorn e il suo eroico sacrificio, l'emozionante addio di Lagertha, il destino tanto violento quanto epico di Ivar. E ultima, ma non meno importante, la scoperta della Terra Dorata da parte di Ubbe, l'unico figlio in grado di realizzare il più grande sogno di Ragnar. Vikings trova il suo finale proprio in questo mondo nuovo, pronto ad essere scoperto così come era stato con l'Inghilterra all'inizio della serie. Alternando il percorso di Ivar nel Wessex e quello di Ubbe nel Nord America, lo show ci ha ricordato due dei suoi aspetti fondamentali: la sete di gloria e conquista e lo spirito di avventura e scoperta. Se all'inizio li abbiamo visti coesistere in un unico protagonista, successivamente li abbiamo visti diramarsi in più personaggi, dando così agli spettatori la possibilità di esplorare storyline diverse.
Forse Vikings avrebbe dovuto fermarsi dopo la quarta stagione. Ma se così fosse stato, non avremmo mai potuto seguire l'evoluzione di Bjorn, salutare per l'ultima volta la grande Lagertha e veder realizzati i sogni e obiettivi di Ragnar. Il vichingo ci avrà anche lasciato nella quarta stagione, ma il suo spirito ha continuato a vivere anche dopo di essa. Una consapevolezza che non è stata sufficiente per alcuni fan, ma che ha sicuramente convinto tanti altri a restare fino alla fine. Fino a un finale intimo e toccante che forse non sarà piaciuto a tutti, ma che ha chiuso perfettamente il cerchio con un meraviglioso senso di appagamento.