«Ah… mi dispiace. Ma io so' io… e voi non siete un cazzo!» Basterebbe questa citazione del Marchese del Grillo a descrivere la personalità del Dr. House.
Dr. House – Medical Division (House, M.D.) è una serie televisiva statunitense ideata da David Shore e Paul Attanasio e trasmessa da Fox 2004 al 2012.
Proposta all'emittente come un CSI della medicina, un giallo ospedaliero in cui i dottori investigano sui sintomi e le relative cause, proprio come il celebre detective Sherlock Holmes risolve i suoi casi attraverso un attento percorso deduttivo, a discapito di un atteggiamento alquanto misantropo verso il prossimo. Infatti la figura del protagonista, il dottor Gregory House, è plasmato proprio sull'icona dell'investigatore.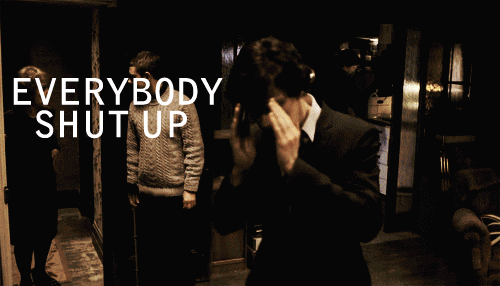 Attanasio, per creare questa serie drammatica ospedaliera di tipo procedurale, si è ispirato dalla rubrica Diagnosi del The New York Times Magazine dedicata ai casi clinici particolarmente problematici e una delle condizione poste dal presidente dell'emittente, Gail Berman («Voglio una serie medica, ma non voglio vedere camici bianchi che passeggino per il corridoio») determinò l'ideazione del personaggio principale. David Shore infatti ribaltò le indicazioni del primo copione, che prevedeva un affascinante dottore sulla trentina, affermando che "un Brad Pitt medico sarebbe risultato poco credibile".
Distribuito in 66 paesi, Dr. House è stato il programma televisivo più seguito al mondo nel 2008. La serie ha ricevuto diversi premi, tra cui, un Satellite Award come Migliore serie drammatica; svariati Emmy Award di cui uno allo sceneggiatore Shore per l'episodio "Il caso House"; due Golden Globe all'attore Hugh Laurie come Migliore attore in una serie drammatica e numerosissimi altri premi e candidature.
L'impatto culturale del Dottore più scorbutico infatti risuona ancora adesso, generando dibattiti filosofici, etici e religiosi relativi al campo della medicina e della deontologia, con la pubblicazione di diversi saggi che hanno approfondito in modo analitico questo aspetto della serie televisiva.
Nel corso di otto stagioni abbiamo assistito al tentativo di cambiamento del protagonista, dovuto specialmente ai rapporti umani allacciati con la sua squadra e i suoi due amici di sempre, il dottor James Wilson e la direttrice dell'ospedale Lisa Cuddy, di cui House è sempre stato, a modo suo, innamorato. Lontano anni luce dall'altro ospedale universitario, il Seattle Grace, qui al Princeton-Plainsboro Teaching Hospital del New Jersey i pazienti da curare sono visti come casi da risolvere, con il minimo utilizzo di empatia possibile. La prima squadra del reparto medicina diagnostica diretto da House vede protagonisti la bruna (da noi conosciuta e amata come bionda) Jennifer Morrison nel ruolo di Allison Cameron, il biondo attore australiano Jesse Spencer interpreta Robert Chase e Omar Epps è stato Eric Foreman, l'unico in grado a tenere testa a House data anche la somiglianza caratteriale, e gli subentrerà nel ruolo di direttore dopo l'ennesimo arresto di quest'ultimo. La seconda squadra subentra nella quarta stagione, e ha i volti della bella Olivia Wilde nel ruolo di Remy "Tredici" Hadley (già vista in precedenza in The O.C. e ultimamente come Devon, la moglie del discografico Richie Finestra in Vinyl); Peter Jacobson diventa Chris Taub e Kal Penn è Lawrence Kutner.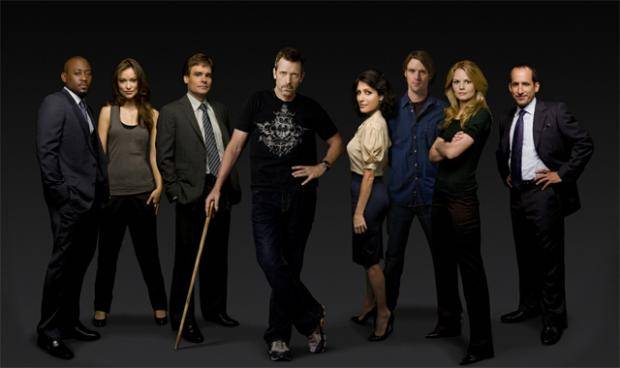 Una specifica tecnica della serie, già vista in numerose altre come E.R. a West Wing, è l'uso intensivo della tecnica di ripresa walk and talk, cioè una carrellata continua che segue i personaggi mentre parlano camminando. Tutti gli incipit degli episodi sono costruiti in questo modo, con House rincorso dalla sua squadra mentre deve dare il consenso a determinati test per tentare di salvare il malato di turno. Anche nella stessa sigla è presente la camminata del medico ricorso dal suo staff!
Le vicende personali del dottore hanno fortemente influito sulla sua cinica e distorta visione del mondo (il suo motto, ripetuto ossessivamente in ogni episodio, "everybody lies" ne è la conferma): rimasto zoppo a causa di una diagnosi errata, si accompagna ad un bastone e al Vicodin, potente analgesico ed oppiaceo dal quale è dipendente e la corazza che si è costruito addosso altro non è che una sorta di rancore perpetuo verso chi lo circonda, rendendolo fragile e umano, altre caratteristiche che riprende da Holmes, cinico genio dipendente dalla cocaina.
"Mi dispiace. Se lanci una freccetta a tutti gli aggettivi tra arrogante e svitato colpirai di certo quello che mi descrive. C'è un motivo se mi comporto così, io vivo con il dolore: un dolore che nei giorni buoni è solo intollerabile e in quelli brutti mi porta via persino la forza di vivere." (ep.11, stag.3)
Una curiosità: la creazione del personaggio del famoso detective fu a sua volta ispirata da un dottore che Arthur Conan Doyle conobbe all'ospedale di Edimburgo dove era andato dopo aver ottenuto il master in chirurgia. Joseph Bell, medico chirurgo scozzese di cui Doyle divenne anche assistente per un breve periodo, era freddo e brillante, e utilizzava nel suo lavoro un metodo scientifico e grandi abilità deduttive attraverso l'osservazione, tanto che, come descrive Doyle stesso, esaminando uno sconosciuto riusciva a indovinarne, in base all'aspetto, l'occupazione e le recenti attività. Perciò il personaggio di House può essere visto come l'idea che chiude idealmente il cerchio attorno a Sherlock Holmes.
Descritto come un cinico senza cuore, Greg House perseguita un'unica regola: mai tradire te stesso, a prescindere da qualsiasi cosa ti circondi, perché, nel bene o nel male, sarai amato e riuscirai a ritagliarti il tuo posticino nel mondo.
A detta del suo migliore amico Wilson, "a prescindere dalle sue debolezze, statisticamente House è una forza positiva dell'universo".
Non potrei essere più d'accordo.