Astinenza, brutta bestia. Sia essa da I Soprano o da altre serie eccelse.
Un legame morboso, ossessivo, smodato che si instaura tra un essere e una sostanza, tra un uomo e un vizio, tra un soggetto e la sua passione seriale, tra un telefilm addicted e I Soprano. Il gergo del mondo delle sostanze allotrope, ben si sposa con la passione per le serie tv : "overdose" da episodi, amore malsano per un capolavoro seriale pari a quello di un tossico-dipendente per una dannosa sostanza stupefacente, ed il più traumatico, nefasto di tutti : l'astinenza e la crisi conseguente, ad essa connessa.
I vecchi sapiens dello stoicismo avevano dato una massima ragguardevole sui rischi e pericoli dell'uomo che viene consumato dalle sue passioni.
"Come è dolce aver estenuato e abbandonato le passioni ! " (Seneca)
Bene, le massime dello stoicismo talvolta sono quanto di più lontano ci possa essere per gli amanti e (presunti) esperti della serialità. Autori come Seneca, sembrano parlare della nostra passione-ossessione per il mondo telefilmico, quella maledetta e straordinaria attualità degli indissolubili classici senza tempo. Per Seneca il saggio riesce a controllare le passioni non facendosi "dominare" da esse, e se sviluppiamo l'origine del lessema "dominare", comprendiamo perchè non sia un verbo dettato dal caso.
'Dominare' dal latino "dominus", padrone; chi si lascia dominare è solo perchè è al contempo schiavo di qualcosa\qualcuno. Seneca ci avrebbe dipinto come vittime delle passioni, persone deboli che baratterebbero la proprià integrità con una passione distruttrice. Peccato che nell'antica Roma non esistessero ancora questi capolavori eccelsi del piccolo schermo. Ignoriamo la critica senechiana, non possedendo la sua complessa conoscenza della retorica e rigettiamo in questa occasione la sua lezione e il suo ammonimento da  classico sapiens.
In questo articolo si parlerà brevemente delle droga seriale tra le più eterne ed eccelse : "The Sopranos" e sveleremo un piano terapeutico di cinque punti per fornire un'ipotetica cura per chi ancora soffre, attanagliato da una irrepremibile crisi d'astinenza.
The Sopranos, capolavoro seriale dei primi anni 2000, è il capolavoro pluripremiato per definizione. Hbo, deve a The Wire, Six feet Under ed in primis a "The Sopranos" gran parte della sua fortuna, dei suoi guadagni e del suo attuale potere. I Soprano, famiglia italoamericana di buoni operai del crimine organizzato, hanno fatto la storia delle serie tv, così come Twin Peaks, Sons of Anarchy, Dexter o BReaking BAd. Un boss della mala del New Jersey sdraiato sul lettino di una psicanalista a sorbirsi spiegazioni freudiane e a raccontarle il suo rapporto difficile con madre, figli e moglie. Una spettacolare innovazione del ruolo.
Eccovi il piano terapeutico di 5 punti per provare ad arginare questa crisi d'astinenza :
1) Sons of Anarchy – La terapia dell'azione e dell'empatia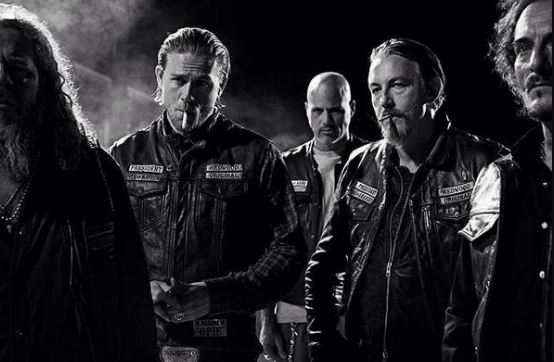 I Soprano terminano 9 anni fa, nel 2007, ma per le serialità "l'anno d'oro" è ormai alle porte. 2008 : il capolavoro di Sutter e quello di Gilligan esordiscono con due prime stagioni fenomenali, facendo letteralmente le fortune degli emittenti FX e AmC. Sons of Anarchy e Br Bad sono tutt'ora la vetta da scalare nel genere. Chi della vecchia generazione ha apprezzato The Sopranos non può esimersi dalla conoscenza di Sons of Anarchy, la storia struggente ed adrenalinica di un clan di bikers trafficanti d'armi sulla West Coast ed il suo giovane protagonista, l'affascinante e tormentato Jax Teller. L'opera seriale legata all'Amleto di Shakespeare, con le sue turbolente e strazianti vicissitudini, è il primo punto terapeutico per numerosi punti di contatto : clan malavitoso, fratellanza, azione, forti tematiche esistenziali e psicologia.