Amazing Grace, How sweet the sound
That saved a wretch like me
I once was lost, but now am found
Was blind but now I see
Eccoci, infine, alla conclusione. Now Am Found è l'episodio finale della terza stagione di True Detective, e questo titolo non può non ricordare quel canto religioso chiamato Amazing Grace, entrato nella tradizione folkloristico-cristiana soprattutto americana, che parla proprio di come tutti possano ritrovarsi davanti alla Grazia. L'autore infatti, John Newton, era un trafficante di schiavi che si convertì al cristianesimo, e ritrovò la parte buona di sé stesso. Questo titolo, tuttavia, non va letto nel suo significato assoluto: infatti, anche l'ultimo episodio presenta delle verità relative.
Attenzione: seguono spoiler sull'episodio finale di True Detective.
La 3×07 ci aveva lasciato con la tensione altissima per via dell'incontro che Wayne avrebbe di lì a poco avuto con Edward Hoyt, il giorno dopo l'assassinio del capo della sicurezza Harris James, nel 1990. Hoyt non ci si presenta come lo immaginavamo: non sembra affatto un ricco facoltoso imprenditore, in controllo della situazione e degli eventi. È un uomo stanco, poco curato e soprattutto molto ubriaco.
Il loro incontro, nel bel mezzo del bosco, si rivela essere un interrogatorio su ciò che l'uno sa dell'altro, ma vuole nasconderlo. Infatti, alla fine, nessuno dice nulla: ma quel non detto è sufficiente per Hoyt per avere conferma che siano stati Wayne e Roland a uccidere Harris, e per il detective per comprendere che l'uomo sa qualcosa sul caso Purcell, ma è troppo pericoloso sfidarlo per la verità.
Ci sono in gioco, infatti, la sua carriera e soprattutto la sua famiglia, che Hoyt velatamente minaccia.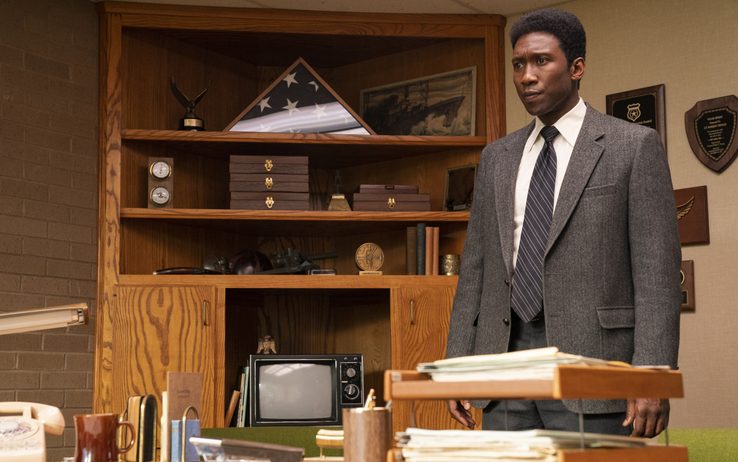 Come già sappiamo dal quinto episodio, Wayne decide di tacere questo incontro a Roland. Perciò, la rielaborazione di questo secondo fallimento avviene in maniera molto differente nei due detective. Wayne concorda con Amelia che è il momento di lasciare fuori il caso Purcell dalla loro vita: ci sono cose che non può raccontare a sua moglie. Roland, di contro, si reca in un bar per scatenare una rissa, e ritrovarsi solo al bordo di una strada, consolato soltanto da un cane randagio: il tema della solitudine di West, nell'interpretazione straordinaria di Stephen Dorff, è costante in tutte le fasi temporali raccontate.
Ma i due anziani detective, nel 2015, sono ormai prossimi a scoprire la verità. Dopo aver trovato la stanza rosa nella residenza Hoyt ormai abbandonata, Wayne e Roland si interrogano sulla loro inadeguatezza per la risoluzione del caso: come hanno fatto a non risolverlo prima? Perché se ne sono lavati le mani, a un certo punto? Queste sono le domande retoriche con le quali i due dovranno per sempre fare i conti.
Subito dopo, preceduto da un bellissimo montaggio in cui giochi di specchietti delle macchine rivelano alternativamente le tre diverse fasi temporali della storia, avviene l'incontro decisivo. I due, infatti, rintracciano il signor Junius Watts, l'uomo nero con l'occhio cieco, protettore di Isabel (la figlia di Hoyt) e uomo dietro la sparizione di Julie.
L'uomo rivela di averli attesi a lungo, per poter raccontare loro la verità. La sua versione non è molto distante da ciò che avevamo immaginato sulla base delle informazioni dell'episodio precedente.
Confessa, inoltre, di essere lui il proprietario dell'auto che ogni notte si appostava davanti a casa di Wayne. Lo faceva per cercare il coraggio di scendere e raccontare tutto.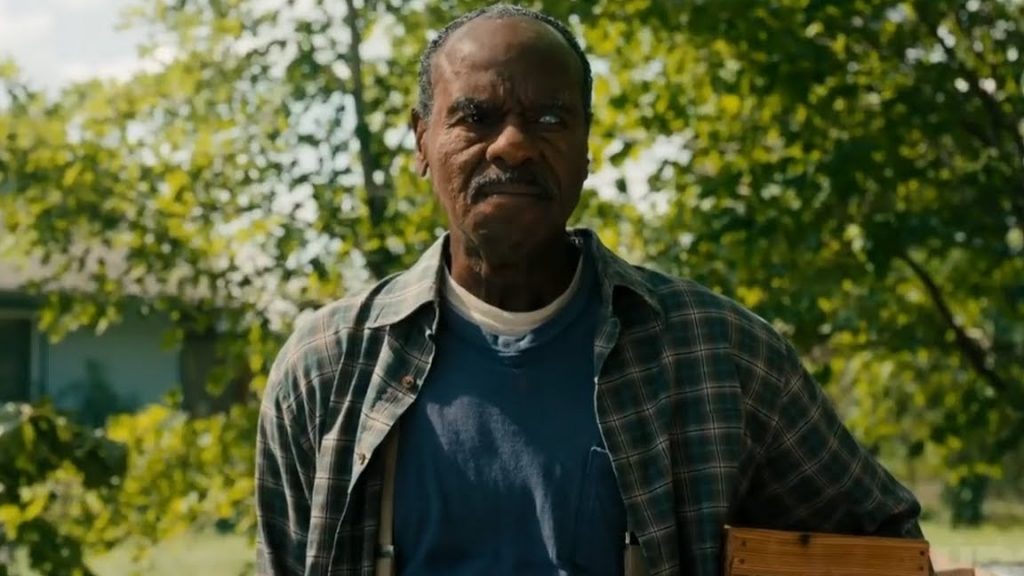 La povera Isabel, dopo la morte del marito e della piccola Mary in un incidente, impazzì. Quando, un giorno, vide la piccola Julie in compagnia di sua madre Lucy presso i terreni della Hoyt, si convinse che quella fosse sua figlia. Con il permesso del signor Hoyt, Watts e Isabel si misero in contatto con Lucy, offrendole denaro per adottare la bambina: la donna accettò. Tuttavia, qualcosa andò storto. Quella maledetta volta in cui Isabel e i due bambini giocavano nel bosco ci fu un incidente: la donna spinse via Will, che non voleva lasciare andare la sorella, e il piccolo sbattè la testa, morendo.
Da quel momento Julie visse nella stanza rosa, ma la condizione mentale di Isabel peggiorava: somministrava alla piccola il litio che prendeva come medicine. Quando Watts lo scoprì, anni dopo, aiutò la ragazza a scappare: si diedero un appuntamento mai rispettato, e non la trovò più. Isabel, intanto, si uccise per il dolore di aver perso la sua Mary Julie.
Watts racconta ai protagonisti di True Detective di aver avuto notizie di Julie solo nel 1997. In un convento di suore, gli era stato detto che la ragazza era morta da due anni per AIDS. I due detective, sconsolati, lo lasciano disperarsi nel suo pentimento. A questo punto Roland formula una domanda legittima, per il suo amico ma anche per il pubblico:
"Senti di essere giunto a una conclusione?"
La risposta dei due uomini è no. Anche la nostra è no. E infatti, la conclusione non è questa.
La verità è un'altra, e un indizio ci era stato consegnato nella sesta puntata: il ragazzo che curava il giardino del convento in cui Julie era stata per qualche anno era Mike Ardoin, il bambino che nel 1980 era palesemente innamorato di lei. È il fantasma di Amelia ad aprire gli occhi del vecchio Wayne, che poche ore prima si era incontrato con l'uomo e con la figlia Lucy (stesso nome della madre di Julie). Si scrive un indirizzo, parte alla ricerca della verità il giorno dopo. Si reca, da solo, all'abitazione di questo Mike, ma a un certo punto… blackout.
Wayne dimentica perchè è lì. Noi spettatori vediamo nel giardino della villetta la piccola Lucy in compagnia di una donna, sua madre: è Julie. Si soffre nel vedere questa scena: Wayne non ha la più pallida idea del perché sia lì, ma è così vicino alla verità. Chiama il figlio e gli chiede di farsi venire a prendere: a breve, tra l'altro, rivedrà finalmente sua figlia Rebecca, in una cena di famiglia come ai vecchi tempi. Si avvicina alla donna per chiedere dove si trova, e questa gli offre un bicchiere d'acqua:
"Ho questa malattia, sa… mi dimentico le cose".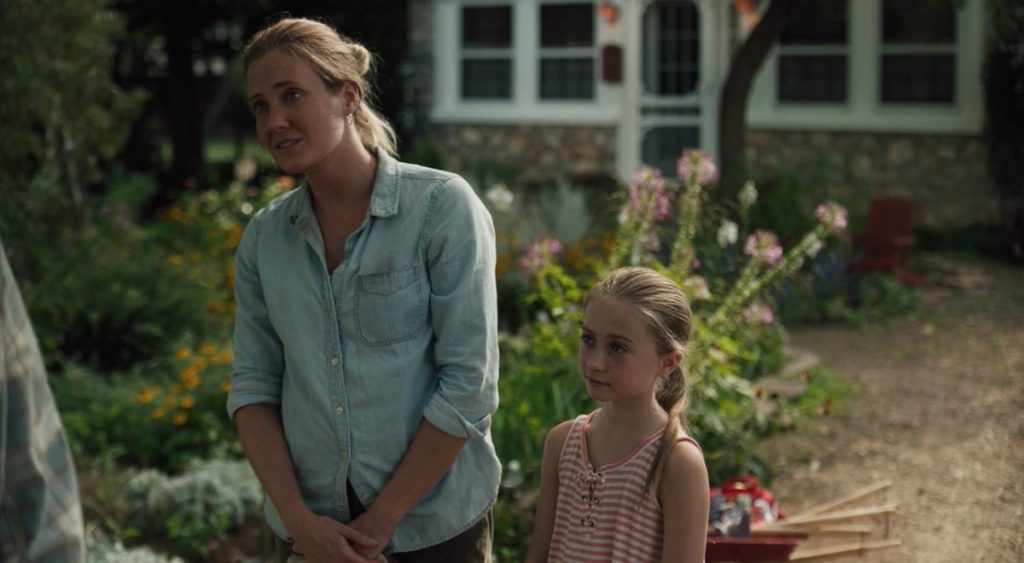 È lì, davanti a lui, la soluzione del caso che gli ha rovinato la vita. Ma Wayne non può vederla. Non riesce. Echeggiano le parole di Roland e dello stesso Wayne, che il giorno prima erano davanti alla tomba (finta) di Julie: "Non siamo stati all'altezza di proteggerti". È vero.
Questo incontro finale, così paradossale, sembra essere la metafora dell'intero caso, durato 35 anni: non sono riusciti a salvare qualcuno che era stato sotto il loro naso per tanto tempo. Così come, nonostante abbia davanti la donna che cercava, il povero Wayne non ricorda perché si sia recato fin lì.
Ciò che conta, per lui, è rivedere sua figlia. L'incontro è commovente, e anche Roland, invitato a passare qualche giorno con la famiglia Hays, sembra aver trovato una tregua dalla solitudine. L'abbraccio tra i due vecchi amici è da brividi. Infine, ci viene mostrato un giovane Wayne in Vietnam che si inoltra nella giungla, non prima di aver guardato dritto nella telecamera.
Fine, cala il sipario di una stagione di True Detective che ci lascia volutamente nella sofferenza del non detto, nell'incapacità di ricavare soddisfazione dalla verità, perché non sempre si hanno i mezzi per farlo.
Leopardi diceva che l'essere umano è una creatura finita che aspira all'infinito, e proprio a causa di questa contraddizione tra essenza e obiettivo è destinato all'infelicità. Con questa riflessione, applicata al finale di stagione, voglio salutare voi, tutti coloro che hanno voluto seguirci in questo bellissimo viaggio che True Detective è stato. Una serie che, in un modo o nell'altro, è riuscita a colpirci dritti al cuore.