Domestici o selvatici, silenziosi o parlanti, magici o assolutamente normali. Tutte queste caratteristiche passano in secondo piano quando si parla dei più fidati compagni di avventura di sempre: gli animali. Anche quando i rapporti più stabili vengono meno, il famiglio rappresenta l'ancora di salvezza e il miglior amico del protagonista, seguendolo in mille peripezie senza mai tentennare. Il legame che si crea tra umani e animali è speciale, unico e indissolubile, come ci dimostra persino l'impassibile strigo di The Witcher, l'acclamata serie di Netflix. Anche noi spettatori non possiamo fare a meno di affezionarci a queste meravigliose creature che spesso, senza dire una parola, riescono ad amare, proteggere e farci commuovere. Ecco quali sono i 10 personaggi delle serie tv che non possono proprio fare a meno dei loro affidabilissimi amici!
1) Geralt e Rutilia (The Witcher)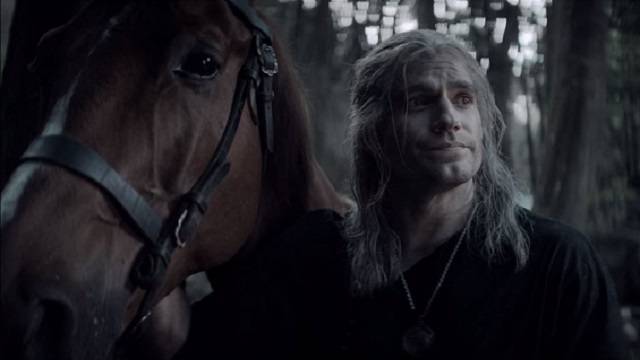 Molti narrano che gli strighi non abbiano sentimenti. Per smentire queste dicerie, basta osservare il modo in cui Geralt di Rivia si prende cura di Rutilia, la sua dolce e instancabile giumenta. Nonostante il protagonista di The Witcher si dimostri schivo e distaccato con la maggior parte degli esseri umani, nei confronti di Rutilia nutre un affetto smisurato. Le parla come se fosse un suo simile, si confida con lei e la accudisce con estrema attenzione, conscio del fatto che alla cavalla non importa chi egli sia o cosa faccia per vivere. Sin dal primo episodio di The Witcher, il loro legame si fonda su una lealtà reciproca e incondizionata, che non necessita di parole.
2) Lyra e Pantalaimon (His Dark Materials)
Non si può immaginare un rapporto più intenso di quello che sussiste tra un essere umano e il suo daimon: quest'ultimo, nell'universo di Lyra, non è solo un semplice animale, ma la concretizzazione dell'anima al di fuori del corpo. Pan è l'estensione della coscienza e della personalità di Lyra, e nessuno dei due può essere completo senza l'altro al suo fianco. Pensieri, emozioni e dolori sono condivisi, fluiscono dalla mente della ragazza a quella del daimon e viceversa. Anche la forma definitiva di Pan, una volta stabilizzatosi, sarà condizionata dalla personalità di Lyra. In His Dark Materials non si parla solo d'amore o di affetto: senza questo legame, una persona sarebbe persa per sempre.
3) Jon Snow e Spettro (Game of Thrones)
The Witcher e His Dark Materials non sono gli unici fantasy a sottolineare il rapporto tra umani e animali: i metalupi di Game of Thrones sono l'emblema della casata Stark, ma soprattutto i compagni fidati dei principi di Grande Inverno. Purtroppo quasi tutti sono destinati a separarsi dai propri padroni o a condividerne la spiacevole sorte, ma il lupo albino di Jon Snow non è tra questi. Spettro e Jon sono spiriti affini, da sempre accolti nel branco con diffidenza, in qualche modo diversi dai propri simili. I due condividono la storia, la vita e il sangue freddo del Nord, ma anche il bisogno di trovare il proprio posto nel mondo.
4) Fleabag e Hilary (Fleabag)
Bisogna ammettere che l'adorabile mascotte della caffetteria di Fleabag non ha sempre avuto un rapporto roseo con la sua proprietaria. In effetti, inizialmente Hilary doveva essere un regalo per l'amica Boo, tuttavia quando Fleabag si ritrova costretta a prendersene cura scopre quanto amore sia in grado di dare una piccola porcellina d'india. Il rapporto che si instaura permette alla donna di mantenere una connessione con Boo, ma anche di ritrovare la dolcezza e l'affetto che, nel mondo esterno, sembrano esserle negati.
5) Sabrina e Salem (Chilling Adventures of Sabrina)
Il personaggio di Salem lo abbiamo conosciuto in moltissime versioni, da quella animata di Sabrina – The Animated Series a quella divertentissima di Vita da Strega, ma Chilling Adventures of Sabrina ne propone una decisamente più inquietante: qui non abbiamo il classico stregone tramutato in gatto da una maledizione, ma un'entità oscura che Sabrina richiama a sé con un incantesimo. Divenuto il famiglio della streghetta, Salem la segue e la protegge con i suoi misteriosi poteri. In questo caso nessun sentimentalismo: dietro le mentite spoglie di un gatto sornione, si cela un legame magico di enorme portata.
6) Walt e Vincent (Lost)
Nelle labirintiche vicende di Lost, un amico a quattro zampe come Vincent è davvero indispensabile. Per Walt non è stato solo un amico e un supporto nei momenti difficili, ma anche il ricordo della vita prima del naufragio: un'esistenza non sempre facile, ma nel complesso normale e tranquilla. L'Isola cambia radicalmente le persone, ma Vincent rimane sempre lo stesso, puro e pieno d'amore. È impossibile non adorarlo, soprattutto quando dubbi e cattiveria s'insidiano nelle menti di tutti.
7) J.D. e Rowdy (Scrubs)
In qualsiasi altra serie, avere come animale domestico una creatura morta e impagliata sarebbe parso di cattivo gusto, ma non in Scrubs. Qui, riusciamo quasi ad abituarci alla presenza di Rowdy come se si trattasse di un cane particolarmente silenzioso. Ok, suona macabro, tuttavia il genuino affetto di J.D. e Turk per l'animale fa davvero sorridere. I due non hanno idea di come Rowdy fosse in vita, avendolo acquistato già impagliato durante la vendita in un garage, eppure lo trattano come un vero cane, lo nutrono e fanno attenzione a non urtare la sua sensibilità. Non che abbia mai fatto qualcosa di eclatante, ma Rowdy è riuscito comunque a diventare uno dei personaggi più amati della serie.
8) Winston e Ferguson (New Girl)
Il legame tra Winston e il suo Ferguson è talmente dolce da risultare patetico, a tratti. Le attenzioni, qui, rasentano l'ossessione: quando il gatto sparisce, Winston sembra essere in grado di percepire eventuali situazioni di pericolo, viene colto da crisi e somiglia a una madre troppo protettiva. Oltre agli innumerevoli selfie scattati insieme con cadenza settimanale, Winston acquista persino un hotel per gatti per far sì che Ferguson sia felice. Per quanto eccessivo, è pur sempre amore.
9) Sam e Edison (Atypical)
Il forte attaccamento del protagonista di Atypical alla sua tartaruga, Edison, è davvero commovente: quest'ultima è infatti un grande aiuto per Sam, il quale deve fare i conti con l'autismo da cui affetto. Sam considera Edison il suo migliore amico e, quando si trova a dover affrontare situazioni al di fuori della sua comfort zone, lo porta sempre con sé. Anche quando trascorre la notte da un amico, la presenza della tartaruga gli infonde sicurezza e lo fa sentire protetto, a casa. Gli animali possono davvero fare dei piccoli miracoli.
10) Tony e Brandy (After Life)
Brandy è il cane di Tony e Lisa, e la sua presenza è fondamentale per Tony al momento della dipartita della moglie. A causa della dolorosa perdita, infatti, l'uomo fatica a trovare un senso alla sua vita, ma vi resta aggrappato soprattutto grazie a Brandy, che rappresenta l'ultima connessione con l'amore perduto. Lisa è il motivo della felicità di Tony, e senza di lei il mondo diviene privo di bellezza, si trasforma in un luogo ostile da dissacrare e ridicolizzare, ma Brandy lo mantiene ancorato ad esso. A volte l'amicizia salva davvero la vita.