Ora non vi arrabbiate. Lo so, lo abbiamo capito tutti che The Witcher non è la nuova Game of Thrones, nel bene e nel male. Per quanto molti detestino ammetterlo, però, entrambe le serie sono divenute dei pilastri del fantasy, e i creatori di questi due universi qualcosa in comune ce l'hanno: le opere di George R. R. Martin e Andrzej Sapkowski sono infatti fortemente influenzate dai principali esponenti della letteratura fantastica, tra cui Tolkien, Ursula Le Guin e Marion Zimmer Bradley. Ogni autore che si rispetti, come è giusto che sia, cerca di proporre ai lettori una visione del mondo nuova e originale – anche se quest'ultima sarà sempre in qualche modo condizionata da uno schema preesistente – presupponendo analogie e contaminazioni tra le opere di un particolare genere.
Non dobbiamo incappare nell'errore di interpretare queste somiglianze come un "male necessario". Questo perché può essere davvero affascinante capire quali sono gli elementi da cui vari scrittori (o produttori) hanno deciso di prendere spunto, quali i miglioramenti che hanno apportato, e che cosa rende una certa storia davvero unica. Dimenticate dunque per un attimo la lotta per la supremazia tra The Witcher e Il Trono di Spade, e addentriamoci insieme in uno degli aspetti più affascinanti del genere fantastico.
Una lezione di geografia: The Witcher e Game of Thrones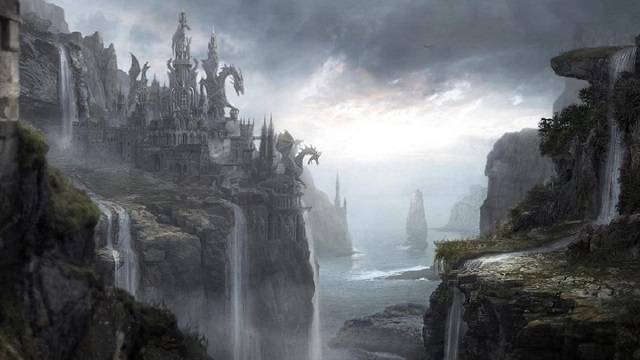 Come insegna già Il Signore degli Anelli, le mappe che descrivono universi fittizi sono divenute un must per ogni opera fantasy degna di questo nome. Grazie a queste, possiamo immedesimarci ancor più nei personaggi, percorrere il viaggio con loro e immaginare i luoghi in cui si svolge ogni mirabolante avventura. È incredibile pensare a quale lavoro si celi dietro a ogni dettagliata cartina, creata per i coraggiosi esploratori di mondi che cercano di orientarsi nelle labirintiche menti degli autori. In questo senso, Game of Thrones e The Witcher ci regalano un'esperienza a 360 gradi, proponendo le ambientazioni più variegate e sconfinati continenti da visitare. Ma quale dei due universi è effettivamente il più vasto? Per capirlo bisogna addentrarsi in un'approfondita analisi dei mappamondi messi a nostra disposizione, poiché spesso accade che, per ragioni di trama, le serie e i romanzi si concentrino solo in alcune località del planisfero lasciando molte zone d'ombra.
Il Continente di The Witcher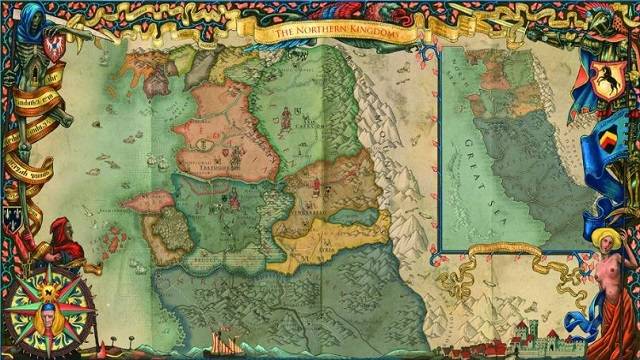 La nuova e acclamatissima serie Netflix esplora solo parzialmente l'universo di The Witcher. Riusciamo a raccogliere delle informazioni dai pellegrinaggi di Geralt e dai racconti dei vari personaggi, ma non è possibile definire il mondo dello strigo nella sua interezza (per ora). Le mappe a nostra disposizione rappresentano il Continente, composto dai Regni Settentrionali e dall'Impero di Nilfgaard. Quest'ultimo, nel meridione, costituisce la più grande potenza conosciuta, mentre a nord delle Montagne di Amell il territorio è costellato da una pluralità di stati. Tra questi, i principali sono Aedirn (che ha dato i natali a Yennefer), Cintra, Kaedwen, Kovir e Poviss, Lyria e Rivia, Redania e Temeria. Fanno parte del Continente anche Haakland, Zerrikania e il Deserto di Korath, mentre al di là del mare vi sono le terre misteriose di Ofir e Zangwebar, citate da Borch Tre Taccole nei suoi racconti.
Dando un'occhiata alla complessa timeline, inoltre, è possibile raccogliere alcuni indizi importanti: sappiamo che Ciri impiega circa sei giorni per raggiungere la Foresta di Brokilon dopo il colpo di stato a Cintra, nonostante i due luoghi siano piuttosto vicini sulla mappa. Possiamo perciò immaginare che per percorrere l'intero Continente occorrano molti lunghi mesi, se non addirittura anni.
Il Mondo Conosciuto di Game of Thrones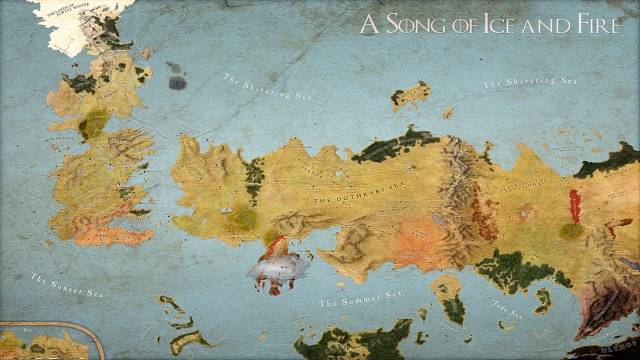 Diamo ora una sbirciata alla carta geografica delle Cronache del Ghiaccio e del Fuoco, che ci può fornire un quadro d'insieme più esauriente rispetto alla serie tv. Infatti, in Game of Thrones le vicende si svolgono interamente in due continenti: Westeros ed Essos, situati rispettivamente nella parte occidentale e orientale del globo. In realtà, però, il Mondo Conosciuto si estende ben oltre questi confini. Sothoryos si colloca a sud di Essos, oltre il Mare dell'Estate, e si tratta di un continente selvaggio, il cui territorio si divide tra immensi deserti e fittissime giungle. Si vocifera anche di un'altra misteriosa terra, Ulthos, situata al di là degli Stretti del Croco e delle Terre delle Ombre, ma non ci è dato di conoscerne l'esatta estensione poiché nessuno si è mai spinto fin laggiù.
Anche solo considerando i due continenti principali, possiamo renderci conto di quanto vasto sia l'universo di Game of Thrones: Westeros è composto dai Sette Regni che si contendono il Trono di Spade, mentre a nord della Barriera si trovano le gelide distese abitate da migliaia di bruti. Per non parlare delle Terre dell'Eterno Inverno che ospitano gli estranei. Ad Essos la maggior parte della popolazione si concentra nelle nove Città Libere sulla costa o nelle città-stato della Baia degli Schiavisti, ma è il Mare d'Erba dei Dothraki a ricoprire quasi l'intero continente. A ben guardare, Il Trono di Spade potrebbe avere un universo tre o quattro volte più grande di quello di The Witcher, ma per esserne certi dobbiamo continuare la nostra ricerca verso l'ignoto.