Arrivata a dicembre su Netflix, The Witcher ha fatto parlare di sé. Gli spettatori sono stati conquistati dalle atmosfere fantasy, ma c'è stato anche chi non l'ha apprezzata. Molti hanno criticato la serie perché ha una trama confusionaria.
Questa confusione è voluta da Lauren S. Hissrich, la showrunner.
Hissrich ha risposto a dei fan su Reddit, rivelando il documento con cui ha presentato a Netflix le sue idee per la serie. Fin dall'inizio aveva pianificato linee temporali diverse per Geralt, Yennefer e Ciri.
Nel documento dice:
Nella prima stagione vorrei seguire tre storie separate: quelle di Geralt, di Yennefer e di Ciri. Per dirlo nel modo più semplice possibile, vorrei raccontare le origini di tutti e tre i personaggi. Per fare in modo che questo funzioni, lavoreremo come minimo su due linee temporali differenti (e a volte anche tre). La narrativa non lineare nei racconti e nella saga è uno degli elementi più affascinanti di questo franchise e penso che il pubblico televisivo sia abbastanza scaltro da riuscire a seguirla.

L'idea è che le tre storie scorrano parallelamente, coprendo diversi spazi e tempi. Lungo la stagione inizieranno a incrociarsi: quelle di Geralt e Yennefer si incroceranno per prime, a metà stagione, e poi quella di Ciri si integrerà alle loro nel penultimo o ultimo episodio.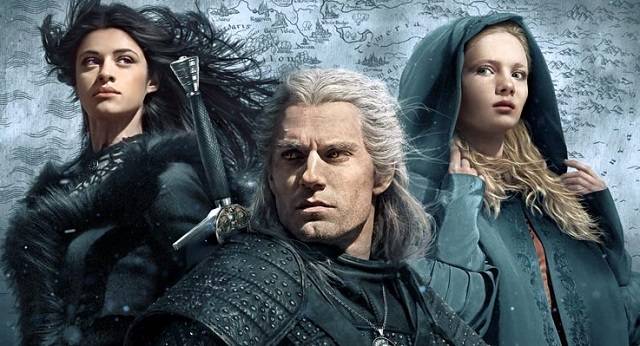 Questa scelta narrativa ha reso difficile la visione a molti spettatori, ma Netflix ora risolve il problema. Ha infatti pubblicato la timeline degli eventi di The Witcher, chiarendo la trama.
Attenzione: ci sono spoiler!
Episodio 2: Yennefer viene venduta ad Aretuza (1210)
Episodio 3: la trasformazione di Yennefer
Episodio 1: Geralt diventa il macellaio di Blaviken
Episodio 2: Geralt e Ranuncolo vengono imprigionati dagli elfi
Episodio 4: la regina di cui Yennefer è al servizio viene assassinata
Episodio 3: Geralt combatte con la strige (1249)
Episodio 4: La madre di Ciri promette la bimba a Geralt per la Legge della Sorpresa
Episodio 5: Geralt e Yennefer si incontrano
Episodio 6: Geralt e Yennefer si incontrano ancora per la caccia a un drago. Yennefer scopre il desiderio espresso da Geralt (1263)
Episodio 7: Geralt torna a Cintra per Ciri, ma viene imprigionato
Episodio 1: Calanthe perde la Battaglia di Marnadal
Episodio 7: Yennefer torna ad Aretuza
Episodio 1: Cintra viene saccheggiata e distrutta, Calanthe si suicida, Ciri scappa
Episodio 8: La battaglia di Sodden, Yennefer "libera" il suo caos
Episodio 8: Geralt e Ciri si incontrano