Molti prendono la questione spoiler molto seriamente. Sicuramente tutti conosciamo l'amico "anti spoiler", quello che se gli dici che il suo personaggio preferito nell'ultima puntata ha perso un pelo delle sopracciglia si arrabbia come un matto. La storia che stiamo per raccontarvi parla proprio di spoiler, e di una diatriba tra un famoso blog 'spoileratore' ed AMC.
Per chi non lo sapesse, AMC (American Movie Classics) è la rete televisiva che ha prodotto alcune delle serie più conosciute al mondo, solo per citarne alcune, Mad Men, Breaking Bad e The Walking Dead.
Oggi siamo qui per parlare proprio di quest'ultima.
La famosissima serie sugli zombie è da qualche mese sulla lingua di tutti a causa di un finale di stagione a dir poco cliffhanger. Roba che a confronto Jon Snow è uno che non sa niente.
Se siete fan dello show forse conoscete il blog "The Spoiling Dead", il cui scopo è abbastanza palese sin dal nome: fare spoiler e speculazioni riguardo allo show. Dedicato ai fan che amano speculare e pensare a cosa possa succedere, senza forzare nessuno a scoprire nulla che non voglia sapere.
Negli anni i loro spoiler sono diventati sempre più accurati, fino a diventare una sicurezza per ogni fan: ciò che viene detto da The Spoiling Dead accade.
Come potete ben immaginare dopo l'ultimo finale di stagione i fan sulla pagina sono letteralmente impazziti, sperando che in qualche modo i gestori conoscessero l'ambita verità.
Purtroppo anche qualcun'altra ha fatto lo stesso pensiero: parliamo proprio di AMC, coloro che avevano più a cuore in assoluto a nascondere questo segreto.
Quello che è successo nessuno se lo sarebbe mai aspettato: AMC ha minacciato personalmente di fare causa i ragazzi di The Spoiling Dead.
 Ecco il resoconto pubblicato sulla loro pagina Facebook (l'ho tradotto personalmente, spero di non aver sbagliato i termini strettamente legali, in caso aiutateci nei commenti):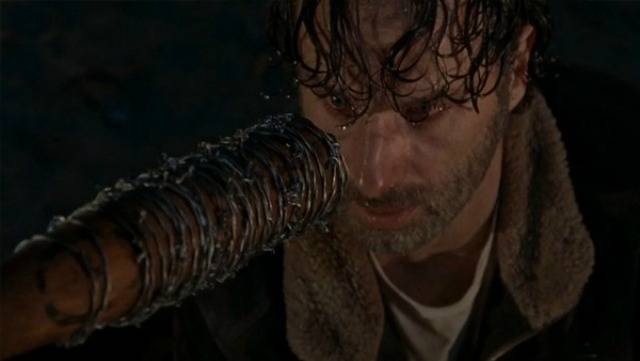 "Bene adorati (letteralmente "ranuncoli", un modo carino di chiamare i propri fan), abbiamo delle brutte notizie da darvi oggi. Dopo due anni finalmente AMC ci ha contattati! Ma non era una semplice richiesta di non pubblicare alcunché riguardo alla vittima di Lucille, o un qualunque modo amichevole di trovare un compromesso, era un'ordinanza e una minaccia di causa della AMC Holdings, e dal rappresentante legale della LLC, Dennis Wilson. Hanno detto che non possiamo fare alcun tipo di predizione riguardo alla vittima di Lucille. La loro presa di posizione è che fare ogni tipo di previsione verrebbe considerata infrazione di copyright. AMC ci ha detto che abbiamo fatto una qualche affermazione che sostiene che noi riceviamo " Informazioni protette da copyright, segrete, riguardo all'informazione sulla trama più critica nella non ancora rilasciata settima stagione di The Walking Dead" e che abbiamo annunciato che stiamo per rivelare quest'informazione protetta. Non siamo ancora sicuri dove avremmo teoricamente fatto tale affermazione perché non riusciamo ad identificare dove è stata pubblicata.
La verità è che siamo diventati vittime del nostro stesso successo. Ci siamo fatti conoscere per la veridicità delle nostre informazioni e ora AMC ci percepisce come una minaccia. Possiamo capire il perché. Una volta eravamo una piccola community, ma ora siamo 400,000.
L'armata The Spoiling Dead, originariamente chiamata così per scherzare, è ora una grande realtà in questo piccolo lavoretto da casa. Siamo una minaccia per la nostra accuratezza. In ogni caso, non era mai stata nostra intenzione causare danni a questa serie (e ancora non crediamo di averne fatti), solo per soddisfare la curiosità di milioni di fan che desideravano cosa offrivamo. Milioni di altri fan che seguono lo show non hanno subito spoiler e nessuno è a conoscenza di chi siamo. Siamo una community dedicata di entusiasti, appassionati fan che amano la serie così tanto che vogliamo sapere cosa accadrà nel futuro e speculare riguardo a tutte le variabili. I nostri spoiler sono rivolti esclusivamente ai fan che li cercano per aumentare la loro esperienza di visione.
In pratica alla fin fine il significato è che se postiamo qualcosa riguardo alla vittima di Lucille e la indoviniamo, AMC sostiene che ci farà causa. Il fatto che ci siano o meno le basi o meno non è il problema, dovremmo spendere dei soldi per poterci difendere. Così funziona il nostro sistema giudiziario. Avremo delle difese? Certo che sì. Ma ci costerò molti soldi. Se qualcuno perciò ci porterà dei potenziali spoiler su Lucille e verrà fuori che questo è accurato ci faranno causa. Ciò non significa che loro hanno ragione e noi torto, ma come in tante altre situazioni al mondo, loro possiedono soldi e potere, noi no. Perciò perdiamo in ogni caso. Negli ultimi due anni AMC ha archiviato diverse infrazioni di copyright (erroneamente) da noi commesse, sapendo benissimo che noi non abbiamo alcun modo per controbattere, assumendo investigatori per intimidire i nostri membri, e minacciando i nostri membri locali con arresti, sopra ogni ragionevole atto.
Siamo anche piuttosto sicuri che abbiamo anche a che fare con gli attacchi DOS nel nostro sito proprio prima del finale di stagione. Hanno esibito ogni qualità del tipico bullo che butta il petto all'infuori. Questo per noi è uno schifo. Una cosa veramente triste vedere il network che produce il nostro show preferito attaccare alcuni dei loro più grandi fan. Soprattutto perché avrebbero potuto usare un modo molto più diplomatico per approcciarsi ottenendo gli stessi risultati.
Per favore, rispettate la nostra decisione di non mettere a rischio le nostre stesse vite. AMC ci ha attaccato per quattro giorni contattando le nostre case, le nostre famiglie e i nostri collaboratori; perfino postando sulla nostra pagina privata nei social.
Siamo fan di questo show proprio come te e non siamo un'associazione che ne trae profitto commerciale. Abbiamo famiglie e carriere a cui pensare. Nessuno spoiler vale la pena di un compromesso del genere. Se ci pensate questo ci rende le figette che si inginocchiano AMC, ma dobbiamo esserlo.
Dopo una consulenza con il nostro legale, abbiamo risposto ad AMC che The Spoiling Dead non posterà alcunché riguardo a Lucille o altri sfoghi.
Inoltre non risponderemo ad alcuna domanda riguardo a chi pensiamo sia.
Se sentite un potenziale spoiler da qualche parte e ci scrivete per una conferma, non potremo darvela.
Se ci scrivete privatamente per sapere chi pensiamo sia stato ucciso da Lucille, non risponderemo.
L'informazione la potrete trovare in altri siti che non sia il nostro, ma nessuna premonizione ufficiale verrà fatta dal nostro staff.
Ma siamo un attimo onesti. Non è ragionevole pensare per un solo momento che lo spoiler di Lucille non uscirà prima della season premiere. Il 2% di chi segue lo show lo sa già. In primo luogo, non siamo gli unici a fare spoiler su internet. Inoltre, semplici osservazioni e deduzioni non possono essere proibite. Con molto aiuto, siamo diventati molto bravi ad osservare, ascoltare, aspettare, cercare e separare la verità dalle bugie ed essere astuti quando si tratta di questo show.
Con questo metodo solitamente otteniamo i nostri risultati. Riportiamo semplicemente queste informazioni. Perciò mentre continuiamo a postare le foto dal set, toccherà a voi ragazzi dedurre le informazioni e fare le vostre supposizioni. Non potremo assistervi facendo speculazioni.
Giusto per chiarire, continueremo a postare tutti gli updates dal set, testimonianze viste dal vivo e tutte le foto scattate legalmente durante le riprese come facciamo di solito.
Noi non chiuderemo il blog.
Faremo le nostre cose come sempre, semplicemente non faremo spoiler su quel certo avvenimento.
Grazie a tutti- lo staff di The Spoiling Dead"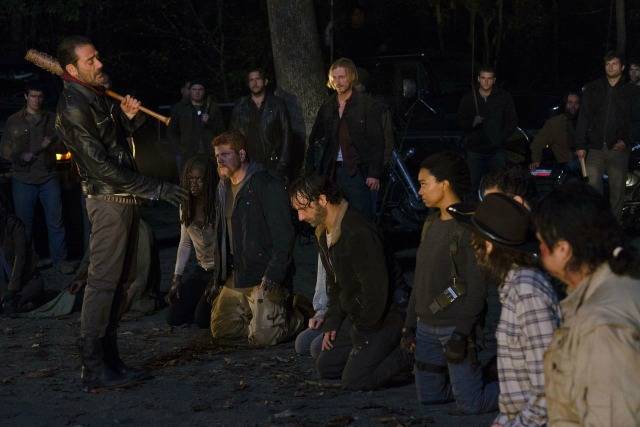 Insomma, questi sono i fatti.
Più di un mese è passato da questi fatti (il post è stato pubblicato il 12 giugno) e le riprese della settima stagione sono andate avanti.
Come potete immaginare, e come è stato dichiarato dagli stessi gestori della pagina, la voglia di chiacchierare riguardo alla vittima di Lucille non è finita.
Portandoci a quella che sembra essere la notizia più veritiera ottenuta fino ad oggi.
Preparatevi, vi scandalizzerà.
Girate la pagina se volete scoprirlo, definirla sorprendente è dire poco.