Attenzione: evitare la lettura di questo articolo se non avete visto il midseason dell'ottava stagione di The Walking Dead!
Il midseason dell'ottava stagione di The Walking Dead determina un forte cambiamento all'interno della Serie. The Walking Dead ci ha sempre abituati a vivere momenti di suspense durante i midseason e i season finale. Chi segue la Serie sa che in questi due episodi c'è tensione, voglia di sapere e necessità di continuare la visione. In questo midseason, trasmesso questa settimana, uno dei protagonisti presenti sin dalla prima stagione, è uscito di scena. Carl Grimes, il primogenito di Rick Grimes, è stato morso da uno zombie sul fianco destro. Sappiamo già che questo fatto porterà il giovanotto a perdere la vita.
I pareri dei fan, come in ogni questione riguardante The Walking Dead, sono contrastanti. C'è chi sostiene che l'uscita di scena dell'attore Chandler Riggs sia collegata alla sua necessità di frequentare il college (se ne è parlato per molto tempo). Molti fan hanno sempre considerato Carl un personaggio sacrificabile, quindi, nonostante l'effetto sorpresa, la notizia della sua dipartita non ha causato loro grande turbamento. Infine, c'è una parte del fandom molto attaccata al giovane Carl, shockata e incredula di quanto accaduto.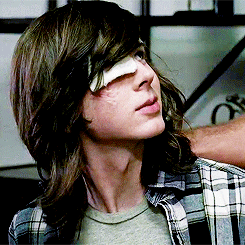 Ma i fan non sono gli unici ad aver espresso le loro opinioni in merito. La brutta sorpresa ha sconvolto anche agli altri membri del cast. In particolare Andrew Lincoln (Rick Grimes) ha dichiarato di aver ricevuto una chiamata da Scott Gimple, showrunner della Serie, il quale gli ha comunicato l'uscita di scena di Carl. L'attore non sapeva cosa dire, nè cosa fare. La notizia lo ha sconvolto e nei giorni scorsi ha rilasciato un'intervista, dicendo:
Non credevo potesse accadere. Ho sempre pensato che quel ragazzo rappresentasse il futuro. È stato davvero shockante. Non si può creare un personaggio come Rick Grimes, la cui ragione di vita è data dalla moglie e dai figli, e lasciarlo senza moglie. E lasciarlo senza un figlio.
Lincoln non si aspettava una notizia del genere. E non è solo: il padre di Chandler Riggs ha attaccato la produzione AMC, pubblicando forti parole su Facebook. Ha ammesso di non essersi mai fidato di Scott Gimple (clicca qui per l'intero commento!). Sembrerebbe quindi che la decisione di togliere la vita a Carl Grimes sia stata presa dalla produzione, senza dipendere dall'attore.
È evidente che la notizia del licenziamento di Chandler Riggs ha sconvolto diverse persone, fan, famigliari e cast. E anche i lettori del fumetto di Robert Kirkman, su cui si basa la Serie. Scott Gimple ha sempre tentato di seguire le vicende narrate nei fumetti, seppur con qualche cambiamento. In una recente intervista, senza commentare la decisione di far fuori Riggs, ha dichiarato di voler continuare in questa direzione. Le vicende che riguarderanno Carl, in modo particolare quelle relative al suo rapporto con Negan, verranno mostrate e narrate attraverso personaggi diversi. L'effetto desiderato sarà quello trasmesso dai fumetti? (Clicca qui per maggiori informazioni!).
Carl Grimes è stato un personaggio importante all'interno di The Walking Dead. Come gli altri protagonisti, vanta di una crecita personale e di un'evoluzione sviluppate nel corso delle sette stagioni (e mezzo) della Serie. La sua morte comporterà molti cambiamenti, soprattuto per Rick, che rimarrà molto toccato da questo ulteriore lutto. Durante la seconda parte dell'ottava stagione di impareremo a convivere con questa perdita. E lo faremo insieme ai personaggi di The Walking Dead, che ci hanno spesso dimostrato che ciò che non uccide, fortifica.