Attenzione: evitare la lettura di questo articolo se non avete visto il midseason dell'ottava stagione di The Walking Dead!
I fan di The Walking Dead non sembrano molto soddisfatti di questa ottava stagione della Serie, e i ratings dell'audience lo dimostrano. L'atteso midseason avrebbe potuto far cambiare loro idea, almeno per un episodio, fornendo al pubblico un indimenticabile effetto sorpresa e, allo stesso tempo, trasmettendo agli spettatori la voglia di continuare la visione della Serie. Durante l'episodio 8×08 di The Walking Dead, andato in onda questa settimana, abbiamo assistito all'imminente uscita di scena di uno dei protagonisti. Si tratta di Carl Grimes, figlio di Rick, presente nella Serie sin dalla prima stagione.
Carl mostra al padre il morso di uno zombie. Sappiamo già, viste le stagioni precedenti, quello che accadrà: il giovane Grimes non sarà più lo stesso. Nonostante la Serie stia per perdere uno dei suoi personaggi principali, lo showrunner Scott Gimple ha promesso ai fan che le storie narrate nel fumetto di Robert Kirkman non verranno trascurate. Ecco le sue dichiarazioni:
Abbiamo il dovere di continuare a raccontare le storie del fumetto. Sì, sarà diverso. E sì, proseguendo con la storia il rapporto tra Carl e Negan sarebbe stato davvero importante. Come al solito, in ogni caso, il nostro piano è quello di raccontare le storie del fumetto.
In primo luogo, questa dichiarazione ufficializza l'uscita di scena di Carl Grimes. Molti fan avevano pensato a diverse teorie, sostenendo che il personaggio sarebbe riuscito a sopravvivere.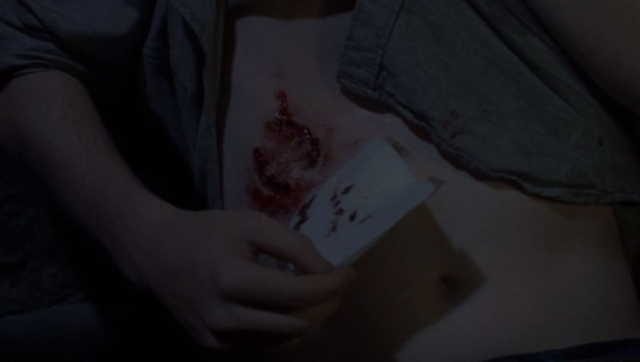 Non è però la prima volta che i racconti della Serie targata AMC deviano da quelli originali, narrati da Kirkman. Ad esempio, l'uccisione di Andrea è avvenuta prima rispetto a quanto accade nel fumetto. In merito a questi cambiamenti, Gimple ha commentato:
Sarà un modo diverso di raccontare le stesse storie del fumetto, che potranno riguardare personaggi diversi. Speriamo comunque di rendere al meglio ciò che queste vicende trasmettono.
Quindi, le vicende che nel fumetto vedono protagonista Carl potrebbero essere raccontate attraverso altri personaggi della Serie. Sempre commentando i fumetti di Kirkman, in riferimento a tutti gli elementi che sembrerebbero sostenere un passaggio di leadership, da Rick a Carl, Gimple ha detto:
Può ancora accadere, solo in modo diverso. Non lo abbiamo ancora letto nei fumetti. Robert Kirkman non ha ancora scritto questo passaggio, ma cercheremo di rimanere i più fedeli possibili alle vicende che racconterà.