Eccoci al nostro appuntamento settimanale con The Walking Dead!
La puntata 8×13 di The Walking Dead si apre e si chiude con Morgan e la sua allucinazione, salvo la finale risposta di Maggie alla domanda posta da Gavin in vari momenti.
L'episodio è ciclico e scandito regolarmente da orari che ci vengono mostrati. Le varie contrapposizioni che si ripetono (giorno/notte, guerra/pace, speranza/morte) e i luoghi ripresi in diversi orari (le tombe, le mura di Hilltop) mandano allo spettatore continuamente un senso di angoscia. Ci si chiede continuamente cos'altro possa succedere.
La forza di "Don't send us astray"/"Fuori strada" è proprio questa: domandarsi quanto potrà ancora durare questo conflitto prima di far perdere di vista l'obiettivo reale?
Si combatte per arrivare alla fine della guerra (parole di Tobin) o per arrivare a domani (parole di Carol)? Si combatte per una vendetta personale (parole di Maggie) o per salvare delle vite (parola di Negan, Rick, Hilltop e tutti quanti)?
E' normale fermarsi a pensare a quale sia la verità, soprattutto quando il prezzo da pagare per la Fine cresce di giorno in giorno. O quando, come afferma Carol, ci si rende conto che "non finirà mai".
Tornando all'episodio in sè, ricominciamo dalla visione di Morgan che, come detto sopra, apre e chiude questa tredicesima puntata.
"Dovevi farlo tu" e "Tu sai cos'è" sono le due frasi che Morgan si sente ripetere in continuazioni. Sono le frasi che raccontano tutti i suoi sbagli, in particolare "dovevi farlo tu". Doveva uccidere sua moglie per evitare che divorasse suo figlio, doveva uccidere Jared prima che egli uccidesse Benjamin e doveva uccidere Gavin prima di macchiare l'innocenza di Henry.
Non è successo. Così ora lo spettro di Gavin perseguita Morgan. L'opprimente allucinazione visiva ed uditiva parla all'uomo riportandolo ad uno stato confusionario da cui probabilmente non si è mai veramente ripreso. Lo riporta nel passato, alla sua sindrome da stress post trauma, ormai persistente nel personaggio di Morgan.
L'aver sulla coscienza l'innocenza e anche lo smarrimento di un ragazzino era probabilmente la cosa peggiore che gli potesse succedere dopo tutto quello che gli era già successo.
"Ho spedito quel corpo a Negan per farlo andare fuori di testa, per attirarlo qui. In modo che la tomba di mio marito fosse l'ultima cosa che vedeva. E sapevo che ci sarebbe stato un prezzo da pagare. Non so se questo fa di me una brava leader. Ma so che l'unico rimorso che ho è il fatto che Negan non sia tra quei cadaveri."
Morgan non è il solo che rischia di perdere nuovamente la retta via. A lui si stanno pian piano accodando anche gli altri: Rick, la stessa Maggie, Daryl.
Rick sta seguendo solo le sue decisioni e se ne rende anche conto. Non vuole appoggiarsi a nessuno; ha respinto l'aiuto di Daryl nella scorsa puntata e quello di Michonne e Siddiq in questa. In questo momento è una mina vagante che potrebbe esplodere da un momento all'altro.
Maggie, proprio insieme a Rick non perde un momento per ricordare ciò che vuole "Li volevo vedere morti. Tutti. Negan più di ognuno". Sulle tombe dei suoi uomini ammette di aver cercato più la vendetta nei confronti di Negan che la salvezza di tutte le persone che le stavano accanto. Le due condizioni possono coesistere ovviamente, ma a quale prezzo?
Daryl, ormai sfiduciato completamente da Dwight non ha la lucidità necessaria per capire che quella freccia ha salvato la vita a Tara. Non riesce ad andare oltre il suo dolore nemmeno quando Tara nomina suo fratello e il Governatore. Quando Tara non si ammalerà (perchè le frecce di Dwight sono pulite) e l'arciere si renderà conto della verità forse sarà troppo tardi.
Se da una parte c'è il timore che questa rabbia e questo dolore si tramutino in sbagli, dall'altra non si può negare il fatto che tra i due schieramenti ci sia ancora ampio margine di differenza.
Da un lato Simon urla che "i Salvatori che avete sono merce danneggiata perchè essi, A: non si fanno catturare, B: si arrangiano in qualche modo quando suddetta condizione si verifica". Dall'altro Maggie permette ad Alden di seppellire i morti "Non sono la mia gente, ma sono felice che li consideri tali, cioè persone".
Il valore che viene dato ai prigionieri e ai morti è indicativo e ti permette di contare su qualcuno quando le cose si aggravano (alcuni Salvatori decidono di rimanere anche quando potrebbero andarsene).
Tutti possono aiutare, tutti hanno un compito.
Un altro dei detti di The Walking Dead torna anche in questa puntata per ricordarci che alcune regole non cambiano mai.
Si comincia con la piccola ribellione di Henry che, dopo aver ucciso Gavin, pretende di prendere parte al conflitto. Queste innocenti pretese rivolte agli adulti della situazione (Ezekiel, Carol) non fanno altro che ricordarci il piccolo Carl Grimes ai tempi della fattoria o della prigione. Entrambi credevano che aver ucciso la prima persona desse loro il diritto di ottenere il totale appoggio per il coraggio dimostrato. 
Ovviamente non funziona così e Carol non perde un attimo per ricordargli la verità. "Basta cose da bambini", sembra dire "se esci, muori". E' la semplice verità.
Ognuno deve trovare il proprio posto ma quello di Henry è ancora dietro la corazza degli adulti pronti a proteggerlo. Stessa cosa vale per Siddiq che non si azzarda a stare con le mani in mano. Vuole aiutare e può farlo.
Quando dopo la prima battaglia la notte cala su Hilltop, capiamo che le parole di Carol non sono altro che la semplice verità. E' sempre stato così e forse lo sarà per sempre.
"Vincere significa arrivare a domani. Forse solo per un'altra notte. Forse solo per un'altra mattina. Dopodiché nessuna certezza"
Le armi infette dei Salvatori non permettono alle normali ferite di guarire senza antibiotici, per cui Tobin muore ed innesca una catena esplosiva. Esattamente come successe alla prigione: era facile controllare un nemico esterno, ma quando i morti camminano inaspettatamente tra i vivi è difficile arginare le vittime.
Ed ecco quindi che torna la domanda di Gavin. "Tu sai che cos'è".
Solo Maggie, vera leader del momento, può capire e pronunciare la risposta. Tutte quelle vite sono semplicemente il famoso "prezzo da pagare".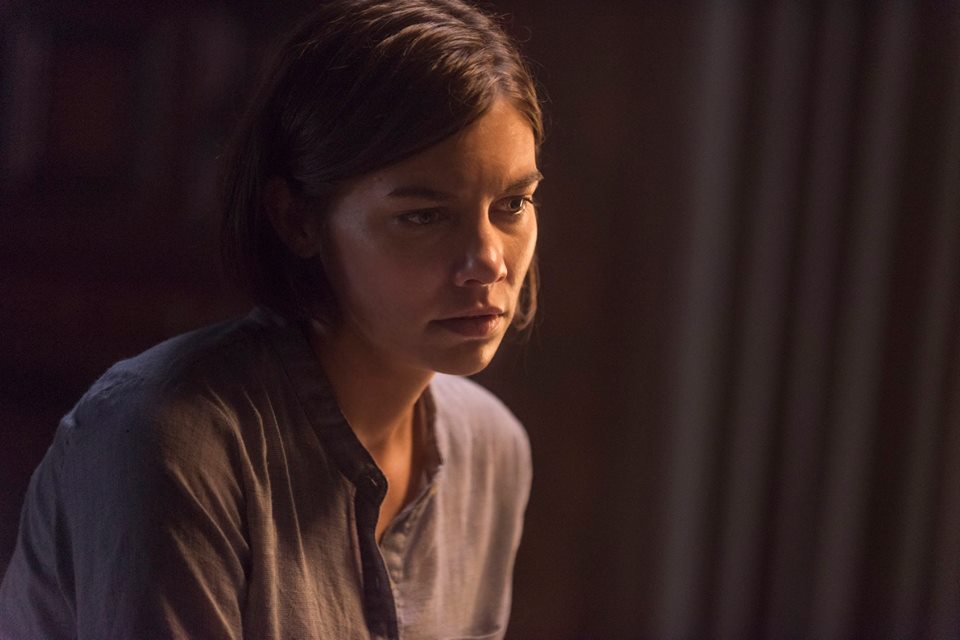 Ecco il promo del prossimo episodio sottotitolato dalla nostra gemellata The Walking Dead ITA! Passate dalla loro pagina a questo link, mettete un bel 'mi piace' e se non riuscite ad aprire il video cliccate qui!
#SPOILER #ALERT[NON LEGGETE OLTRE E NON APRITE IL VIDEO SE NON SIETE IN PARI CON LA SERIE]..#NEWS #TWD8Eccovi il promo del prossimo episodio 8×14 "Still gotta mean something" dove Rick e gli altri sembrano di nuovo partiti all'attacco, mentre Jadis si sta "occupando" di Negan. :)- Sottotitoli di #TheWalkingDeadITA –

Gepostet von The Walking Dead ITA am Dienstag, 27. März 2018
Non dimenticatevi di passare anche dai nostri amici di Caryl Italia , Dwighty Boy – Austin Amelio Italia , Norman Reedus Italia. The Walking Dead-Italy , The Walking Dead Italia e FIGHT the Dead. FEAR the living – The Walking Dead gdr . The Walking Dead Pagina Italiana . Don't Open Dead Inside!