La puntata 7×07 di The Walking Dead si apre più o meno come si era conclusa la precedente. Una donna solo che cammina sulla strada alla ricerca di qualcosa. Come per Tara, così per Michonne. Questa scena ricorda tanto la quinta stagione in cui una delle sequenze più famose della serie ci mostrava i nostri protagonisti. Stremati, stanchi, sporchi, ma allo stesso tempo uniti e forti come non mai.
Non è un caso che questi spezzoni di personaggi solitari ci richiamino alla mente quell'episodio in cui il gruppo si era appena riformato e sembrava invincibile. Ora non è così e lo sappiamo bene. In The Walking Dead ognuno sta combattendo la sua battaglia da solo.
All'inizio dell'episodio non riusciamo neanche a capire che piega prenderanno gli eventi. Michonne è sola, appunto, per strada. Attira a se gli zombie fischiettando una canzone, salvo poi finirli senza difficoltà ricordandoci i momenti in cui vagava dopo la prigione, poco prima di decidere di darsi alla ricerca di Rick e Carl. Questa volta però la radiolina è nella sua borsa, apparentemente inutilizzata, spenta e silenziosa. Questa volta Michonne sta solo cercando un perché, un come e un qualcuno. Un qualcuno che non è Rick e che non è Carl.
Dall'altra parte ritroviamo invece Aaron e Rick, alla ricerca di chissà quali provviste per rispettare la parte dell'accordo con Negan. Ignari di tutto sto che sta succedendo sull'asse Salvatori-Alexandria, i due uomini si avventurano in una proprietà che non sembra promettere nulla di buono.
Non importa. Non importa se è un uomo, se sono due o dieci, che tipo di difesa abbia per i suoi viveri. Importa solo se ha qualcosa da offrire a loro per Negan. E' l'unica cosa che conta, l'unica regola da seguire.
Poi ci sono Spencer, Padre Gabriel, Rosita e Eugene a cui è affidato il compito portare avanti la leadership di Rick in sua assenza. Rosita lo fa, a modo suo. Vuole combattere ed essere forte. Eugene lo fa: vuole tenere calmi gli animi, ragionare ed essere paziente. Padre Gabriel lo fa: rimprovera Spencer, lo sprona ad essere migliore e lo abbandona per fargli decidere da che parte stare. In un modo contorto e poco convenzionale lo fa anche Spencer procurando provviste.
L'ultima e principale storyline della puntata invece è dedicata a Carl. Carl con Jesus nel suo arrivo a casa Negan, Carl e il suo incontro con lui, Carl e il giro turistico per la base dei Salvatori, Carl e il suo ritorno a casa.
Era più o meno dalla fuga dalla prigione con suo padre in fin di vita che non vedevamo Carl agire per conto suo, solo nel nome di chi lo ha salvato e protetto dal momento in cui è iniziato tutto. Lui lo dice chiaramente 'Voglio solo Negan, non deve morire nessun altro'.  Ma quando egli arriva fischiettando davanti a due dei suoi uomini appena morti, quando arriva con tutte la sua sfrontatezza e si posiziona dietro Joey 'il Grasso' forse anche Carl capisce di aver fatto il passo più lungo della gamba.
'Tu sei adorabile, hai scelto quel fucile perché è fico?'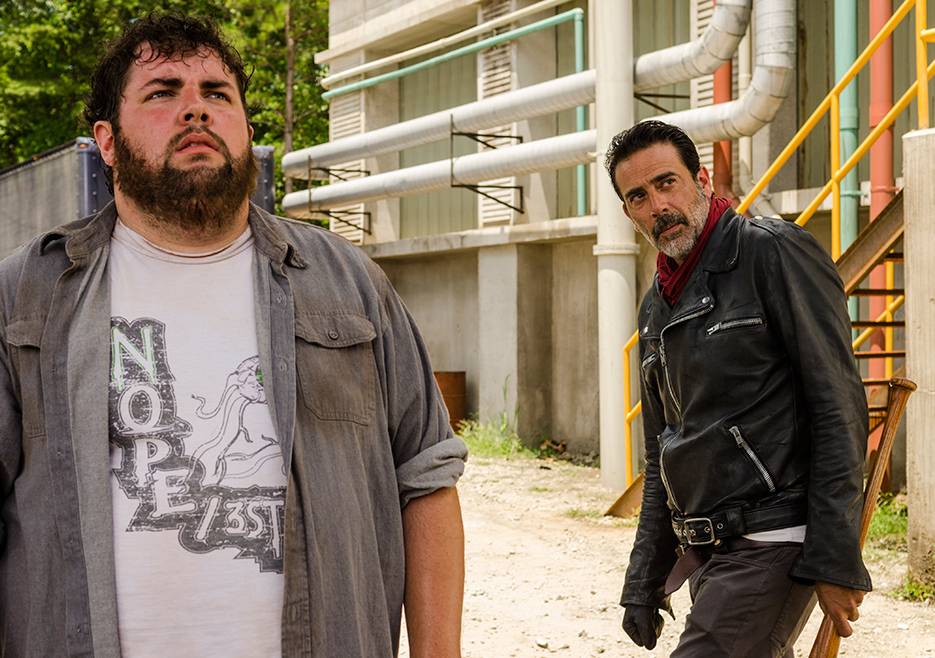 Il viaggio di Carl all'interno della base dei Salvatori è anche un po' il nostro viaggio. La musica che suona quando ci viene mostrato l'intero edificio è una musica potente, che entra nel petto e fa pensare. E' come una gerarchia. Daryl e gli zombie sono nel recinto, sotto a tutti. Sopra ci stanno Negan e ciò che Negan ha costruito.
E mentre si viaggia con quel sottofondo, mentre ci si chiede cosa sta facendo Michonne, cosa hanno visto Aaron e Rick, dove è finito Jesus, ci si domanda anche cosa succederà ora che Carl è finito in bocca al leone. Anzi, ora che Carl si è buttato in mezzo alle sue fauci.
Quindi come è davvero la base dei Salvatori? E' un luogo con un recinto pieno di zombie e persone vive. Un recinto che serve da memorandum per chi non apprezza il proprio lavoro e ciò che gli viene concesso. E' un luogo con celle grigie, sale comuni senza luce, ma con appartamenti lussuosi e curati. E' un luogo dove alcune donne possono girare vestite bene, curate come tante altre spererebbero, ma hanno le lacrime agli occhi e un cuore colmo di sofferenza. E' un luogo dove i soldati più fidati vengono presi in giro, scherniti e umiliati continuamente. E' un luogo dove ci sono delle regole, delle regole che tengono in vita tutti. O quasi.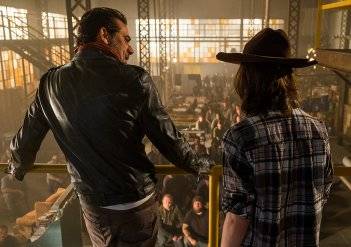 E cosa mostra Negan a Carl? Semplicemente se stesso. Gli mette davanti tutto. Cose migliori e cose peggiori. Punizioni e scuse. Donne e uomini.
Nulla di più, nulla di meno. La scelta di Negan di puntare su Carl non è casuale. Egli ammette più volte di provare per lui una forte ammirazione. ('Mi aspetto che tu tenga il muso per il ballo e invece vai in missione per trovare me e per uccidermi').
Si mostra a Carl come il Re buono che concede verdure fresche a tutti senza bisogno di punti. Come l'uomo che per rispetto delle regole brucia metà faccia a qualcuno con un ferro rovente. L'uomo in grado di mostrare una malata gentilezza verso le donne. L'uomo che non vuole essere tradito.
Il 'c'è di peggio' di Sherry è lo stesso che pronunciò quando Daryl cercò di scappare. E lo stesso che vediamo riflesso nelle lacrime di Carl quando Negan lo costringe a mostrare la sua ferita. 
Negan provoca, minaccia, umilia. Daryl per il vassoio e per la minaccia a Carl, Carl per l'occhio e il suo essere bambino, Sherry per Dwight, Dwight per Sherry e per il dejà-vu del ferro. Passa la sua giornata a dare punizioni, a rimproverare chi non si è comportato bene, a ricordare a chi l'ha fatto che è la giusta scelta. 
Con Carl si pone come una sorta di mentore, lo porta in giro. Gli fa visitare il suo appartamento, lo fa sedere sulla sua poltrona. E' la prima volta che vediamo Negan comportarsi così con qualcuno. Il trattamento che riserva a Carl è messo in contrapposizione con quello per Joey 'il Grasso' che bussa alla sua porta per riportargli Lucille.
Lo liquida con una presa in giro e un tono sgarbato, mentre con Carl sembra in grado di comportarsi civilmente. Per quanto civile possa permettersi di essere nel suo ruolo, ovviamente.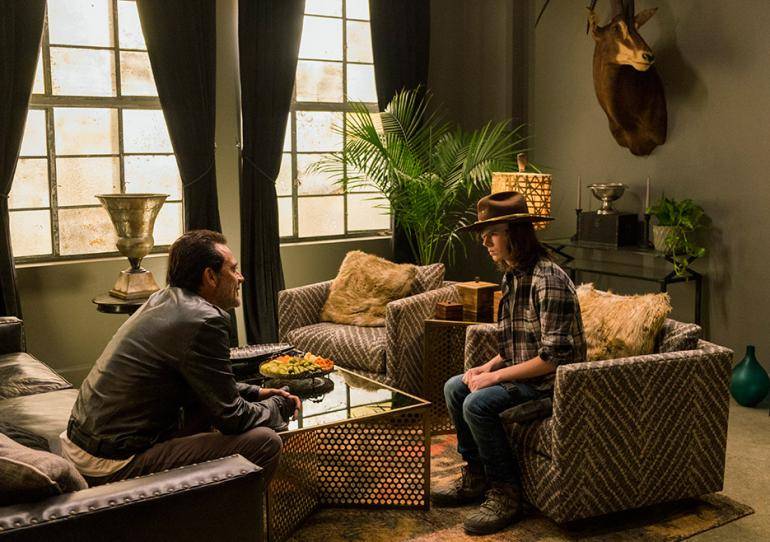 La punizione per Carl l'affronto è esemplare. Nessuna violenza fisica, solo un paio di ricordi da risvegliare. 
Gli chiede di cantare una canzone. Casualmente una canzone che gli cantava sua madre o che ascoltava suo padre in macchina, segni di un passato che non può tornare. Lo costringe a farlo e intanto con Lucille si diverte a simulare colpi alla testa. Uguali a quelli che hanno ucciso Glenn e Abraham. Negan vuole timore e rispetto. E alla fine li ottiene anche da Carl. 
Quando gli mostra in che cosa consista il suo rispetto delle regole, gli confessa anche la sua verità. 'Potrò sembrarti folle, ma le regole ci mantengono in vita'. E il risultato, alla fine, è uguale. Per noi e per Carl. Il pensiero c'è: forse un po' funziona. 
Il modo di sopravvivere di Negan non è l'unico modo e Carl glielo fa notare alla prima occasione ('Noi siamo diversi', 'Tu non ci conosci').
E Negan lo sa, forse. Non può ucciderli, forse non vuole. Forse ciò che dice a Judith spogliato della sua armatura (il giubbotto e la mazza da baseball) non è poi così assurdo. C'è un motivo se il leader dei temuti Salvatori si disturba per riaccompagnare a casa un ragazzino che voleva ucciderlo. C'è un motivo se si vuole occupare in prima persona di quella gente. Se cerca di tenerne separati i migliori membri.
C'è un motivo se i piedi sulla moquette, le freccette e l'acqua scorrevole hanno come sottofondo la canzone Bang Bang di Janis Martin. Canta 'ti darò il mio amore per il tuo, bambino' ('Bangedy-bang I'll trade you my love for your love baby'), mostrandoci un lato di Negan che forse non avevamo ancora potuto prendere in considerazione. Il suo lato umano. 
E ora?
Daryl ha visto e Jesus e ricevuto un bigliettino 'Vai ora' con tutto ciò che serve per uscire da lì, come una forcina. Rick e Aaron sono pronti a prendere le provviste e tornare a casa. Michonne è in viaggio verso casa Salvatori. Negan siede sotto il portico con una scena che lo porta alla stregua di Rick.
Le carte per il finale di stagione sono tutte pronte.
Non dimenticatevi di passare da qui: Norman Reedus Italia, The Walking Dead ITA , The Walking Dead-Italy , The Walking Dead Italia , TWD – Am I the only one Zen around here? Good Lord. , Caryl Italia, Andrew Lincoln Italy, Daryl Dixon ITA e FIGHT the Dead. FEAR the living – The Walking Dead gdr, The Walking Dead Pagina Italiana ! In più vi consigliamo un canale YouTube di un nostro affiliato Don't Open Dead Inside !