Il mondo cambia di continuo, ma senza dare troppo nell'occhio.
Un eterno dissidio che oscilla tra la grazia e il fardello: un innocente ignorare il cambiamento che, però, crea uno stabile conforto.
Queste sono condizioni che The Walking Dead ha negato ai protagonisti del proprio universo: Rick è come tornato in vita più di una volta, e ognuna di queste per calpestare in maniera cauta una terra sempre diversa da quella precedente.
Eppure il mondo è cambiato una sola volta, il resto è solo adattamento.
Il resto è solo un cambio di sguardo che si traduce in pensiero.
Nell'ultimo mid-season finale, lo sguardo di Rick è di nuovo quello vulnerabile, stretto e annebbiato, di chi è tornato a realizzare la diversità grazie al dramma; quello di chi, grazie all'amore, era fortunatamente abituato a vedere il simile nel dissimile, e a dimenticare il do ut des del nuovo mondo, che stavolta è stato tanto pretenzioso quanto
Rick sperava non sarebbe mai stato.
Questa volta, il mondo ha scelto suo figlio.
Adesso Rick dovrà ricominciare e, probabilmente, il suo nuovo inizio ci verrà presentato con una progressione indolore, grazie a lunghi intervalli della degenza di Carl prima che quest'ultimo ci lasci, presumibilmente, nella seconda metà di stagione che ci aspetta.
Non è difficile immaginare che la figura di Carl impiegherà ancora qualche episodio per "risolversi" nel suo zigrinato percorso, e questo perché The Walking Dead dovrà ora
mediare tra una necessità di trama e un equilibrio dell'attenzione che rischia di subire un contraccolpo (c'è da ricordare che, del cast originale, i personaggi ancora in vita sono
soltanto tre).
La serie di Kirkman ha quindi intrapreso una strada rischiosa, conscia di non poter più passare per la tangente com'è capitato troppo spesso negli ultimi tempi, a maggior
ragione ora che i personaggi cardine stanno venendo meno e ci si aspetta tanto più dai rimpiazzi.
La sfida sarà ostica soprattutto nel lungo termine, e di certo non aiutano le voci del mancato rinnovo di Lauren Cohan (Maggie Greene), o ancora la possibilità che Lennie James (Morgan Jones) lasci la serie in vista dell'impegno nello spin-off Fear The Walking Dead.
Le carte ancora da giocare vengono anche palesate, in parte, nel teaser della seconda metà di stagione: è plausibile che stavolta assisteremo al tête-à- tête decisivo tra Rick e Negan (nel trailer possiamo distinguere alcuni secondi in cui lo stesso Rick recita "This is where you die"/"This is where you'll die", rivolgendosi a Negan); ci viene mostrato Eugene finalmente impegnato nella lavorazione di proiettili; e ancora il ritorno di Padre Gabriel, che impugna una pistola, con occhi iniettati di sangue per il progredire della malattia che lo ha colpito nella prima metà della stagione.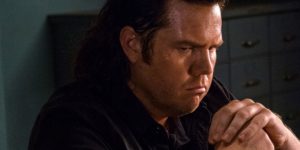 Quella di The Walking Dead è una vera e propria pretesa, autoindotta, che punta a essere soddisfatta con risorse creative sempre più limitate, e accettando di buon grado il
confronto con un pubblico che ha ormai un forte bisogno di cambiare idea.
Di "cambiare sguardo", proprio come Rick Grimes.
Quanto la serie sia ancora in grado di stupire lo scopriremo molto presto: The Walking Dead, infatti, tornerà su Sky con il nono episodio dell'ottava stagione lunedì 26
febbraio, sul canale Fox, alle ore 21 (e sarà disponibile On Demand attorno alla mezzanotte/mattina del giorno 27 febbraio).
Inoltre i nuovi episodi saranno disponibili in streaming senza contratto su NOW TV insieme con tutte le stagioni precedenti.