ATTENZIONE: questo articolo contiene spoiler sul midseason finale dell'ottava stagione di The Walking Dead!
Nell'episodio 8×8 di The Walking Dead abbiamo assistito a quella che è forse una delle scene più impotanti dell'ottava stagione. Carl, il figlio di Rick, è stato morso da uno zombie sul fianco destro. Nelle stagioni precedenti ci sono state amputazioni di arti a seguito di un attacco da parte degli zombie, ma questa volta è diverso. Sappiamo quindi a cosa andremo incontro. La morte di Carl è inevitabile.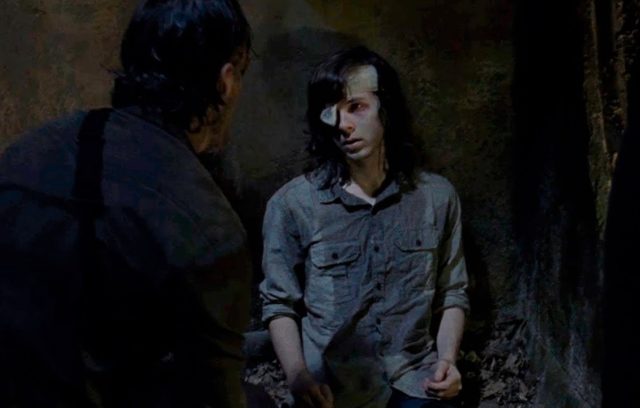 Il nuovo episodio della Serie sarà memorabile. A confermarlo è il produttore esecutivo Greg Nicotero che ha diretto l'episodio. Vedremo Carl subire le conseguenze del morso dello zombie. Perderemo uno dei pochi personaggi rimasti del cast originale (presente sin dalla prima stagione), ma diremo addio anche a Chandler Riggs (che interpreta Carl) che abbiamo visto diventare adulto nel corso della Serie. Stando a quanto detto da Nicotero, sembra che l'episodio finale di Carl (tralasciando eventuali flashback o sogni futuri) sarà devastante. Ecco le sue parole:
Penso sia uno degli episodi più entusiasmanti che abbiamo mai prodotto. Quando ho visto le prime sequenze di questo episodio, ho pianto per 20 minuti.
Nicotera paragona il prossimo episodio di The Walking Dead a un'altra midseason première che ha diretto, quella della quinta stagione. In questo episodio vediamo gli ultimi momenti di vita di Tyreese, morso da uno zombie, per tutta la durata della puntata. Nicotero ha infatti diretto molti degli episodi in cui abbiamo detto addio a diversi personaggi e anche per la prossima puntata sarà così. Ecco le sue dichiarazioni in merito:
Non è mai semplice, perchè non puoi realmente capire quello a cui stanno andando incontro. Non c'è niente che tu possa dire per farli stare meglio. Vuoi solo assicurarti che abbiano l'opportunità di dimostrare al pubblico di che pasta è fatto il loro personaggio.
The Walking Dead tornerà con i nuovi episodi il 25 febbraio. Dovremo fronteggiare la morte di Carl e, per questo, molti fan sono rimasti delusi. Nicotero ha un messaggio per questi fan arrabbiati:
Sarà un bellissimo episodio. Credo che le persone rimaste chiaramente deluse dalla morte di Carl che si stanno chiedendo che direzione prenderà la Serie senza di lui, metteranno questi sentimenti da parte quando vedranno l'episodio perchè avranno l'opportunità di farsene una ragione. Ma questo è quello che penso. Potrei sbagliarmi del tutto!