Maggie Greene, la figlia maggiore di Hershel e l'unica sopravvissuta della sua famiglia, non è solo la bellissima e forte donna che tutti i fan di The Walking Dead conoscono.
Maggie è qualcosa in più. È qualcuno in più. Quel qualcuno capace di rappresentare la speranza più vera e più viva in un mondo devastato. Quel qualcuno che più di tanti altri vuole vivere e non sopravvivere. Quel qualcuno che è luce, luce pura per chiunque le corra accanto.
Oggi vogliamo concentrarci proprio su questo: sulla sua luce e sul perchè in un mondo devastato come quello di The Walking Dead una donna come lei può cambiare le cose.
Nella stagione d'ingresso di Lauren Cohan (qui i suoi esordi assurdi), ovvero la seconda stagione di The Walking Dead, Maggie rappresenta quell'anello di congiunzione indispensabile tra il gruppo di Rick e la famiglia di Hershel.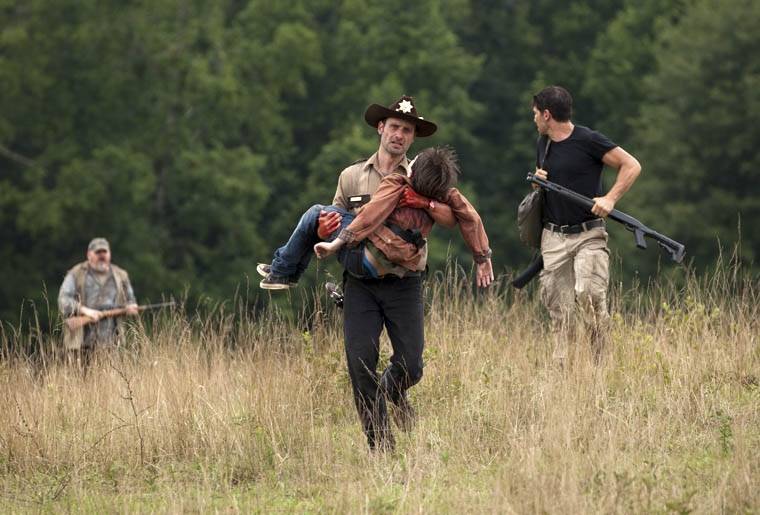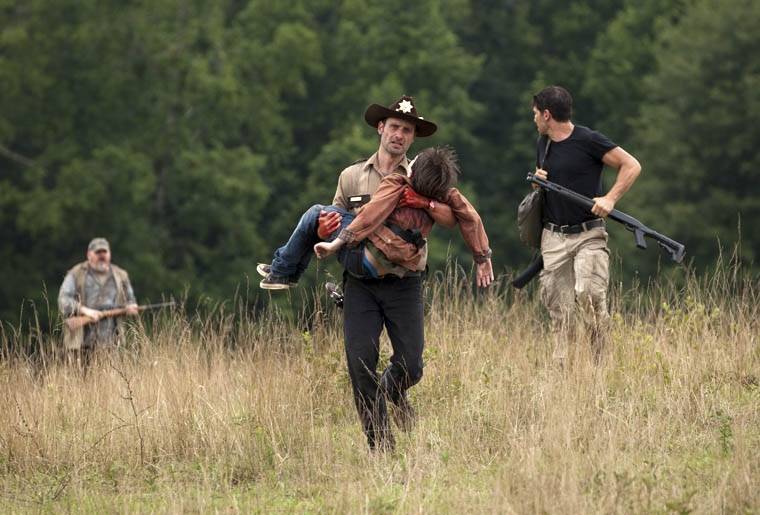 Mentre Rick, stremato psicologicamente e fisicamente, trasporta correndo il corpo quasi senza vita di Carl, un nuovo personaggio sta per fare il suo ingresso nella vita di tutto il gruppo di protagonisti. E' la stessa persona che urla "Papà!!!" per richiamare l'attenzione di Hershel per soccorrere Carl, la prima a lanciarsi per aiutare e a correre a cavallo per avvertire Lori. Senza "se" e senza "ma", senza paranoie o pensieri irrequieti, Maggie fa la cosa giusta donando speranza a Rick e agli altri.
Nel corso delle giornate alla fattoria, la ragazza instaura una relazione strana con Glenn che la insegue senza capire bene quanto possa significare quel loro rapporto. Maggie è la prima persona che si lega così profondamente a uno dei membri del gruppo di Rick. Otis viene sacrificato da Shane prima di poter dire la sua; Patricia, Jimmy e Beth rimangono in disparte per la maggior parte del tempo e Hershel ha interazioni, tutt'altro che piacevoli, soprattutto con Rick. Maggie è la sola persona che riesce a stare da entrambe le parti cercando sempre di fare ciò che ritiene giusto, la sola che trova il modo di costruire qualcosa insieme ai nuovi arrivati, la sola a farsi strada nel mondo degli zombie con nuovi occhi.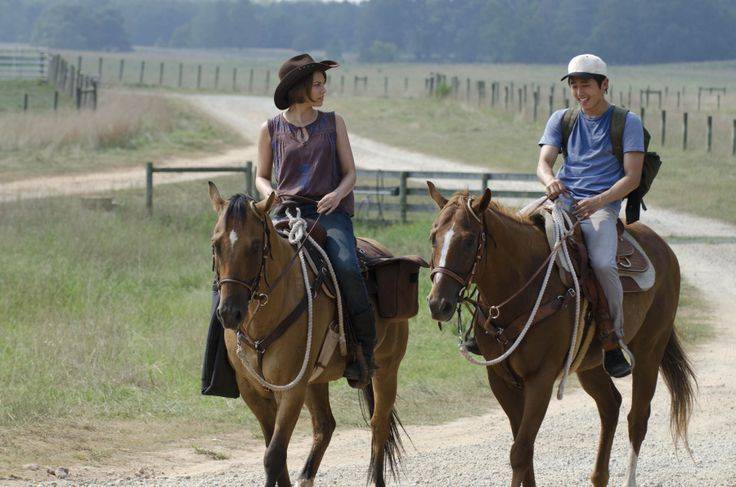 In qualche modo rappresenta tutto ciò di cui Rick e i suoi compagni hanno bisogno, rappresenta quella luce necessaria dopo gli avvenimenti di Atlanta, di Sofia, di Carl e di Otis. Qualcuno disposto ad ascoltare e ragionare senza prendere decisioni frettolose, ma soprattutto, qualcuno di cui Hershel si fida ciecamente.
"Vi do un comandamento: che vi amiate gli uni gli altri, come io ho amato voi. E' così che mi hai insegnato, giusto? Ero arrabbiata per la mamma. Per il tuo matrimonio con Annette. Avevo 14 anni ed ero orribile, soprattutto con te. Volevo solo fumare e rubare. Amate gli uni gli altri. Così mi hai detto."
Così la figlia parla al cuore del padre, riuscendo a farvi breccia. Gli ricorda brevemente il motivo per cui si può pensare di sopravvivere: perchè hanno la possibilità di stare insieme e di tenere l'uno all'altro. Senza troppi giri di parole si può dire che se non fosse stato per Maggie, per la sua durezza e per il suo appoggio, Rick e gli altri avrebbero dovuto sicuramente lasciare la fattoria.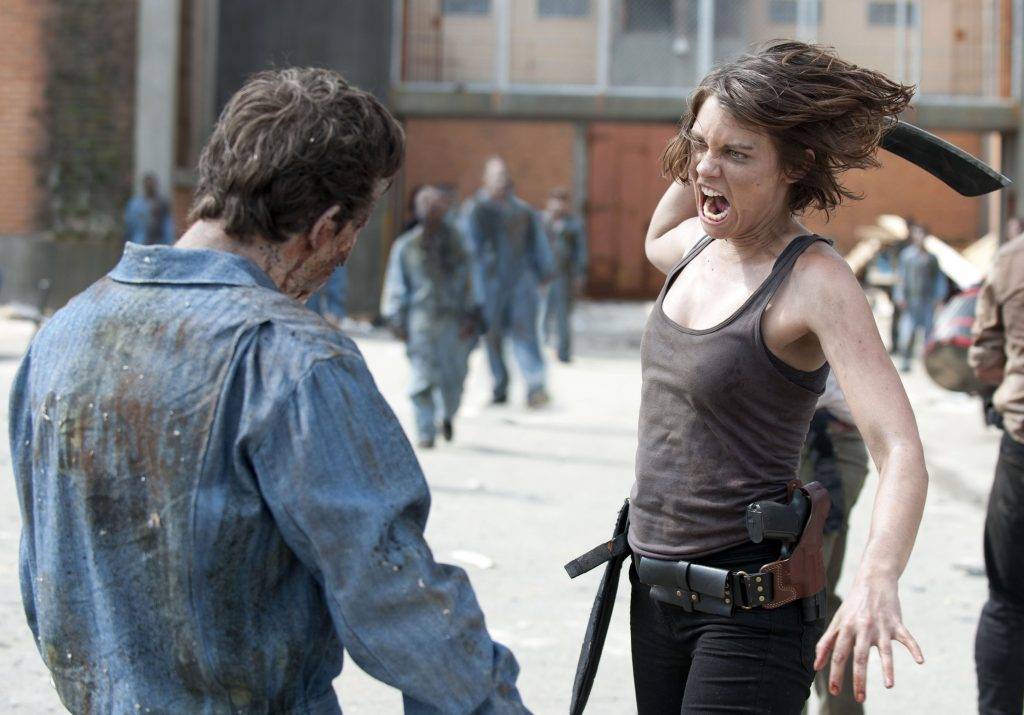 Nella terza stagione la luce di Maggie si espande, per sè e per gli altri compagni. Non solo trova la forza di creare il proprio Paradiso con Glenn e la sua famiglia, ma diventa un vero e proprio braccio combattente di Rick.
Partecipa attivamente alla conquista della prigione contro gli zombie, aiuta nella ripresa di Hershel dopo l'amputazione della gamba, svolge il ruolo di sorella maggiore, di amica, di figlia, di fidanzata e..di madre.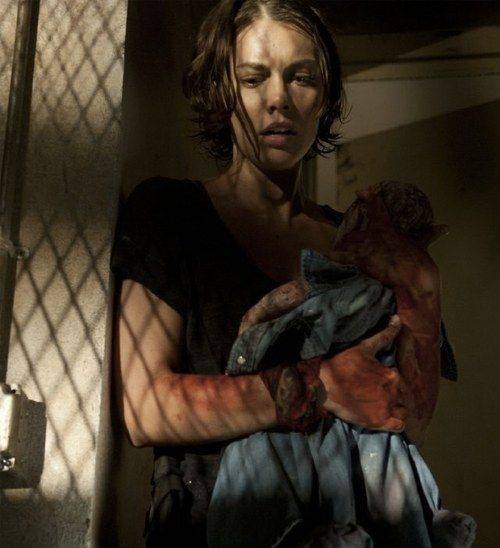 Maggie si trova con Lori nel momento del parto e, grazie alla decisione più difficile della sua vita, cioè quella di uccidere una sua amica per rispettare la sua volontà, riesce a salvare Judith. Riesce a tenere viva la fiamma della speranza estraendo quel corpicino piagnucolante dal ventre di una donna spacciata. La morte di Lori, di T-Dog, la scomparsa di Carol e la perdita di una parte della prigione rappresentano uno dei punti più bassi toccati dal gruppo di Rick, ma non si poteva pensare che quella fosse la fine. Assolutamente no. No perchè c'era una nuova vita da proteggere e portare avanti in nome di chi non ce l'aveva fatta e Maggie era sempre in prima linea.
"Devo farlo"
Come se non bastasse viene rapita da Merle insieme a Glenn, viene umiliata dal Governatore, viene torturata psicologicamente e violata nella sua intimità. Una luce vera, però, è una luce che non si spegne, una fiamma che tiene duro anche sotto una tempesta. Maggie scappa da Woodbury, ma è pronta a tornarci la notte stessa per salvare Daryl e il suo stesso torturatore Merle. Inoltre, quando tornano alla prigione, il suo unico pensiero è tenere duro e andare avanti. Respinge inizialmente Glenn non per il dolore, ma per l'incapacità del suo fidanzato di guardare avanti come lei.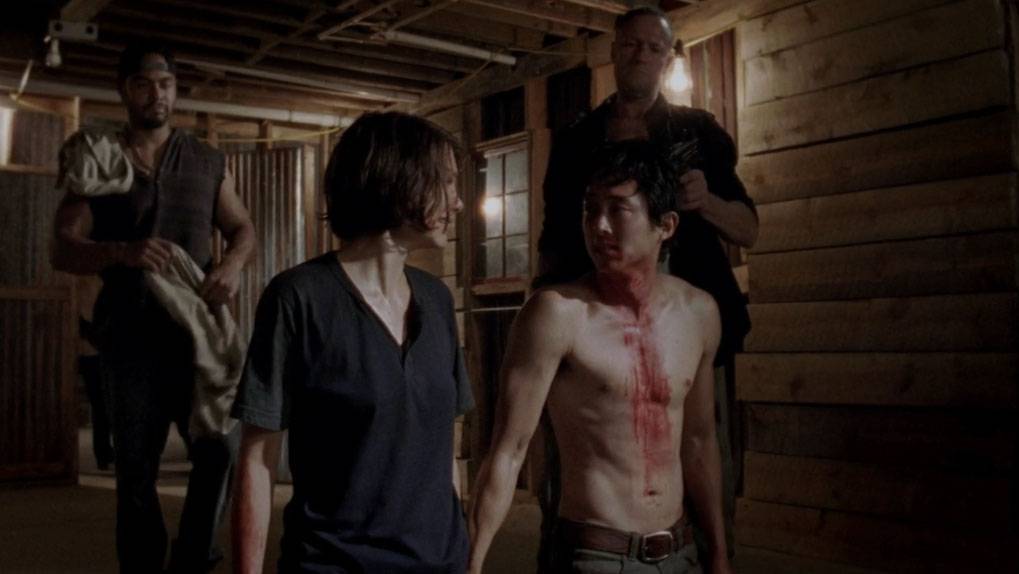 In un mondo così non ti puoi soffermare sulle cose brutte, finchè stai bene e sei con le persone che ami devi avere la forza di andare avanti. 
E così la fiamma resta viva, la luce continua a splendere e mentre l'inferno divampa intorno alla prigione e a Woodbury, Maggie e Glenn trovano il coraggio di sigillare il loro amore.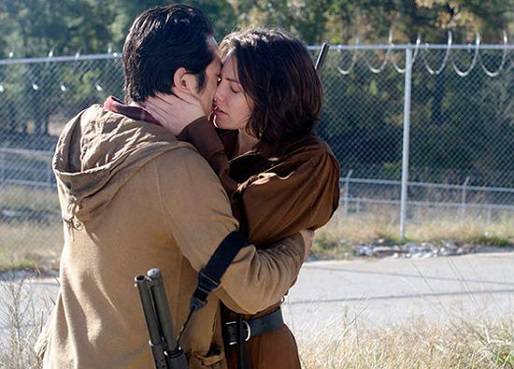 Nella quarta stagione, come tutti sanno, succede di tutto e di più. L'epidemia alla prigione, l'attacco del Governatore, la separazione del gruppo e l'arrivo a Terminus.
Per Maggie è un periodo tutt'altro che facile, ma del resto, nel mondo di The Walking Dead, chi è che ha le cose facili?
La ragazza, nella prima parte della stagione, continua ad essere la spalla per tutti quelli che vivono alla prigione. E' come un faro per i sopravvissuti: si può contare su di lei. Durante l'epidemia rinuncia all'incolumità di suo padre perchè sa che lui può fare qualcosa di concreto per gli ammalati; mantiene le distanze da Glenn e, nel frattempo, uccide gli zombie vicino ai recinti. Si assicura che Beth e Judith stiano bene, che il sistema non crolli e che la gente resti al sicuro.
Quando lei e Beth assistono alla morte del padre, vengono separate l'una dall'altra e dal resto del gruppo, la fede di Maggie non crolla. Proprio in quel momento comincia il suo viaggio più importante. 
La ricerca che la ragazza compie è tanto disperata quanto coraggiosa. E' come una sfera di speranza che all'improvviso esplode e traccia un sentiero su per una montagna. Maggie sa di potercela fare, sa che c'è una minima possibilità. Quindi non importa se manca l'ossigeno salendo, se ci sono dirupi e tunnel pieni di zombie, se all'arrivo ci sono i cannibali, se la sorella è dispersa. Non importa.
Finché c'è speranza, si può fare. Finché c'è una luce che illumina il buio, si può provare. 
Alla fine, infatti, i fari dell'auto e i colpi dei fucili illuminano il tunnel delle tenebre e un nuovo sole splende sulle vite dei sopravvissuti.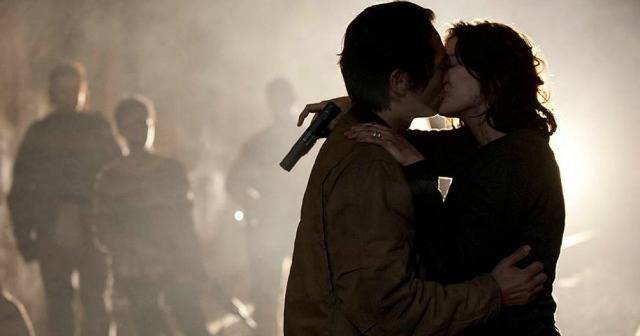 Dopo la fuga da Terminus Maggie deve affrontare il dolore per la morte di Beth (uno dei 15 momenti in cui The Walking Dead ci ha distrutto il cuore). Poche ore dopo aver saputo che era viva, infatti, arrivata al Grady Memorial, la trova spenta tra le braccia e le lacrime di Daryl.
La ferita brucia e rischia di prendere il sopravvento insieme allo sconforto generale del gruppo. La meta è sempre più lontana, le strade sono deserte, non c'è acqua, non ci sono viveri, ci sono solo i fantasmi con cui si può imparare a convivere.
E Maggie ce la fa. Ce la fa perchè crede in qualcosa di più grande del dolore. Crede nella vita e nelle sue possibilità, crede nell'amore per Glenn, nella forza del suo leader e del gruppo che guida. Ha speranza, ha fede, ha luce.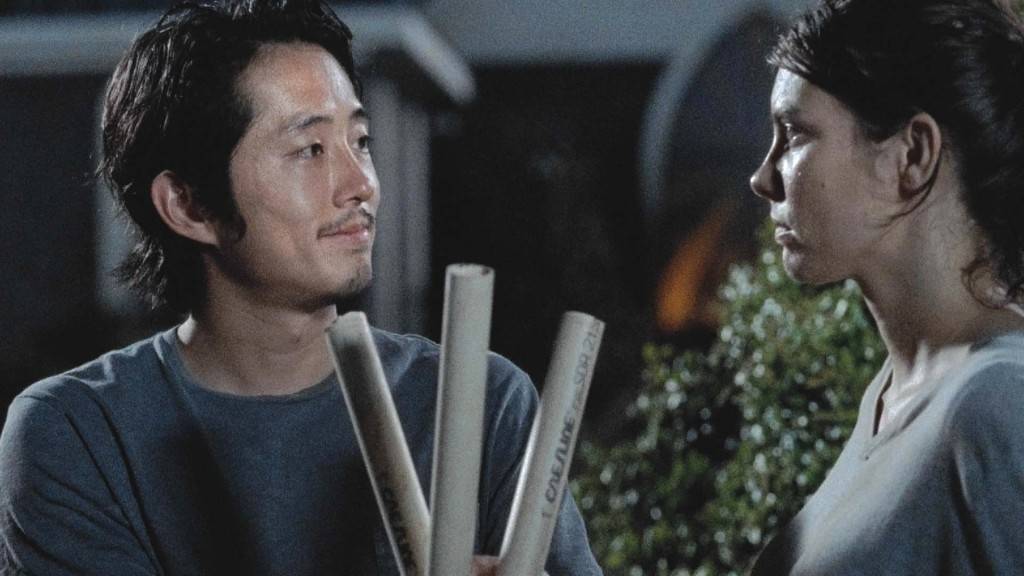 Arrivata ad Alexandria non si lascia andare alle lacrime che meriterebbe, ma conquista un ruolo di grande importanza nella cittadina.
Fa sue le parole di Deanna: "dolor hic tibi proderit olim" (un giorno questo dolore ti sarà utile).
Da collaboratrice e consolatrice della signora Monroe a sorella maggiore per Enid, diventa una vera e propria rappresentante di Alexandria durante il viaggio a Hilltop dove presiede l'incontro con Gregory. Puntando sulla sua forza e sulle capacità del suo gruppo si fa beffe di quell'uomo rimasto troppo a lungo al sicuro e raggiunge così il massimo del suo splendore.
L'ecografia che le conferma che lei e Glenn aspettano un bambino è un momento magico (ne abbiamo parlato qui) e rappresenta una nuova lampadina pronta ad illuminare tutto il percorso che ha davanti. 
Una delle regole dell'universo di The Walking Dead è che le gioie non vengono mai da sole. Per ogni cosa bella c'è un prezzo da pagare e tutti sappiamo che Negan sta scuotendo cassa. E' difficile dire se ad ottobre dovremo salutare Maggie, Glenn o il bambino.
Quel che è certo è che la luce di Maggie non si spegnerà…mai.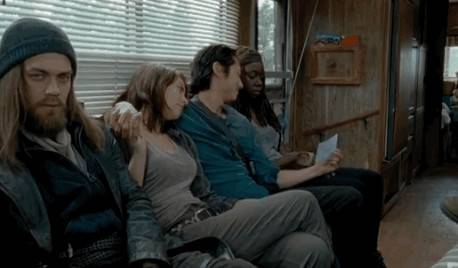 Un salutone alle pagine che ci seguono:
The Walking Dead ITA
FIGHT the Dead. FEAR the living – The Walking Dead gdr !
TWD – Am I the only one Zen around here? Good Lord.