The Walking Dead è tornato, in tutti i sensi
ATTENZIONE! L'ARTICOLO CONTIENE SPOILER DI QUANTO SUCCESSO NELLA PUNTATA 7X01 DI THE WALKING DEAD
Dopo mesi di estenuante attesa abbiamo finalmente scoperto la vittima di Negan. O meglio le vittime. Come aveva già ipotizzato qualcuno, due sono stati i personaggi a cui abbiamo dovuto dire addio. E uno, forse da un lato il più "scontato", è stato proprio il coreano dal cuore d'oro, Glenn.
Ma era davvero arrivata la sua ora?
È una domanda a cui non riesco a rispondere in maniera decisa. Se consideriamo il punto di vista in cui ci "costringono" a vedere Kirkman & co, sì. Come molti giustamente affermano, Glenn aveva già scampato la morte in diverse occasioni, e quindi, in un certo senso, "meritava" di morire. Ma realmente, chi tra i personaggi principali non è mai stato sul punto di morire, salvo poi salvarsi per un pelo? Tutti, nessuno escluso, sono stati almeno una volta sul punto di morire. Rick in primis ha rischiato forse anche più volte di Glenn, (ed è giusto ricordare che è proprio grazie a Glenn se si è salvato da quel carro armato, la prima puntata della prima stagione, dove altrimenti avrebbe trovato morte certa). Carl è stato sparato due volte ed è sopravvissuto, Daryl, Carol, Michonne e tutti gli altri, meritano tutti di morire tanto quanto lo meritava Glenn. Allora perché tutti si sono concentrati solo su Glenn? Perché, attraverso i vari avvenimenti, ci hanno indirizzato verso l'idea che forse la fine di Glenn era giunta, e che era giusto così. Credo che sia stata una cosa studiata a tavolino: per prepararci alla vera morte di Glenn, hanno voluto prima farci abituare alla sua assenza, attraverso le finte morti.
Ci hanno fatto credere addirittura che fosse giusto farlo morire, perché era arrivata la sua ora. Ma la sua ora è arrivata perché lo hanno voluto loro, e perché l'abbiamo voluto anche un po' noi. Se ci dimentichiamo per un attimo le volte in cui ha rischiato la vita, e ci soffermiamo sul personaggio in sé, possiamo dire che forse non meritava di morire. Non ancora. Dopo tante difficoltà, dopo varie separazioni finalmente Glenn e sua moglie Maggie sono riuniti, e questa volta sembra definitiva. Hanno trovato la stabilità che per 5 stagioni non hanno avuto. Hanno preso la difficile decisione di avere un bambino, nonostante tutti i "contro". E ora che finalmente erano quasi vicini all'avere un po' di normalità, Glenn muore.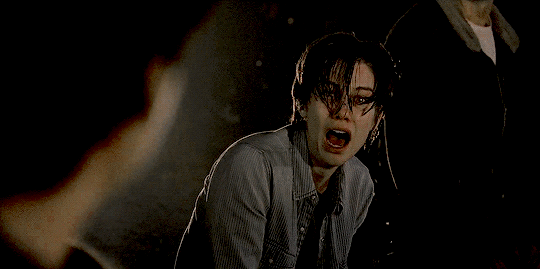 Con la morte di Glenn, non va via solo un personaggio importante, un personaggio a cui ci siamo affezionati dal primo momento che abbiamo amato per 6 lunghe stagioni.
Insieme a Glenn, va via la speranza. La speranza di un futuro felice, sereno. La speranza di essere una grande famiglia felice, riunita durante il pranzo della domenica.
Con Glenn va via la bontà, quella poca rimasta. Nessuno crede più ormai nel prossimo, nessuno si fida più di nessuno. Glenn era il fattore bontà che dava umanità al gruppo, ma quel minimo di umanità rimasta, è andata via definitivamente insieme a lui.
Con Glenn va via la felicità. Di Maggie, ma anche di tutti gli altri. Sono consapevoli che niente sarà più come prima.
Con Glenn va via la forza. Sono tutti impotenti, stanchi, distrutti.
Con Glenn va via tutto ciò che abbiamo avuto nel corso delle stagioni, nonostante tutto. Con Glenn va via tutto ciò che pensavamo di sapere su questa serie. Da questo momento in poi tutto sarà diverso.
Tutto è cambiato, e lo è per sempre, irrimediabilmente.
Probabilmente in molti non saranno d'accordo, probabilmente quelli che seguono il fumetto hanno apprezzato la -quasi- fedele trasposizione, e forse è giusto così. Ma una cosa è certa, Glenn non aveva finito. Andrò contro il pensiero di molti, ma continuo a credere che non era ancora il momento di dirgli addio, non era ancora arrivata la sua ora. Ma d'altronde è così che va nella vita reale, non si sceglie quando morire. La morte, crudele e imprevedibile, decide quando arrivare, senza avvisare, e spazza via tutto quello che avevi, in un attimo.
In questo caso, per Glenn, la morte ha una mazza spinata e si fa chiamare Negan.
Addio Glenn.
Non dimenticatevi di passare da qui: Norman Reedus Italia, The Walking Dead ITA , The Walking Dead-Italy , The Walking Dead Italia , TWD – Am I the only one Zen around here? Good Lord. , Caryl Italia, Andrew Lincoln Italy, Daryl Dixon ITA e FIGHT the Dead. FEAR the living – The Walking Dead gdr, The Walking Dead Pagina Italiana ! In più vi consigliamo un canale YouTube di un nostro affiliato Don't Open Dead Inside !