In preda alla nostalgia dopo il finale-bomba della settima stagione di The Walking Dead – sì?! – la ricetta migliore per tale malessere è continuare a parlare della Serie Tv: oggi concentriamoci sul cast. Nel corso degli anni se ne sono succeduti davvero molti di personaggi, e quindi di attori.
Siete di quei fan che amano indovinare quanti anni hanno gli attori, per poi trovare conferma su Wikipedia? Se avete risposto sì anche a questa domanda, potreste divertirvi con questo articolo. Così come avete fatto con l'età degli attori di Game of Thrones e The Big Bang Theory.
Attenzione però: potrebbe esserci qualche riferimento al finale della stagione 7, occhio se ancora non l'avete visto e non volete imbattervi in qualche spoiler accidentale.
Quindi ecco svelate le età del cast della Serie Tv: scopriamo insieme chi se li porta benone, chi meno, e chi in generale vi stupirà!
Il trio badass
Norman Reedus, Jeffrey Dean Morgan e Andrew Lincoln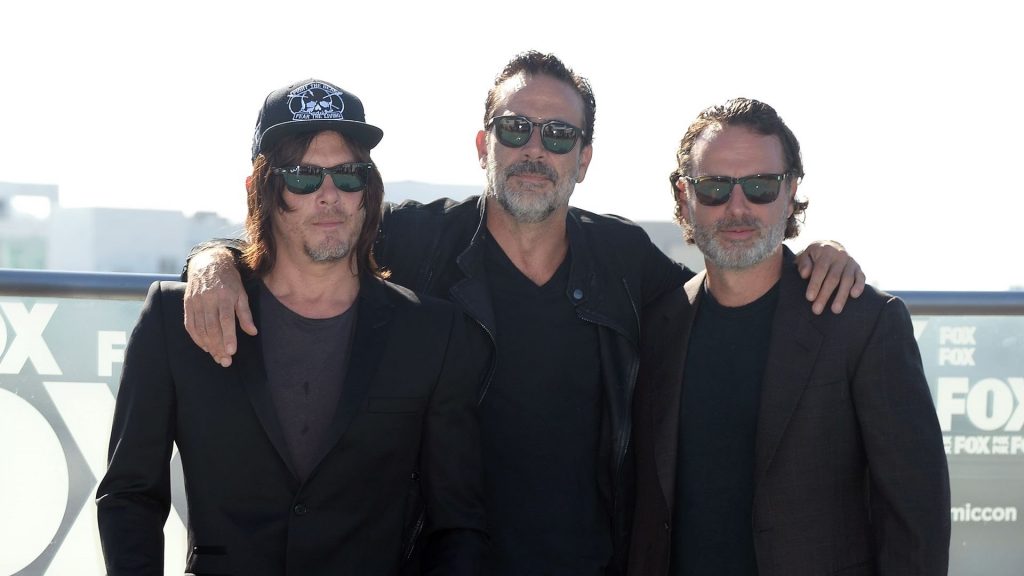 Ecco i magnifici tre di TWD, ossia gli interpreti rispettivamente di Daryl, Negan e Rick. L'età che avanza non sembra essere un problema per loro.
Reggetevi forte parlando di Norman Reedus. L'attore dal fascino rude e misterioso ha… 48 anni. Ma come fa? Cosa mangia di preciso per portarseli così bene? Rimaniamo sbalorditi, è un quasi 50enne che ha ancora un fisico prestante e scattante. Nella Serie questo si è visto eccome! Sarà questo ad aver (giustamente) attratto l'attrice Diane Kruger, con cui pare certo che faccia coppia?
Forse Jeffrey Dean Morgan seguirà la 'ricetta segreta' di Norman Reedus per l'eterna giovinezza, visto che come vi abbiamo riportato in questo articolo sono migliori amici. L'attore fra pochissimi giorni compirà 51 anni. Portati alla grandissima direi, proprio come Reedus, voi non trovate? Anzi qualche pelo bianco nella barba di Negan non potrà far altro che aggiungere carisma al personaggio.
Complimenti anche ad Andrew Lincoln, che a settembre spegnerà 44 candeline. L'episodio di The Walking Dead in cui Rick appena giunto ad Alexandria si rade lo ha reso evidente: Lincoln sbarbato sembra molto più giovane. Quindi l'attore dimostra almeno un paio di anni in meno rispetto al suo personaggio, visto che quest'ultimo spesso è poco curato e trasandato. Ed è normale, il buon Rick Grimes ha ben altri problemi a cui pensare!
Insomma, avercene di over 40 così, non trovate?