# #
DIREZIONI
# #
Morgan e Carol, uno verso l'altro, avanzano, si incrociano e si oltrepassano. Svuotati e silenti, prendono direzioni inverse, mentre per le vie di Alexandria il sangue scorre ancora fresco e mutante. L'ultima scena del secondo episodio si conclude così, con il silenzio 'assenso' del loro intercedere snervato, logoro, e nel distacco di questi personaggi emblematici traspaiono due forme d'animo distinte dell'immaginario survivor The Walking Dead.
Mister Jones appare quasi di una natura soprelevata, superiore. La sua è una fase che va 'oltre la tempesta', da domatore della propria follia, a 'risvegliato' e 'illuminato' da isolata coscienza, ora vuole insegnare a chi è stato inghiottito dalla propria 'bestia' a uscirne fuori e combatterla.
# #
Respingere il mostro e non diventarne lo specchio. Morgan si sa, è uno 'special' di The Walking Dead, e ad uno così speciale non poteva che toccare un 'ruolo' così speciale.
Dall'altra parte Carol rappresenta quell'identikit di sopravvissuto che ha trovato il 'bene' a travestirsi nel 'male', e la sua reattività è tanto opportuna quanto 'sospetta'. 'Carol, a te non piace' (l'allusione/dissuasione ripetuta di Morgan) Ma lo sguardo in assenza di alcuna risposta che traccia Melissa McBride vale più di mille semplificazioni. L'eterna indecisa che cucinava le castagne d'acqua in barba al marito Ed ha fatto la sua scelta, e da un pezzo pure. La via più semplice: tagliare. E senza pensarci un attimo in più.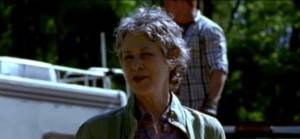 La ormai pluridecorata agente speciale Peletier è spassionatamente legata alla 'filosofia' della 'Casata Grimes' e l'esperienza maturata sul campo le ha prodotto questa legge interiore. Non c'è tempo di porsi domande, non c'è tempo per cercare redenzione in nuove persone. La 'legge Grimes' è quella di Carol, e lei la attua alla grande. Il tracciato opposto che percorrono i due protagonisti della scena rimanda allo spettatore una scelta di direzione, e dà risalto a un quesito ricorrente : è sempre necessario uccidere? E possiamo (o vogliamo) credere anche possa essere (o diventare) 'affascinante'?
L'episodio 6×02 di The Walking Dead riporta ad antichi valori di discussione per questa serie. La ricerca di quello spaccato psicologico da sopravvissuto nell'apocalisse infatti, è uno dei cardini principali dell'intera opera di Kirkman: le persone, il loro cambiamento umano e disumano, le reazioni al crollo verticale di ogni registro di comportamento. Il 'dover uccidere' per difendersi e non essere uccisi, oppure sfuggire a questa realtà ed essere inevitabilmente e fatalmente vulnerabili.
'Non l'abbiamo scelta' – Se ne 'lava le mani' (invece) il wolves di fronte all'invito di Morgan a redimersi, ma qui sta il punto: c'è ancora possibilità di scelta, di libero arbitrio, in questo nuovo stato delle cose? O questo tipo di adattamento 'totale' è soltanto un alibi per farsi travolgere dalla bestialità? Per esaltare quella parte feroce che ognuno potrebbe avere in una condizione di disperazione? La consapevolezza che in ognuno possa nascondersi un lato così oscuro pone la sua chiave di lettura in questo senso: è giusto tirare fuori questo lato o bisogna sopirlo?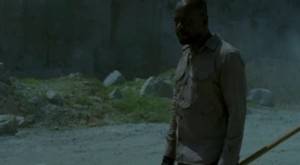 Forse troppo ardua la 'missione' di Morgan, quella di rinsavire il mondo dei non morti e che trasforma anche i vivi in bestie assassine. La ricerca della comprensione, di una verità del giusto, sembrano non poter più avere gli stessi porti dove attraccare. Ed alla fine bisogna sporcarsi le mani per forza, anche Morgan si deve arrendere. "In "The Walking dead" portare coscienza quindi, diventa sempre più utopia.
Ma non per questo è giusto dimenticarsi dalla propria parte più umana. Quello che si nota ancora meglio in questa puntata di The Walking Dead è il vasto corollario di livelli di adattamento ( e disadattamento soprattutto) psicologico nella realtà da apocalisse, a seconda delle esperienze vissute. Dagli alexandrini alle prime armi (ed alle prime ferocie, come Jessie che trova la sua utilizzando uno strumento, le forbici, già suo) e coi loro dilemmi che a volte si potrebbero scambiare per situazioni da sit-com 'di quelle normali', per gli interni delle case perfette, a surreale contrasto della civiltà decaduta, agli sbalzi psichici da shock lutto e 'zombie proprio nel mio giardino' di Deanna (sospinta da Maggie a non crollare) e del figlio di Deanna, ancora, che si chiede 'come fai a vivere sapendo che il mondo è così?' Eh già…
L'ATTACCO DEI LUPI
Senza dimenticarsi l'imminente invasione di un numero indefinito di zombie (a meno che non si inventino qualche altro modo per sviarli) come un fulmine improvviso fa irruzione e si svela nella scena The Walking Dead uno dei misteri principali del finale di quinta stagione: gli uomini con le W, w come Wolves, ovvero l'attacco dei lupi. L'attacco sembra un assalto vichingo, a colpi di ascia, martelli e machete, e travolgono e macellano che è una bellezza. Ma chi sono questi Wolves? Una banda, una tribù? Perchè si chiamano così e perchè fanno quel tipo di pratiche, perchè hanno le incisioni sulle testa?
Il loro aspetto e la loro foga senza ragione, come si era già intuito, non lasciamo presagire niente di 'sano'. 'Wolves not far', li abbiamo lungamente attesi, erano lì ed ora c'è stato il primo incontro frontale. Maledette foto, avrà pensato Aaron.
'Moriranno tutti' promette Carl, che sembra la fotocopia del padre, guardingo e glaciale 'capo-popolo' quando invita Ron a ripararsi da lui, ma che ha già perso la sua bella, l'enigmatica Enid, a cui è dedicato l'intro della puntata che ci fa capire ancora di più perchè fosse così slegata dagli schemi di Alexandria.
Evoluzioni in corso quindi in The Walking Dead e l'impressione è che l'adrenalina di questa sesta stagione sia destinata a crescere, dopo una partenza a razzo ora altre componenti sono innescate e pronte a regalare emozioni e colpi di scena. In conclusione l'episodio ci lascia a quell'incrocio di dubbi che seguono i passi di Carol e Morgan : si è bestiali per necessità o per vocazione? Si è cinici per scelta o per costrizione? Dubbi che 'intronano' più del clacson di settimana scorsa e che ci accompagneranno fino alla prossima puntata e ben oltre e che, sottotraccia, sembrano chiederci: e voi, che direzione prendereste?