# #
La domanda ormai è sempre più pressante. Insistente. Ossessiva. Da qualche puntata a questa parte, i sonni dei fans di The Walking Dead, sono turbati da una tanto semplice quanto complessa tiritera.
# #
"Ma cos'è quella W che hanno in testa gli zombie nei pressi di Alexandria?"
Le teorie sono infinite. Le elucubrazioni pure. L'idea più gettonata è che la W non sia altro che un richiamo agli Wolves, a quanto pare uno spietato gruppo di sanguinari pronti a scombinare la vita a Rick e company. Ma c'è n'è un'altra che va per la maggiore: la W è in realtà una M rovesciata, firma indelebile di quel burlone di Morgan, nuovo re dei mercoledi sera italiani su Chi l'ha visto. E poi ce ne sono tante altre, tra cui quella più popolare: "W vuol dire W la fi.." Insomma, ci siamo capiti.
# #
Ebbene, nessuna di queste teorie è esatta. Noi ne abbiamo una migliore. Ed è quella giusta: ci sono troppi incastri che coincidono. Qualcuno di voi l'aveva già accennata, ma non è stato preso sul serio perchè non ha argomentato nel dettaglio. Ci pensiamo noi a farlo.
Partiamo dalla fine.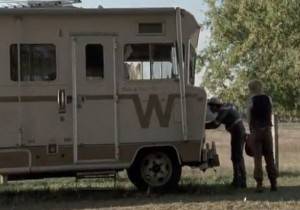 La W altro non è che la firma di Walter White, il celeberrimo Professor Metanfetamina di Breaking Bad. White voleva costruire un impero nel mondo degli umani, ed è in parte riuscito nel suo intento. Ma si sa, l'ambizione di quel genio del male di Heisenberg è senza fine. E quindi ora si vuole prendere pure il mondo degli zombie. White vuole prendere il controllo di The Walking Dead. 
Gli indizi in merito sono tanti, e pure abbastanza palesi. Il primo proviene da lontano. Addirittura dalla seconda stagione, dodicesima puntata. Glenn ed Andrea riparano il camper del compianto Dale. Quando all'improvviso si nota una W sullo stesso Camper. W, Walter White, Camper. Vi dice qualcosa?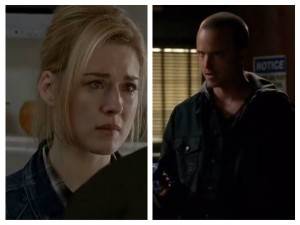 Immaginiamo di si, ma non è finita qui. Procediamo pure e torniamo ai giorni nostri. Perchè quel fenomeno di White ne sa una più del diavolo ed ha mandato il suo miglior allievo in avanscoperta, a sondare il terreno. Parliamo proprio di quella bionda di cui s'è innamorato Rick, la bella Jessie. Ebbene, Jessie altro non è che Jesse Pinkman travestito e truccato da donna. Avete notato che pur essendo bellissima, Jesse non scopre mai le sue grazie più di tanto? Non lo fa perchè non può, altrimenti salterebbe la copertura.
Il marito di Jessie la maltratta. La violenza sulle donne è inaccettabile e va punita. Ma in questo caso, il povero Pete ne ha ben donde. Se n'è innamorato, ma poi s'è accorto della fregatura e non ci ha visto più. Dietro quel volto angelico c'è quell'impostore di Pinkman. Che è uno abituato a prendere bastonate, ecco perchè non faceva tante storie.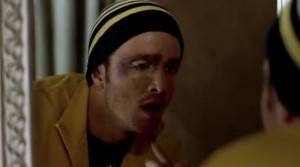 Ah, ovviamente i due non sono sposati per davvero e quelli non sono i veri figli di Jessie. Sono solo figli di Pete. Ma da quando Pete si è innamorato di Pinkman travestito da biondona –  ed arrivato da solo ad Alexandria per aprire la strada della conquista a White come fatto in precedenza con Albuquerque, le iniziali in comune delle due città rappresentano un altro indizio – la matrona Deanna ha deciso che da quel momento in poi per la comunità loro avrebbero dovuto figurare come sposati con figli. Questione di apparenze. Pinkman ha accettato di buon grado: ha già dimostrato in passato di cavarsela bene coi bambini, farsi chiamare mamma o papà non gli faceva troppa differenza.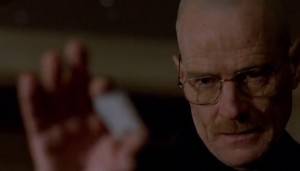 La W potrebbe essere una M, diceva qualcuno. Niente di più giusto. E' sia una W che una M, infatti. Ma non c'entra nulla quell'illusionista di Morgan, disperso chissà dove. La M sta per Meth. Il signore della metanfetamina è tornato e sta drogando gli zombie. Marchiandoli a fuoco con la sua doppia firma: W di Walter White, M di Meth. 
Ok, mistero risolto. Ma ora che è tutto chiaro e tutti gli indizi hanno trovato finalmente una risoluzione, la domanda rimane: qual è il piano di Walter White? Perchè sta creando tutto questo? Si vuole prendere il mondo degli zombie, si, ma in che modo?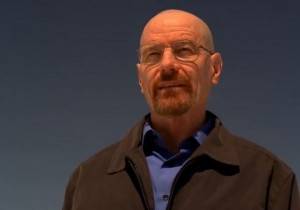 Ebbene, a questo non sappiamo ancora rispondere nemmeno noi. Forse ci verrà in aiuto l'ultima puntata di Break.. pardon, The Walking Dead. Nessuno ancora sa bene cosa stia tramando. Potrebbe essere di tutto. Del resto, come ha detto qualcuno: "Mr.White… is the Devil!"
Come sempre, i vostri deliri sono i nostri deliri. La gara di assurdità è appena cominciata: voi siete forti, ma pure noi ci stiamo attrezzando.
THINK SERIOUS, THINK DIFFERENT