Eccoci al nostro appuntamento settimanale con la recensione di The Walking Dead.
Questo episodio, il quarto dell'ottava stagione di The Walking Dead, ha come protagonisti i sopravvissuti al massacro dell'avamposto di Gavin.
Il gioco delle linee temporali continua anche in questa puntata. Da una parte i preparativi alla battaglia del Regno, dall'altra le conseguenze della guerra che ricadono su chi è riuscito a salvarsi. Da una parte Re Ezekiel, dall'altra un uomo qualunque spogliato di tutto ciò che lo rendeva unico. 
Nel suo discorso iniziale il Re mette bene in evidenza la loro condizione. "Il nostro stile di vita è in equilibrio. Un fragile vetro appeso sopra una strada d'asfalto, mentre speriamo che non cada nemmeno una goccia di pioggia dal cielo nuvoloso". Quella pioggia (di proiettili) è arrivata e tutti i guerrieri de Il Regno sono andati in frantumi, esattamente come la scheggia di vetro sull'asfalto.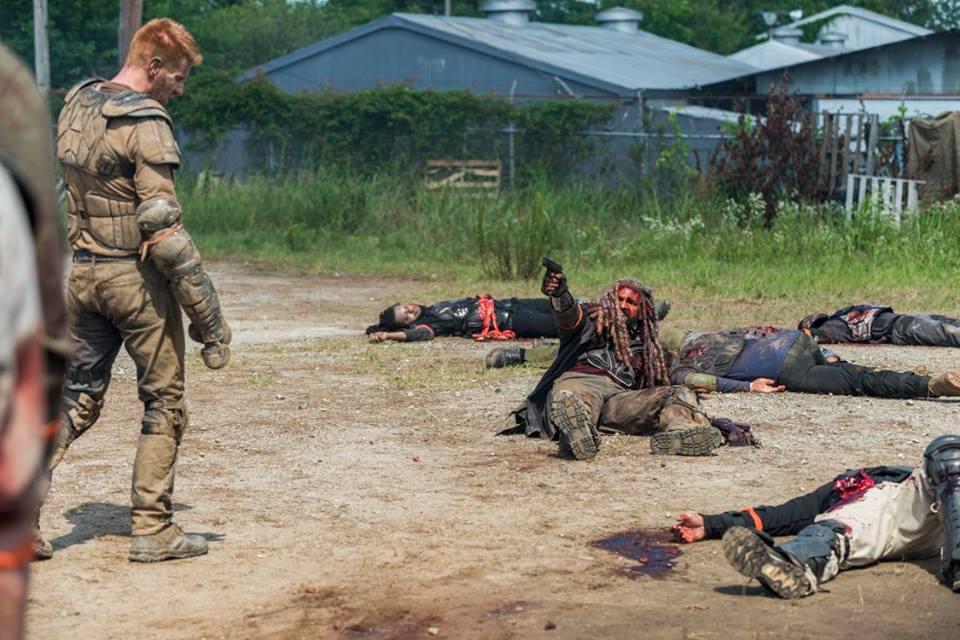 Lo scenario in cui essere Re cambia. Dall'abbraccio di incoraggiamento tra le mura di casa si passa all'abbraccio di protezione dai nemici esterni. La sostanza non cambia: tutti si stringono intorno al Re. Tutti sono disposti a morire per il Re e a combattere per lui.
Il fiore regalato dal bambino alla madre prima della partenza viene inquadrato quasi secco e disteso a terra, tra i versi dei soldati ormai diventati vaganti. I ragazzini rimangono orfani, i caduti si trasformano. Il Regno perde non solo le sue difese, ma la sua linfa vitale.
"Lasceremo i nostri cari per una strada pericolosa, scappando dalla pace verso la guerra. Eppure sorrido. Onoreremo questo bastione di vita in una terra di morti. In questo giorno siamo un'unica cosa."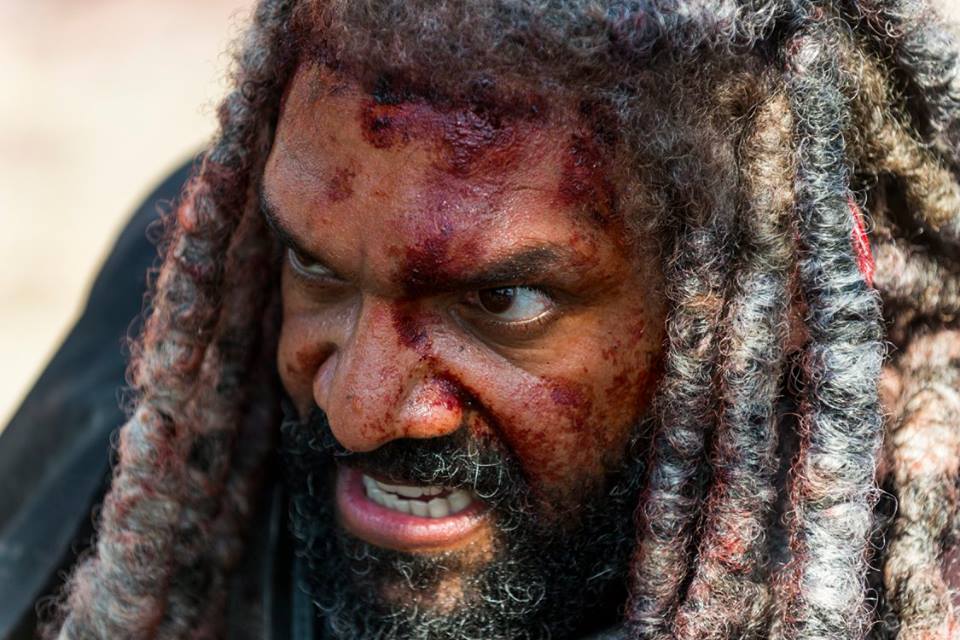 L'ennesimo "eppure sorrido" di Ezekiel suona quasi come ridicolo dopo l'urlo disperato davanti ai suoi uomini caduti. Questa puntata di The Walking Dead vuole proprio porre l'attenzione sul cambiamento a cui questo mondo ti costringe. Non importa chi tu fossi prima, non importa quanta strada hai dovuto fare per arrivare a questa guerra.
Devi continuare a combattere, sempre e comunque. Altrimenti muori.
All'inizio dell'episodio vediamo il Re in tutta la sua apparenza. I vestiti, i capelli che devono essere messi in ordine, il grande discorso che deve essere fatto in mezzo al suo popolo. Ezekiel si traveste da Re, ma poi è costretto a spogliarsi da uomo. Prima perde i suoi uomini, poi la sua tigre. Infine, quando torna tra le mura da vincitore, ha perso anche le sue grandi parole e il suo sorriso.
D'ora in avanti egli dovrà di nuovo decidere chi essere. Dovrà scegliere se continuare ad esistere come l'uomo che è o se abbandonarsi al dolore come molti hanno fatto prima di lui. Dovrà capire se le persone credevano in lui per le apparenze che gli donava o per la reale speranza di un mondo migliore per cui combattere insieme. 
Ezekiel dovrà lottare per davvero, proprio come ha sempre fatto Carol.
Anche lei in questa puntata è portata a prendere decisioni molto delicate. Nello scorso episodio di The Walking Dead l'avevamo vista introdursi nell'avamposto per controllare che non ci fossero altri uomini ed è stata proprio quella scelta a permetterle di salvare (per l'ennesima volta) tutta la situazione.
Quando si trova con il fucile puntato in faccia agli ultimi Salvatori, nonché davanti alla possibilità di fermare l'arrivo delle armi al Santuario, Carol si accorge del Re in difficoltà.
E' il momento di scegliere chi vuole essere. Lo ha già fatto molte volte in The Walking Dead, ma in un mondo nuovo si può ripartire e Carol lo fa con grande stile.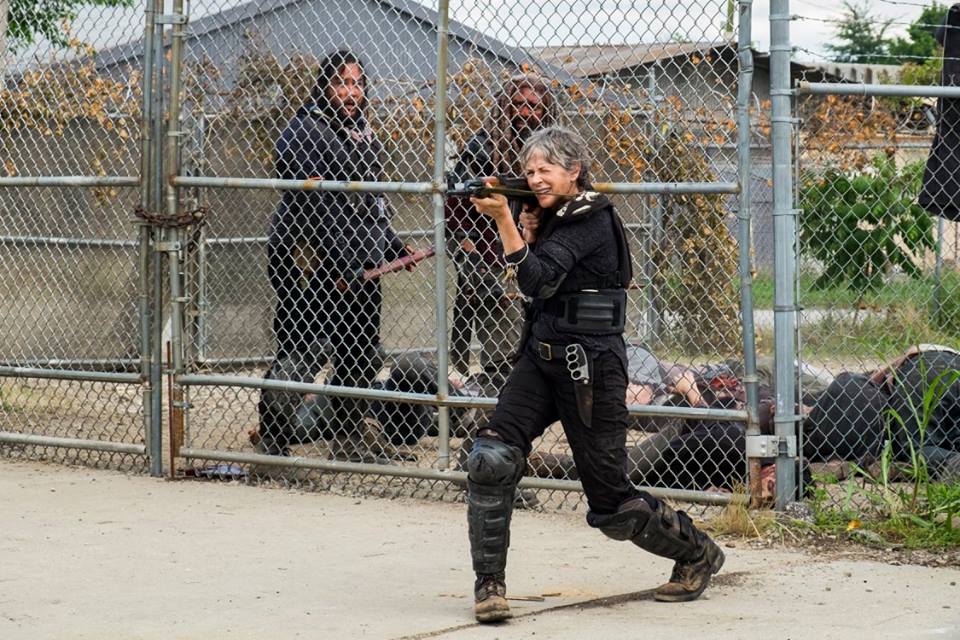 Proprio rimarcando il discorso di Ezekiel ("saltare la recinzione"), Carol decide chi vuole essere d'ora in avanti e per cosa vuole davvero combattere.
Da una parte le si pone la sicurezza che uccidendo i Salvatori bloccherà le armi, dall'altra parte il rischio di perdere le armi ma la certezza di salvare due persone.
La scelta è fatta e come ricompensa per aver preso la decisione corretta ecco subito il rombo della moto di Daryl. "Quelle armi non arriveranno al Santuario".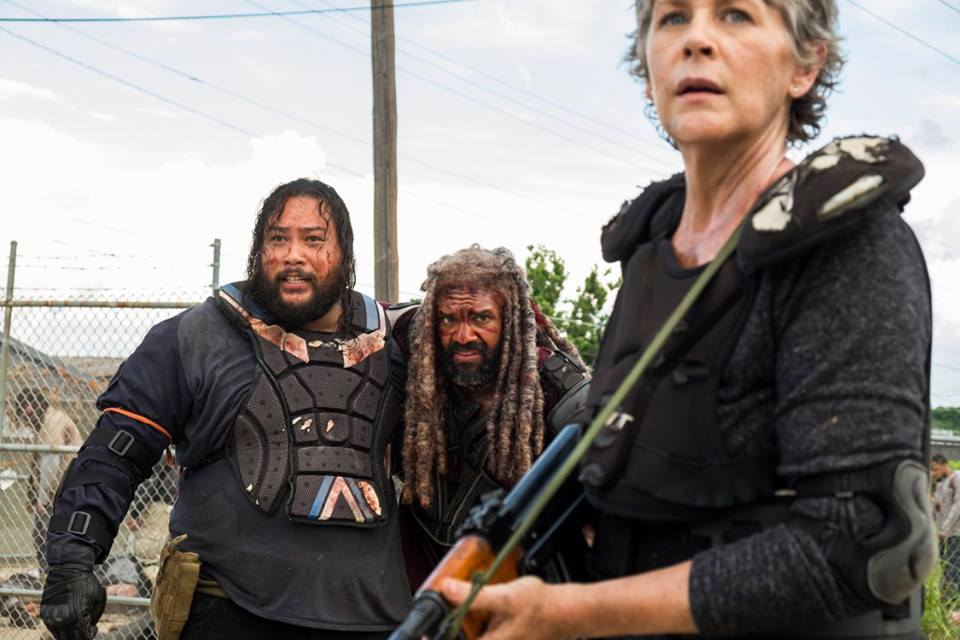 "Ho deciso di essere chi sono oggi, ma anche la vita ha deciso delle cose"
La differenza tra Carol ed Ezekiel in The Walking Dead, adesso, sta proprio in questo concetto. Carol ha capito che non importa chi sopravvive e chi no perchè è l'ideale che deve essere portato avanti. Oltre a questo, lei sa che non tutti possono essere salvati e non tutti possono salvare.
Citando il Salvatore, gli uomini del Regno hanno coltivato per il Re, fatto mura per il Re. Sono morti per il Re e nonostante tutto lo seguono ancora (come vaganti, per ricordargli il prezzo della pace e della prosperità). Tutti quegli uomini non seguivano e non seguiranno lui, Rick e la Vedova per la loro forza e per un tigre.
Tutti quegli uomini sono morti e moriranno perchè i leader vengono rappresentano ciò per cui vale la pena combattere, ciò per cui vale la pena essere sbranati o essere fatti a pezzi da una mitragliatrice.
"Se ti chiedono di fare l'eroe, devi fare l'eroe", e lo devi fare nonostante qualunque perdita.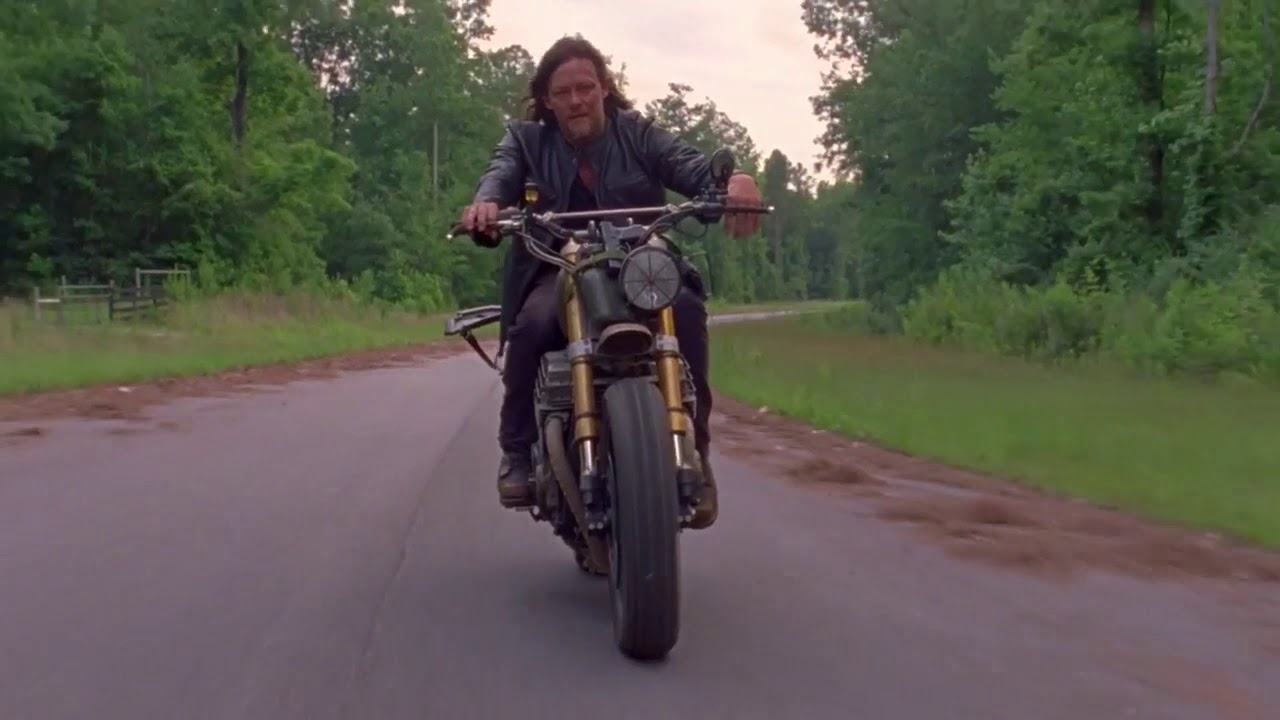 Vi lascio con il promo e lo sneak peek del prossimo episodi sottotitolati dalla nostra gemellata The Walking Dead ITA ! Passate dalla loro pagina a questo link e mettete un bel 'mi piace'! Se avete problemi ad aprire il video cliccate qui.
Non dimenticatevi di passare anche dai nostri amici di Caryl Italia , Dwighty Boy – Austin Amelio Italia , Norman Reedus Italia. The Walking Dead-Italy , The Walking Dead Italia e FIGHT the Dead. FEAR the living – The Walking Dead gdr . The Walking Dead Pagina Italiana . Don't Open Dead Inside!