Attenzione: in questa sede faremo meno spoiler possibili, ma lo SPOILER ALERT rimane attivo per gli articoli di riferimento!
Manca davvero pochissimo all'inizio dell'ottava stagione di The Walking Dead, oggi sugli schermi americani, domani su quelli italiani. Cosa ci aspettiamo da questi nuovi episodi? Cosa succederà? Chi sopravvivrà? Queste domande troveranno presto una risposta. Prima di continuare con la lettura di questo articolo, cliccate qui per rinfrescarvi la memoria sul finale della settima stagione!
Hall of Series ha raccolto per voi molte indiscrezioni in merito all'ottava stagione di The Walking Dead. Eccole!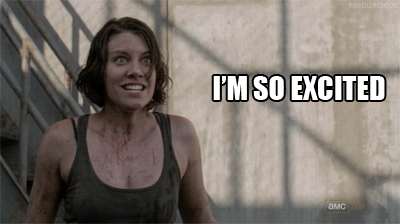 Se ancora non avete visto il trailer dell'ottava stagione di The Walking Dead potete farlo cliccando qui. Una scena che ha creato molto scompiglio tra i fan è quella che riguarda Rick da vecchio, che si risveglia su un letto di ospedale (clicca qui per maggiori informazioni!). In una recente intervista, lo showrunner Scott Gimple ha dichiarato che la verità su questa misteriosa scena verrà mostrata circa a metà stagione. Se siete davvero tanto curiosi e il trailer non vi basta, l'AMC ha anche rilasciato i titoli e le brevi sinossi dei primi tre episodi dell'ottava stagione (ne abbiamo parlato qui!).
Cosa sappiamo in merito alla trama di The Walking Dead 8? Sicuramente assisteremo finalmente allo scontro e confronto diretto tra Rick e Negan. Ce lo ha anticipato il finale della settima stagione: dopo la breve battaglia, è il momento della guerra. Chi vincerà? E soprattutto, chi morirà? Secondo le primissime indiscrezioni provenienti dall'America, sarebbero tre i personaggi che rischiano di morire: ne abbiamo parlato in questo articolo! Successivamente, a causa di impegni lavorativi, anche altri personaggi sono entrati in gioco al TotoMorto di The Walking Dead 8: ne abbiamo parlato qui! Oltre alle morti, potrebbe anche esserci un ritorno. Con Maggie incinta, il personaggio di Glenn potrebbe tornare sul piccolo schermo per un flashback o per un sogno (ne abbiamo parlato qui!).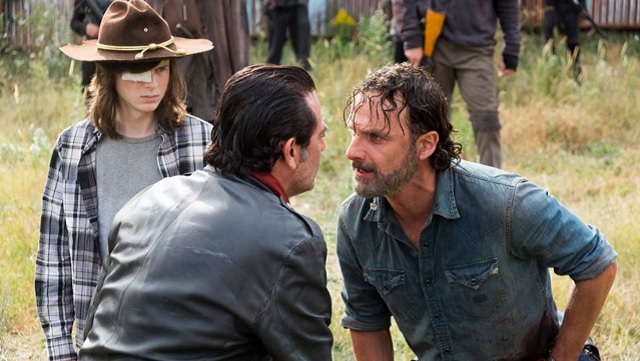 Cosa ne pensa il cast di questa nuova stagione? Naturalmente gli attori e i produttori apprezzano i nuovi episodi. Abbiamo raccolto qualche dichiarazione da parte di Danai Gurira (Michonne), Tom Jesus Payne (Jesus), Ross Marquand (Aaron) e del creatore Robert Kirkman.
Oltre ai protagonisti che già conosciamo in The Walking Dead, ci sono tre attori che sono ufficialmente diventati regular per l'ottava stagione: i personaggi di Simon, Jadis e Enid. Un'altra notizia in merito ai ruoli riguarda Christian Serratos (Rosita). L'attrice potrebbe non comparire nei primi episodi, o comunque apparire per poco tempo a causa della gravidanza durante le riprese (ne abbiamo parlato qui).
Tra poco inizierà la trasmissione dell'ottava stagione di The Walking Dead, è questione di ore! Speriamo in tanta azione e tanti colpi di scena!