Manca davvero poco alla premiere dell'ottava stagione di The Walking Dead. Il 22 Ottobre si aprono le danze e Danai Gurira rivela succulente informazioni riguardo alla prossima stagione.
L'attrice, che in The Walking Dead interpreta Michonne, si lascia andare a interessanti dichiarazioni, a partire dalla prémiere.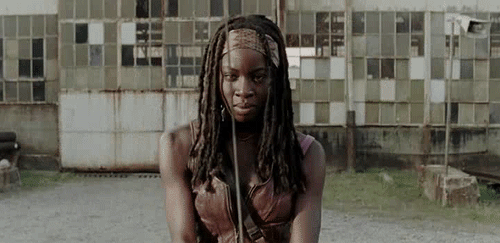 Danai Gurira tranquillizza tutti in un'intervista a Entertainment Weekly. Queste le sue parole:
"I nostri scrittori sono sorprendenti: non percorrono mai due volte un "sentiero" già battuto in precedenza. Quindi se pensate di sapere cosa avverrà in base alle première passate, vi conviene pensare a qualcos'altro perchè avete sicuramente un'idea sbagliata. Nessuno può essere pronto a quanto sta per arrivare. Non abbiamo mai visto nulla di simile prima. A noi tutti è mancata la terra sotto ai piedi vedendo come la storia di ciascuno di noi è stata ampliata, approfondita. I conflitti prenderanno direzioni che nessuno poteva nemmeno lontanamente immaginare. Questa sarà la stagione che sorprenderà tutti, posso davvero garantirvelo!"
Queste parole sono musica per le orecchie dei fan, poichè la settima stagione non è stata affatto indimenticabile per tutti gli appassionati della Serie Tv targata Amc.
L'aspetto che emerge con particolare rilevanza è il fatto che l'azione torni ad essere una componente fondamentale di The Walking Dead, pur senza trascurare l'introspezione dei personaggi.
D'altra parte sono dichiarazioni che fanno il paio con l'opinione di Robert Kirkman (che potete leggere in questo articolo) riguardo all'ottava stagione.
Le notizie che si sono sparse dalla fine della settima stagione ad oggi sono promettenti.
Ancora poco e anche noi potremo confermare (o smentire) quanto di buono si sta affermando sulla prossima stagione di The Walking Dead. Ancora poco più di un mese e sapremo se la Serie è effettivamente migliorata qualitativamente o se la Gurira abbia solamente – e per l'ennesima volta – alzato l'asticella delle nostre aspettative.