Ne è passato di tempo da L'ultimo giorno sulla terra, dalla 6×16, una delle puntate che ha segnato The Walking Dead per sempre. Abbiamo aspettato mesi per il Nuovo giorno e per vedere chi sarebbe riuscito a vederne l'alba.
Ne è passato di tempo anche dalle parole di Edwin Jenner, quelle che danno il titolo alla puntata in lingua originale 'The day will come when you won't be'. Ne è passato di tempo da quando Rick Grimes cercava una via d'uscita da un edificio che sarebbe imploso da lì a poco.
Ne è passato di tempo dall'episodio 1×06 di The Walking Dead. Cinque stagioni intere. Adesso ad implodere su se stesso c'è qualcos'altro. C'è il mondo di Rick Grimes, quel mondo che si è faticosamente costruito. Tutto cade a pezzi ed esplode dall'interno.
La 7×01 di The Walking Dead riprende quelle parole, quelle di Jenner.
-There's your chance, take it. / Ecco la vostra possibilità, prendetela.
-I'm grateful. / Te ne sono grato.
–The day will come when you won't be / Verrà il giorno in cui non lo sarai più.
Eccolo il giorno. Ecco il 'famoso' e 'atteso' ultimo giorno sulla terra. Ecco il giorno in cui forse l'idea di essersene andati molto prima viene rimpianta.
La 7×01 di The Walking Dead si apre e si chiude con gli occhi di Rick Grimes, con lo sguardo del leader che vediamo vacillare e contrarsi con paura e dolore mischiate in un mix esplosivo.
-Ti ucciderò
E' tutto ciò che Rick riesce a dire e a promettere a Negan (Non oggi, non domani, ma io ti ucciderò). La stessa promessa fatta tempo prima al Governatore, a Joe, a Gareth e mai ritrattata. Il leader dei Saviors sa con chi ha a che fare, sa che Rick ha ucciso molti dei suoi uomini, che è un padre prima di un leader e che se vuole piegare il gruppo deve riuscire a piegare lui.
Così lo trascina via dai suoi e toglie agli altri anche l'ultima speranza di vedere il loro capo ribellarsi. Lo trascina via come un cane al guinzaglio, un cane che ha bisogno di una bella lezione per imparare chi è il suo padrone. Lo provoca mentre sono sul furgone durante il loro giretto. Prima l'accetta sul tavolo e il fucile puntato al petto, poi gli zombie contro il vetro (Ti ricorda qualcuno che conosci?). Gioca con Rick come con un cane: gli lancia la pallina (l'accetta) e gli dice di andarla a riprendere così da poter diventare amici. In un secondo momento pulisce la stessa accetta sulla sua felpa, umiliandolo nuovamente e costringendolo ad ammettere che vive solo perchè lui ha deciso di non ucciderlo.
Mentre il sole di The Walking Dead sta sorgendo (Un giorno tutto nuovo Rick!) Negan conduce il nostro protagonista in un luogo non casuale e lo costringe ad una meditazione e ad una sfida. Egli sa bene che posto è quello. Lì è dove Rick ha trovato una delle strade sbarrate nel suo viaggio verso Hilltop, è dove ha capito definitivamente di essere caduto in trappola tra le braccia di Negan, è dove la superiorità di mezzi, uomini e strumenti si è fatta palese, è dove le vie di fuga sono svanite.
"Voglio che pensi a cosa sarebbe potuto succedere, poi pensa a quello che è successo.."
Scommetto che pensavi che sareste invecchiati tutti insieme, intorno a un tavolo per il pranzo della domenica, felici e contenti.
Negan fa leva sulla speranza che era nata da poco nel cuore del leader, quando le cose cominciavano a funzionare e quando la visione di un nuovo mondo su misura per la sua famiglia non era più così offuscata. Fa leva sui ricordi, sulle speranze, sulla gioia ormai svanita mentre Rick si contorce dal dolore.
Pensa a quello che è successo.
Con un nuovo sguardo sugli occhi di Rick viaggiamo nei suoi ricordi, in quello che è successo e scopriamo finalmente la verità. Riviviamo il terrore della conta, la sfrontatezza di Negan, il suo maneggiare come un giocoliere le vite di quelle persone. La conta non segue un ordine logico perché anche l'ordine è di Negan. La conta con la filastrocca è solo un pretesto per dimostrare quanto insulse siano quelle vite per lui. La conta è di Negan e di Lucille. E alla fine Negan sceglie Abraham.
Ad ogni colpo della mazza tutto il gruppo trema, impotente, senza nessun appiglio a cui aggrapparsi. Abraham era importante per tutti, senza nessuna distinzione. Un simbolo di forza e coraggio che si mantiene, eretto, finché non viene brutalmente spezzato. Qualcuno non ci sta, qualcuno non ce la fa. Rosita non riesce a stare all'ordine di Negan di guardare la mazza insanguinata, Daryl prova a reagire, Rick prova ad alzarsi quando vede il suo amico sotto tiro, ma non serve.
Non si può fare nulla contro Negan. Non ci si può alzare per tirargli un pugno e sperare che lui non mantenga la sua promessa, non si può afferrare un'accetta e sperare di infilargliela nella nuca, non puoi sperare che accetti di farsi sfidare, non puoi nemmeno chiedergli di uccidere una persona al posto suo (No, tu non lo uccidi, non prima di impegnarti un po').
Come se il diritto di uccidere fosse solo suo. Come tutto il resto. Come Rick, come il gruppo, come l'accetta, come la sua parola che viene rispettata con un sonoro colpo a Glenn. Negan lascia passare il pianto di Rosita, d'altronde aveva detto che potevano piangere, ma non può non reagire ad un pugno. E a rimetterci è Glenn, con uno schiacciante riferimento al fumetto.
'Maggie I will find you'
Le parole di Glenn sono sconnesse e quasi irriconoscibili. E' tutto così contorto che è difficile definire quella frase. Il richiamo alla loro ricerca prima di ritrovarsi a Terminus è evidente: se si sono ritrovati in un mondo di morti che camminano, si ritroveranno anche in un mondo di morti e basta. 
Da sottolineare come gli autori abbiano voluto dare ad entrambi i personaggi la possibilità di dire un'ultima, rappresentativa, frase. Cosa meglio di 'succhia il mio cazzo' poteva rappresentare la forza e la fierezza di Abraham? E cosa poteva dire Glenn se non ultimo grido d'amore per Maggie?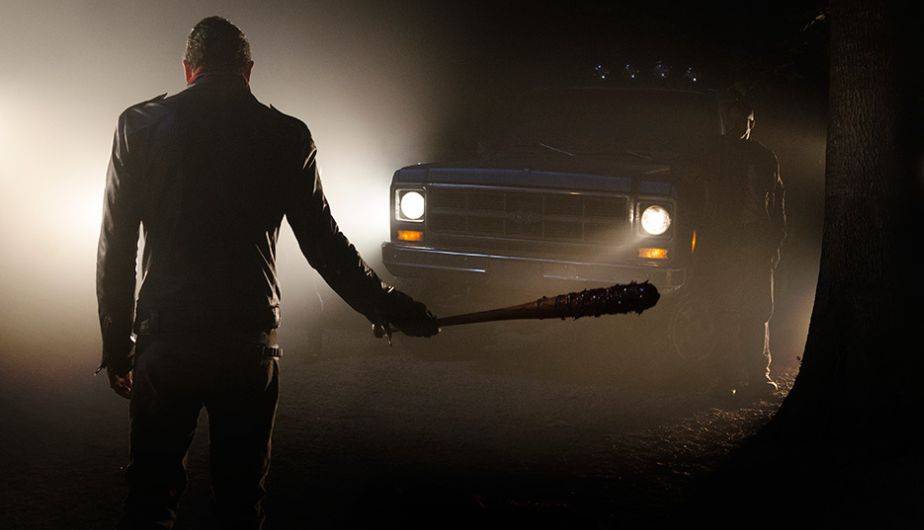 Pensa a quello che può ancora succedere.
Di nuovo ecco gli occhi di Rick, sconvolti e lacrimanti. Di nuovo eccolo costretto a combattere contro Negan che con lui sta solo giocando.
E' lui a decidere se Rick vive o se muore, gli salva la vita dagli zombie, ma lo costringe a combattere, gli suona il clacson per farlo tornare, ma non apre subito la porta per farlo salire. Lo provoca psicologicamente per arrivare a farsi obbedire.
La sequenza di Rick solo contro gli zombie non può che ricordare l'invasione di Alexandria e la sua furia dopo l'incidente di Carl. Qualcosa di diverso però c'è. I suoi amici non ci sono, la sua famiglia è lontana da lui. E' una battaglia che deve vincere da solo. Contro gli zombie, contro il volere di Negan, contro il suo dolore, contro la consapevolezza di non poter fare nulla e di doversi piegare al suo nuovo padrone.
L'accetta, in questa puntata di The Walking Dead è il simbolo della sottomissione. Rick la riporta e la Rick la prende dalle mani del leader dei Saviors dopo che questi gli ha detto che gli servirà per poter lavorare per lui.
Ma scendere a quel patto non è l'unica sfida a cui Rick dovrà sottoporsi. Non è l'unica perchè gli occhi di Rick stanno ancora dicendo la verità e continuano ad urlare quel 'io ti ucciderò'.
Ecco quindi l'ultima prova. Con un riferimento biblico pesantissimo che porta Negan alla stregua di Dio con Abramo e il sacrificio di Isacco, egli chiede a Rick di amputare il braccio a suo figlio. O quello o la vita di tutti gli altri suoi amici.
Carl è come Rick, non demorde quando sta in piedi di fronte a Negan, non piega la testa e dice a suo padre di procedere senza pensarci. Il nostro leader cede, implora, piange e si piega definitivamente al suo nuovo padrone. Così Carl è salvo, ma Negan ottiene la sua vittoria più grande.
Riesce a piegare il padre, dopo aver spezzato il leader.
Tu rendi conto a me, tu lavori per me, tu appartieni a me. Questo è lo sguardo che volevo vedere.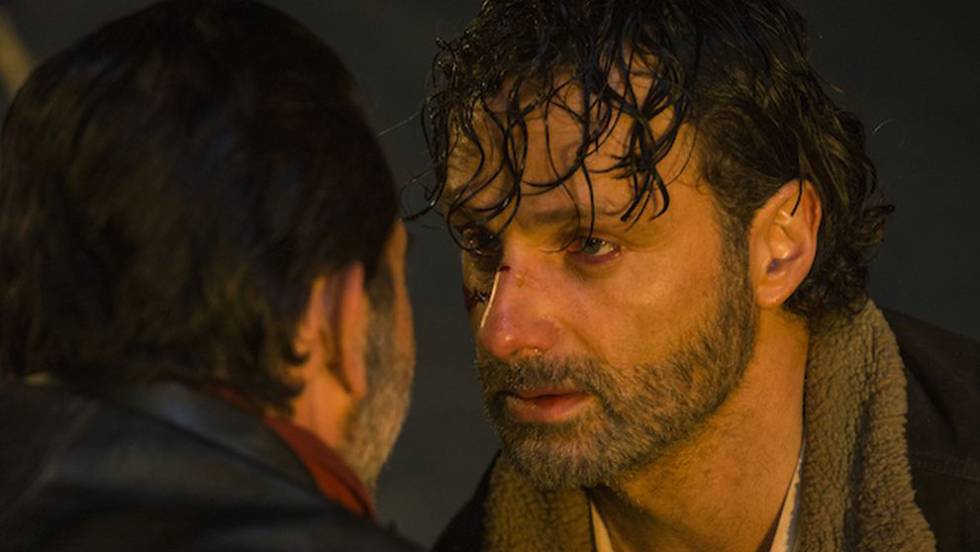 Chiariti i termini dell'accordo, le scadenze e preso Daryl come garanzia, i Saviors abbandonano il campo lasciando Rick e i suoi soli.
La riflessione che nasce nei minuti seguenti è molto simile a quella della 6×16 di The Walking Dead. Tante volte abbiamo pensato che il gruppo di Rick avesse raggiunto alti livelli di disumanità. Rick è l'uomo che ha squartato la gola con i denti ad un altro uomo, che ha preso un machete rosso e ha spaccato la testa ad una persona, che ha investito e rotto la colonna vertebrale ad un'altra. Che ha ucciso a sangue freddo e che lo rifarà sicuramente. Ma Rick è l'uomo che ha dato la seconda possibilità ad un bugiardo codardo, che ha perdonato, che ha tenuto in vita persone, che ha accolto, che ha amato, che ha costruito e che ha speranza in un mondo diverso e in un giorno nuovo.
E con Rick i suoi uomini, tutti, dal primo all'ultimo, anche quelli che non ci sono più.
Ciò che distingue i sopravvissuti di The Walking Dead è l'umanità residua nel cuore, quella vera che ti fa andare avanti, ma allo stesso tempo ti permette di fare scelte difficili. Quella che ti fa dire in una radiolina 'ehi coglione' ad un perfetto sconosciuto per salvargli la vita, la stessa che ti fa ammettere di voler costruire una famiglia, dopo aver perso tutto, in un mondo come quello di The Walking Dead.
Non dimenticatevi di passare da qui: Norman Reedus Italia, The Walking Dead ITA , The Walking Dead-Italy , The Walking Dead Italia , TWD – Am I the only one Zen around here? Good Lord. , Caryl Italia, Andrew Lincoln Italy, Daryl Dixon ITA e FIGHT the Dead. FEAR the living – The Walking Dead gdr, The Walking Dead Pagina Italiana ! In più vi consigliamo un canale YouTube di un nostro affiliato Don't Open Dead Inside !