Un vetro sfondato da un proiettile..
Una gomma a terra sfondata da tanti proiettili..
Una macchia di sangue a terra che non smette di aumentare..
Una lancia che riempie la macchia di sangue a terra..
Un rosario vicino alla macchia di sangue..
Una macchia di sangue ancora più grande..
E come sottofondo? Un dialogo, un urlo e uno sparo.
La puntata si apre con una tecnica molto amata dagli autori di The Walking Dead. Si chiama media-res e consiste nel catapultare uno spettatore/lettore già nel vivo della vicenda per poi spiegare successivamente come si è arrivati a quel punto. La situazione, già conclusa, ci viene mostrata con tutti i dettagli elencati sopra.
Con qualche indizio siamo subito in grado di capire che si tratta di Carol (la voce e il rosario a terra) ma non abbiamo idea di cosa sia successo tra il sangue, l'auto, l'altra persona e lo sparo. Dopo la sigla, utile per spezzare immediatamente la tensione, ripercorriamo la fuga di Carol con altre brevi immagini: la lettera cominciata, la cucitura nella giacca per nascondere l'arma, le provviste prese dalla dispensa e lo zaino nascosto sotto il letto all'arrivo di Tobin. Lui le parla affettuosamente e cerca di aprirsi con lei mostrandole la sua voglia di ricominciare, parlandole della costruzione della torre di vedetta, ma anche il suo dolore per la scomparsa di Denise che conosceva fin dall'inizio. In quel momento però, Tobin potrebbe dire qualunque cosa, perché Carol sta pensando ad altro. Si isola dal suo stesso discorso, non ascolta le risposte alla sua stessa domanda perché ormai ha già deciso di andarsene, ha già fatto una scelta e anche se l'ha nascosta un attimo sotto il letto non significa che l'abbia abbandonata.
Il testo della lettera viene ripreso alla perfezione con la canzone che la accompagna al di fuori di Alexandria. Carol non riesce a nascondere la sua amarezza e il suo dispiacere con un foglio di carta (I couldn't hide the teardrops when I walked away alone), anche se pensa che andarsene sia la cosa giusta per sé e per gli altri. Crede di aver amato le persone del suo gruppo a tal punto da cambiare sé stessa (I was in a daze because I loved you so, I couldn't see), sa che lo rifarebbe, ma sa anche che così si distruggerebbe definitivamente (I was broken in a million little pieces).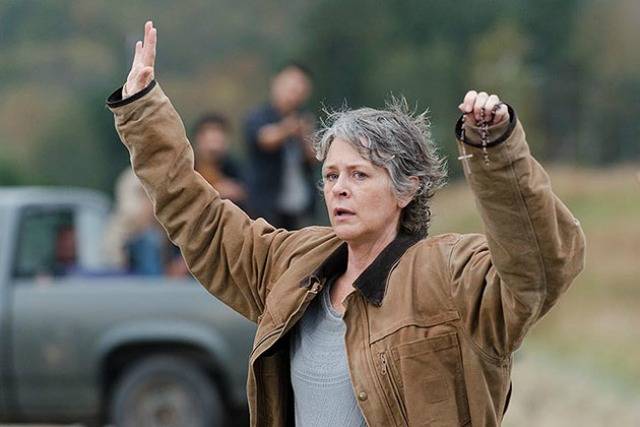 Prima dell'inizio dello svolgimento dell'episodio ci vengono offerte altre significative istantanee riguardanti vari personaggi all'interno di Alexandria. Rivediamo Carl che, in armeria, osserva una delle pistole dei Salvatori con una mazza da baseball incisa sopra. Glenn e Maggie, insieme sotto la doccia, cercano di affrontare le loro paure insieme; Daryl si prepara a partire per vendicarsi con il portachiavi che aveva preso Denise ben stretto in mano; Sasha e Abraham si cambiano turno di guardia continuando a farsi tanti piccoli regali tra sguardi e gesti significativi, sotto gli occhi attenti di Rosita che resta di guardia al cancello al posto di Eugene. Rick e Michonne, gli ultimi a cui viene dedicato spazio nella sequenza, si svegliano insieme pensando al programma della giornata. Sono attimi sereni e quotidiani che hanno lo scopo di mostrarci come ognuno di loro continui ad affrontare tutto quello che succede in modo diverso. E' molto significativo. Nessuno reagisce come qualcun altro, ma tutti vanno avanti per il bene della comunità. Tutti si rendono partecipi anche se sono ben consapevoli che il pericolo alle porte.
Per analizzare bene la puntata bisogna partire dal titolo e da ciò che racchiude perché non c'è una sola storia, una sola trama o un solo avvenimento. "IL CERCHIO" non è a caso. In tutto l'episodio abbiamo delle storie che si riaprono, si richiudono, si intrecciano e si rafforzano l'una sull'altra.
Rick dice a Michonne che non permetterà che altre persone muoiano per darle speranza e lei rigira la frase per Daryl, per promettergli che Denise verrà vendicata e per dargli qualcosa a cui aggrapparsi.
Il portachiavi che Denise aveva preso in memoria di suo fratello viene inquadrato tra le mani di Daryl e riportato ad un nuovo viaggio partendo proprio dal punto in cui lei è morta, per cercare di vendicarla come merita.
La storia di Carol e del suo esilio dalla prigione ritorna. Lei era stata mandata via da Rick, ma poi era tornata e aveva salvato tutti. Vengono riprese le motivazioni e le scelte passate di Rick, poi vengono contrapposte alla sua visione attuale e alle sue nuove decisioni.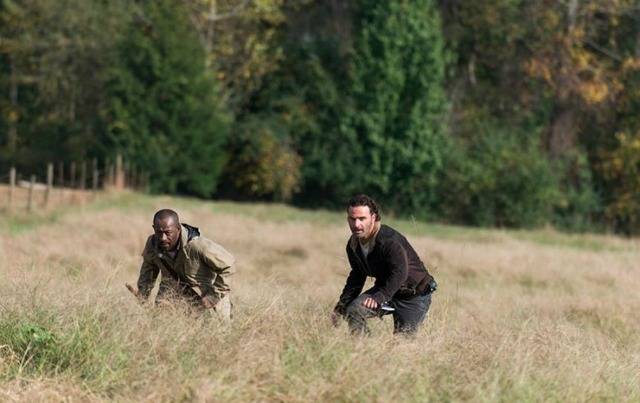 Morgan usa le direzioni EST e OVEST per cercare di spiegare a Rick la fuga di Carol. Gli dice che l'accampamento dei Salvatori era ad Ovest e che lei è andata ad Est. Questo potrebbe significare che non se n'è andata per cercare di risolvere la situazione di Negan da sola, ma semplicemente voleva andarsene da Alexandria. Morgan, in chiesa, prima dell'attacco all'avamposto dei Salvatori, disse che tutti in qualche modo potevano tornare. La frase viene ripetuta di nuovo proprio da lui e proprio verso Rick. "La gente può tornare" non è riferito solo ai morti, ma al fatto che chiunque possa ritrovare se stesso e la propria umanità. Così loro due si separano di nuovo, per la terza volta, senza sapere se si rivedranno più e hanno il coraggio di ammettere l'uno con l'altro che nessuno dei due punti di vista è perfettamente applicabile al nuovo mondo. Per chiudere l'ennesimo cerchietto Rick confessa a Morgan che Michonne aveva davvero mangiato la sua barretta a King County.
Un altro tema che ritorna è il "non si lascia indietro nessuno". Viene ribadito che l'unione fa la forza e che chiunque dei membri del gruppo perda temporaneamente di vista il vero obbiettivo, cioè la sopravvivenza del gruppo stesso, può essere salvato dagli altri perché essi ci sono sempre. Carol scappa, ma Tobin avverte e Rick e Morgan partono immediatamente alle sue ricerche. Daryl vuole vendetta, ma Glenn, Michonne e Rosita partono per farlo ragionare. Successivamente Glenn e Michonne vengono rapiti, ma gli altri sono appostati per salvarli.
Carol uccide di nuovo, anche se non vuole più farlo, per necessità, perché non può scegliere. Così da voce alle teorie di Morgan e Rick che si scontrano di nuovo. E' giusto o sbagliato il suo gesto? I Salvatori vengono ripetutamente abbassati dal punto di vista morale per come si comportano con una donna sola e indifesa, per come la minacciano e per come reagiscono alla morte dei loro compagni di spedizione. Quelli che rimangono vivi non si preoccupano nemmeno per un secondo di quelli feriti, non si degnano di evitare loro la trasformazione o sofferenze inutili ma si limitano ad un "lasciati andare amico". Così facendo il gesto di Carol sembra più che giustificato e la bilancia si sposta verso Rick.
Dwight punta di nuovo la pistola contro Daryl dopo che questo voleva ritrovarlo e ucciderlo. I predatori e le prede. I ruoli che si invertono sempre. Di nuovo chi caccia viene poi cacciato e viceversa. E' tutto un inseguirsi continuo senza capo né coda, è un cerchio.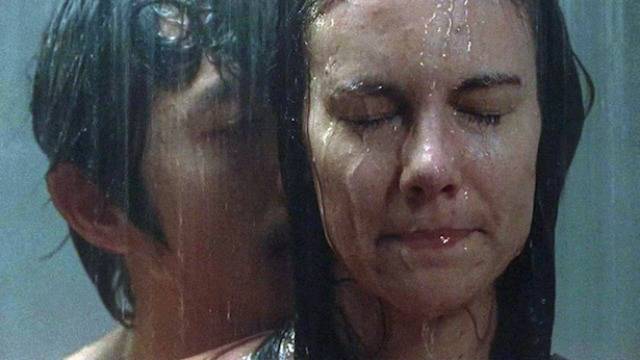 Il "non ce la faccio più" di Maggie dopo il suo rapimento è ripreso nella sua espressione affranta sotto la doccia, quando Glenn le sussurra alcune parole e lei annuisce debolmente. Nel corso della puntata però quel dolore viene trasformato e riprende vita sotto una nuova forma, cioè la volontà di andare avanti dando un taglio definitivo anche ad una cosa materiale come i capelli. Maggie è forte, lo è sempre stata, ma a volte tutti hanno bisogno di avere meno ostacoli sul proprio cammino e ritornare ai "tempi della fattoria", sotto qualche punto di vista, può fare bene.
La fattoria di Hershel è ripresa in quel punto, ma anche nella ricerca del "cavallo" da parte dell'uomo dentro al fienile e dal fienile stesso con gli zombie vicini.
E allora che cos'è questa puntata se non un grande cerchio? Tutto inizia con alcune scene della vita più o meno tranquilla all'interno di Alexandria e tutto termina con Maggie che prova dolori alla pancia, Glenn e Michonne imbavagliati e rapiti, Daryl e Rosita sotto tiro da parte di Dwight. Uno sparo finale, uguale a quello iniziale pre-sigla.
Il sogno di Alexandria sta davvero per terminare?
Ci sono tanti fili che intrecciano Alexandria ai Salvatori. Ci sono quelli che aspettano davanti al cancello dichiarandosi pronti ad uccidere più che pronti a legarsi a qualcuno. Ci sono quelli che, convinti di poter trovare Dwight e tendergli un'imboscata da predatori, sono diventati prede. C'è Carol, forse ferita, che non vuole essere trovata e c'è Morgan che la cerca, inseguito da uno dei Salvatori rimasto vivo. In tutta questa grande ragnatela i ruoli di ragno e insetti non sono ancora ben tracciati; è un groviglio grosso che non si scioglierà di certo con una puntata sola.
Il ritornello della canzone all'inizio cantava che era tutto finito (it's all over, it's all over, my heart echoed it's all over), ma dopo il buio dello sparo un piccolo faro di speranza si è acceso per chiudere il cerchio.
"Starai bene"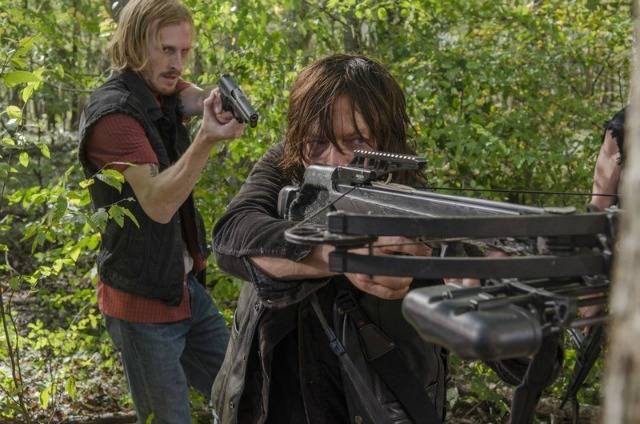 Un saluto alle pagine: The Walking Dead Italia, The Walking Dead ITA, Caryl Italia, TWD – Am I the only one Zen around here? Good Lord, The Walking Dead-Italy e The Walking Dead Italia. !