L'inizio e la fine. Il titolo della 6×8 ci introduce immediatamente nel clima estremo da finale di mezza stagione, segnando forse un passo decisivo verso una nuova fase, una nuova svolta nella storia di The Walking Dead.
NEGAN
Partiamo dalla fine, quella dopo la sigla e dopo la 'prima fine' che già agita il cervello di suspense a dovere. Ci sono Daryl, Sasha ed Abraham di rientro ad Alexandria e, pensando agli RPG trovati da Baffo, si può intravedere una speranza per quanto riguarda l'assedio alla comunità, ma vengono bloccati da un gruppo di persone con delle motociclette. Il loro leader invita a scendere dal mezzo i nostri e poi fa un discorso molto chiaro: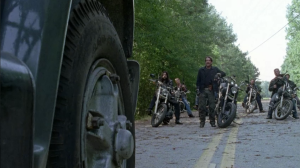 'Vedete, le armi, il furgone, la benzina del furgone…se avete delle mentine nel portaoggetti, se avete riviste porno sotto i sedili, delle monete, i sedili stessi, i tappetini, le mappe…e fazzoletti che tenete lì sul cruscotto in caso di evenienza, tutte quelle cose non sono più vostre'
(Sasha) 'E di chi sono?'
'I vostri averi ora appartengono a Negan'
Dopo averlo sentito nominare spesso e volentieri (mio malgrado in quanto odio qualsiasi tipo di spoiler o anticipazione) dai 'fumettisti', ossia chi segue la serie leggendo il fumetto di The Walking Dead a cui si ispira la serie stessa, 'godere' nel non avere parole per descrivere la sua cattiveria e spietatezza, la curiosità di veder entrare in scena questo personaggio così importante e rilevante era ed è altissima. Negan: che dire? ti stavamo aspettando.
Ma, già dalle premesse dei suoi scagnozzi, non credo il suo ingresso sia una cosa buona per i nostri.
Attendiamo quindi la sua uscita allo scoperto.
LA FIABA DI ALEXANDRIA E LA MORTE DI DEANNA
Ma veniamo all'inizio. 'Start to Finish' dicevamo, il titolo della 6×8 evoca forse alla fine della bella fiaba di Alexandria che, ormai invasa, volge al suo declino con la morte della padrona di casa per eccellenza, Deanna. Morsa da uno zombie, fino all'ultimo difende i suoi progetti, le sue idee, tutto ciò che è stata la sua opera, spronando gli altri a non arrendersi, raccomandandosi a Rick di difendere la sua gente e suo figlio come facessero parte del suo gruppo. E poi stimolando Michonne, che le sta accanto per ultima, forse a raccoglierne l'eredità morale 'Cosa vuoi per te stessa?'
'Un giorno questo dolore ti sarà utile'. Michonne poco prima chiede a Deanna il significato della frase in latino di Ovidio "dolor hic tibi proderit olim" scritta sulla mappa. In questa scena c'è come la volontà da parte della Monroe di investire Michonne di quel ruolo da capo-popolo, governatrice, di punto di riferimento per tutta la gente 'comune' di cui Deanna era stata simbolo.
Michonne si offre anche di aiutarla a morire però Deanna preferisce aspettare, farlo da sè. Ma sceglie di combattere con tenacia e rabbia, fino alla fine, andando incontro agli usurpatori del suo regno. Probabilmente continuerà a vagare da zombie e sarà comunque sempre lei, la grande regina di Alexandria. RIP Deanna.
In questo episodio quindi assistiamo al crollo verticale della torre e dell'inviolabilità di Alexandria: la comunità è come allagata di zombie inferociti, che fanno irruzione copiosi tra la polvere e le macerie, a rendere pienamente un'atmosfera apocalittica infernale.
Nelle vorticose dinamiche per mettersi in salvo c'è Maggie che riesce a rifugiarsi sulla postazione di vedetta, arrivando stremata in cima e avvistando ancora una volta i palloncini verdi nel cielo (con Glenn che da fuori riesce a vederla).
Mentre gli altri riescono a rintanarsi nelle case dando vita a due scenari separati (più Tara Eugene e Rosita che si vanno a rincongiungere in uno di essi). Le case sono circondate, i vaganti hanno occupato le strade e si sono riversati a ridosso delle porte. Le sagome dei vaganti, le mani che battono vicino alle porte, dappertutto, ci riportano alle scene di 'chiusura' primordiali, come ad esempio la scena nei grandi magazzini nella prima stagione.
CAROL VS MORGAN
Il primo scenario vede quello che si gioca sullo 'scontro di religioni' e mette uno contro l'altra due personaggi 'big': Morgan e Carol duellano per via del wolf prigioniero. I due arrivano addirittura a battersi alla morte, Carol minaccia Morgan con un coltello che però la stende con un colpo di Aikido ma a sua volta viene steso dal wolf che voleva 'convertire'. Il perfido lupo a tradimento prende in ostaggio Denise ed esce dall'appartamento minacciando con la pistola la donna che aveva anche cercato di curarlo in precedenza. Tara Rosita e Eugene rimasti intrappolati in un'altra parte della casa sfruttano le insospettabili doti da Arsenio Lupin dell'ex scenziato ma non fanno altro che rimanere disarmati offrendo tra l'altro l'arma al wolf che scappa mentre Morgan e Carol sono entrambi a terra senza muoversi.
TEAM GRIMES
Dall'altro lato troviamo la 'famiglia allargata' Rick/Jessie, Deanna morente con Michonne e Padre Gabriel, che si intrufola sempre dove meglio conviene. Qui, seppur nel bel mezzo di un assedio, Ron non demorde dai suoi istinti di gelosia nei confronti di Carl. Il pedinamento sospetto con la pistola visto nelle ultime battute dell'episodio scorso e le malsane intenzioni erano quindi solo rimandate per via del crollo della torre. I due ragazzi si trovano a combattere su chi avesse il padre più stronzo o più assassino e la collutazione fa in modo che gli zombie facciano irruzione, costringendo tutti a rifugiarsi al piano di sopra. In questa circostanza vediamo Grimes junior dimostrarsi davvero un uomo, sia nel coprire Ron sia nell'affrontare la situazione, tentando un rapporto basato sul perdono e sull'unione pur sapendo che dall'altro lato c'è odio e astio. Esemplificativo è il fatto che continui a chiamarlo 'amico' mentre dall'altro capo è corrisposto solo da azioni sleali. Potranno mai andare d'accordo? O Carl dovrà ucciderlo come Rick ha fatto con il padre?
IN PUNTA DI PIEDI
Ma facciamo ora un salto all'inizio, quello prima della sigla, l'intro che precede la puntata. L'episodio inizia con in sottofondo un motivo anni 30 molto tranquillo 'Tip Toe Through The Tulips' di Nick Lucas
e vediamo il giradischi che suona la musica e il buon bambino Sam nella sua cameretta con i suoi giochi e i disegni innocenti.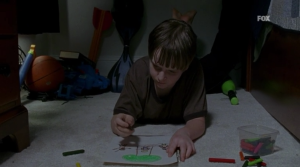 Sam tappato in casa e ovattato da tutto, è ignaro di ciò che sta succedendo proprio a un passo da lui. Mentre immerso nel suo mondo infantile continua a colorare, vediamo una fila di formiche accedere attraverso la finestra fino ad accentrarsi in un piatto dove c'è del cibo non consumato. E' la metafora di ciò che sta per succedere in The Walking Dead, l'inquadratura chiude proprio sul piatto 'assaltato' dalle formiche, sulle note della canzone che beffardamente canta 'in punta di piedi attraverso la finestra…'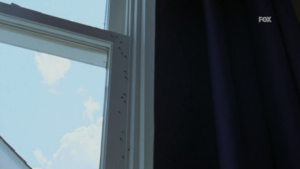 E proprio attraverso una finestra (quella rotta da Ron durante la lotta con Carl) i vaganti entrano dentro…
Ed alla stessa stregua, ancora più beffardamente, nel momento dove non si può più rimanere chiusi, bendati, fare finta che niente è successo e bisogna scappare, il motivetto risuona. In primo momento distorto, confondendosi al pianto di Judith, alle urla provenienti da fuori e ai rantolii degli zombie affamati. E quando Sam terrorizzato chiede alla madre 'come deve fare' (siamo nel momento del cospargimento di budella a mo' di prima stagione) Jessie suggerisce 'prova a immaginare che sia tutta una finzione'.
La canzone riparte, Rick, Carl, Jessie, Ron, Sam, Gabriel, Michonne, mano nella mano, 'in punta di piedi' passano attraverso il mare di zombie che li circonda, imperturbabili. Il 'trucco' funziona, come l'altra volta con Glenn. I nostri passano piano piano attraverso i corpi dei vaganti che non accennano alcuna mossa. 'Oh, tiptoe from the garden…' – continua la canzoncina – 'Oh, in punta di piedi dal giardino…' 'And if I kiss you in the garden, in the moonlight…'  'E se ti bacio in giardino, al chiaro di luna…' . A un tratto Sam comincia a chiamare la madre, una volta, due, insistentemente. 'Will you pardon me?'  'Mi perdonerà?'
Che Sam abbia voglia di un bacino della mamma proprio in quel momento?
The Walking Dead ci lascia così al termine della prima mid season, con questa situazione al limite del surreale.
La confusione e l'ingenuità (chiamiamola in questo modo) del bambino Sam che lo induce a chiamare la madre tra gli zombie, come livello di pericolosità, diciamo, potrebbe essere paragonata a perdere sangue in una vasca di squali.
Rimarremo con questa linea di sospensione quindi, ed inizia ufficialmente l'apnea forzata fino alla ripresa della seconda metà di sesta stagione.
Trattenete il respiro più che potete allora, febbraio è più vicino di quel che potete immaginare e al suo avvento, state pur certi, ci sarà ancora più da tribolare di emozioni: The Walkig Dead è sempre e fottutamente questo.