I veri fan di The Walking Dead ormai avranno sentito ripetere questa storia decine di volte, come se fosse una specie di leggenda sulla genesi della nostra saga zombie preferita: ebbene, il personaggio di Daryl Dixon non appare nell'omonimo fumetto e inizialmente non avrebbe dovuto esistere nemmeno nella serie tv… Infatti Norman Reedus a suo tempo sostenne il provino per Merle, il cui ruolo era però già stato assegnato a Michael Rooker; pare quindi che gli autori, apprezzando molto la recitazione e il carisma di Norman, abbiano deciso solo in seguito di creare Daryl e che l'abbiano disegnato sulla figura, e in parte sul carattere, di Reedus.
Sebbene i loro background siano per fortuna di Norman assai diversi, tra il balestriere e l'attore che lo interpreta possiamo trovare parecchie somiglianze importanti: entrambi sono sensuali (il primo senza volerlo, il secondo fin troppo consapevolmente!), selvaggi, duri fuori e dolci dentro e, detto tra noi, poco amanti dell'acqua e del sapone. Non è un caso che molti dei ruoli incarnati da Reedus, sia prima che dopo la nascita di Daryl, ricalchino uomini rudi e spesso invischiati in attività non proprio lecite, tormentati o inseguiti da un passato tragico… Evidentemente queste caratteristiche si addicono allo stile di Norman, o magari gli stanno bene addosso perchè riprendono qualcosa del suo reale vissuto.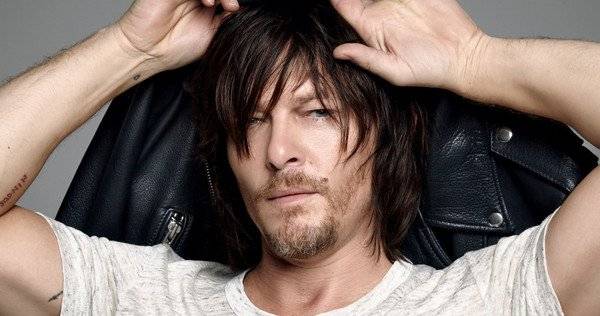 Beh, potremmo pensare che si tratti di una scelta commerciale: dato che l'attore è diventato celebre soprattutto grazie a Daryl, magari i registi che lavorano con lui tendono ad affidargli personaggi che richiamino il bel segugio della Georgia, se non altro per attirare le frotte di ragazze (ma anche di uomini) che amano il giovane Dixon. Però questa teoria regge solo fino a un certo punto, in quanto i film in cui Reedus compare in genere sono prodotti un po' di nicchia: "Air", "Sky", "Codice 999" sono i più recenti progetti cinematografici cui ha partecipato, e a parte l'ultimo nessuno degli altri è molto famoso; io stessa li ho visti tutti e tre solo perchè sono appunto una fan dell'attore, ma in caso contrario non avrei saputo nemmeno della loro esistenza… E nel caso di Air forse sarebbe stato un bene.
Perciò siamo inclini a credere che la frequenza con cui Norman interpreta ruoli che riecheggiano Daryl non sia tanto una strategia per ottenere incassi più cospicui, quanto la prova dell'implicita somiglianza tra il minore dei Dixon e l'uomo in carne e ossa che gli presta il volto: Reedus non si limita a mettere un po' di sè in Daryl, ma è Daryl stesso a rappresentare un alter ego, una possibile versione di Reedus.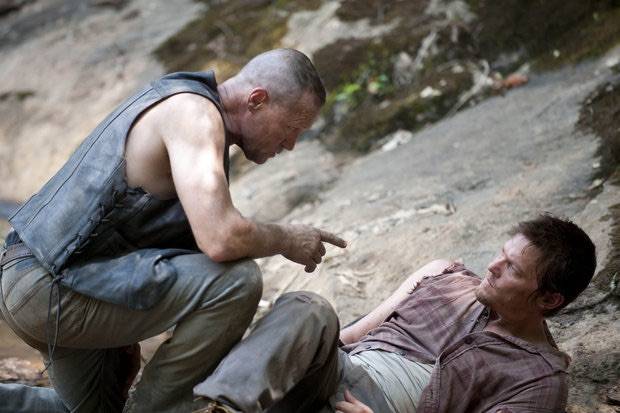 Sta di fatto però che la sesta stagione di The Walking Dead è stata alquanto anomala per Daryl: a una prima parte in cui compariva a mala pena, e quando era presente sembrava sottotono e quasi stanco, è seguita una seconda parte più movimentata, nella quale tuttavia il nostro arciere è stato soggetto a strani cambi di umore, attacchi di rabbia repressa e non da ultimo traumi difficili da digerire (quali la morte dell'amica Denise, avvenuta un attimo dopo che lei gli aveva confessato di considerarlo un fratello).
Nel finale poi è arrivato Negan, e diverse voci danno già Daryl per spacciato: perchè per i fan sarebbe un "bel" colpo di scena, perchè il personaggio è apprezzato ma forse comincia a diventare noioso, perchè Reedus è un attore ormai molto richiesto… Insomma, Daryl potrebbe morire oppure sopravvivere, ma intanto a ottobre manca ancora parecchio tempo e gli ammiratori di Mr. Balestra scalpitano.
Ed ecco allora il perfetto compromesso tra la serie tv e la vita reale dell'interprete, un regalo che Norman ha scelto di fare ai suoi fan (a quelli americani; non sappiamo se in Italia lo show verrà mai trasmesso): si chiama Ride with Norman Reedus ed è una serie non narrativa, cioè non basata su storie di invenzione ma "recitata" da attori che rappresentano se stessi, la quale vedrà il nostro eroe girovagare per gli States a bordo di alcune fantastiche motociclette. L'obiettivo principale del progetto è mostrare i lati meno conosciuti della cultura dei bikers, mentre quello secondario è riprendere il corpo del protagonista avvolto in giubbotti di pelle e variamente appoggiato alla moto… Il che sinceramente non guasta.
Però forse non tutti hanno capito che esiste un terzo motivo per cui questo nuovo lavoro di Reedus può definirsi davvero interessante.
Daryl Dixon: la versione oscura di Norman

Avete presente i film in cui lo stesso personaggio oscilla tra due dimensioni parallele, una realistica e l'altra magica o comunque distopica rispetto a quella normale? Bene, questa potrebbe essere la storia di Norman Reedus.
Perchè Daryl è un personaggio complesso, però a dire la verità l'ambientazione di The Walking Dead a volte sembra castrare le sue potenzialità: la presenza degli zombie e il fatto che il mondo in cui vive sia stato distrutto dall'apocalisse ci hanno impedito almeno per ora di vederlo calato in una quotidianità più vicina alla nostra, alle prese con i problemi di una persona comune… Per esempio non sappiamo che abitudini avesse prima che tutto andasse in  malora e i vaganti cominciassero a mangiarsi gli esseri umani; non sappiamo nel particolare come si sbarcasse il lunario, come trascorresse le serate del sabato. Non abbiamo neppure idea di come si vestisse quando non doveva andare a caccia, se almeno ogni tanto si facesse una doccia o avesse già deciso di darsi all'eterna sporcizia. Certo, possiamo intuire qualcosa di lui dagli accenni al passato che spuntano qua e là nella serie, ma di fatto l'abbiamo sempre considerato solo un esperto sterminatore di zombie, e il braccio destro di Rick e il fratellino di Merle.
Se Daryl non fosse un personaggio di The Walking Dead e se non avesse il background difficile che gli è stato affibbiato nel telefilm, come sarebbe? Chi sarebbe?
Probabilmente sarebbe Norman: i modi un po' più gentili ed educati, un sorriso sulle labbra ogni tanto, magari un figlio e un guardaroba più curato.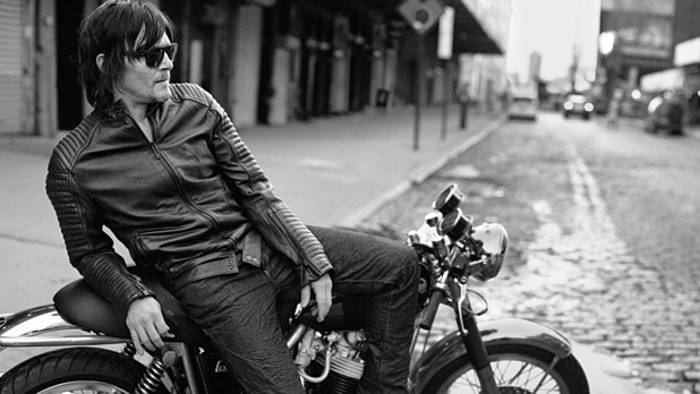 E alla stessa maniera, se Reedus fosse nato in una famiglia disagiata, se avesse subito abusi fisici e mentali, se si fosse svegliato una mattina e avesse visto che il mondo attorno a lui stava andando in pezzi, non sarebbe forse diventato come Daryl?
L'animo del balestriere e quello di Norman sono assai simili, mentre le circostanze in cui si sono trovati sono diverse.
Ecco perchè Ride with Norman Reedus è un po' lo show di un Daryl lontano dalla distruzione di The Walking Dead, un Daryl felice che fa ciò che più ama, ovvero viaggiare in moto, senza però perdere i tratti fondamentali del proprio carattere; potremmo affermare persino che la serie sia uno spin-off dedicato all'arciere, anche se in realtà sappiamo che è Norman "l'originale", mentre Daryl è l'invenzione.
Sotto una tale ottica, il lungo peregrinare di Reedus in sella alla sua baby acquista un fascino assai particolare.
Il biker poeta

Veniamo ora ai contenuti effettivi del programma, l'indagine documentaria della cultura dei bikers vista attraverso gli occhi azzurri di Norman.
Potrebbe stupirvi, ma la scelta di spostarsi su una Harley o su una Triumph anzichè su qualsiasi altro veicolo non è mai dettata da un semplice fattore di comodità o di piacere estetico: quelli che decidono di dedicarsi alle moto lo fanno con tutto il cuore e la mente, ed è un'esperienza che rimane impressa a fondo nei loro pensieri, nelle loro vite.
Tanto per cominciare non può essere una passione part-time, in quando una bella motocicletta è come una donna e richiede attenzioni; deve essere accarezzata, corteggiata… Bisogna prendersi cura di lei. Non si può semplicemente chiuderla in garage in attesa di un weekend libero.
Inoltre si tratta di un amore rischioso, dato che l'unica protezione di un biker è il suo stesso corpo e che purtroppo un incidente in moto rischia di essere letale molto più di un tamponamento o di un frontale in auto. Scegliere un mezzo di trasporto così potente e pericoloso è una dimostrazione di coraggio, una sfida e un atto di conquista della libertà.
Anche se viaggia da solo, un biker sa di appartenere a un gruppo compatto che condivide il medesimo stile di vita, e infatti quando un motociclista ne incrocia un altro lungo la strada è solito salutarlo con un peculiare gesto della mano sinistra (ovvero formando una V con l'indice e il medio); tale usanza parrebbe risalire all'epoca in cui si cavalcavano ancora destrieri veri: un giorno un cavaliere stava per entrare in un castello, ma prima che potesse raggiungere l'ingresso gli venne incontro un altro uomo, il quale sollevò le dita nel gesto sopra menzionato e comunicò al nuovo venuto di essersi già "occupato" della principessa di quel palazzo… Perciò se un motociclista non esegue il saluto è come se impersonasse il cavaliere cornuto. Non mi sono inventata niente, lo giuro: se non mi credete, cercate su Google!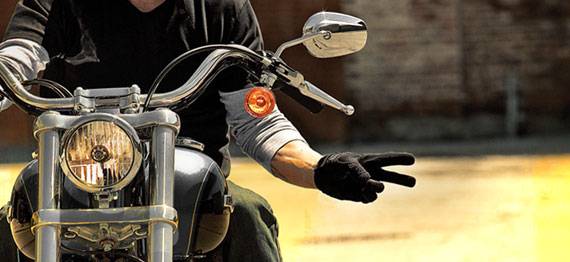 I bikers si riconoscono a vicenda, quasi fossero uniti da una sorta di fratellanza; come i maghi di certe storie fantasy, che sanno di appartenere allo stesso Ordine perchè indossano abiti uguali oppure portano addosso il medesimo tatuaggio addosso. Eppure un motociclista serio è anche e soprattutto un lupo solitario, uno spirito libero che anela di allontanarsi dal caos delle città per trovarsi faccia a faccia con l'asfalto caldo, il vento e il paesaggio all'orizzonte. Ciò è testimoniato anche dal suo look: una moto dalla carrozzeria nera e lucida per non dimenticare il valore della bellezza, borchie acuminate per simboleggiare la forza, e ali d'aquila dipinte sulla schiena per descrivere il carattere maestoso di colui che le indossa.
Pensando a Norman Reedus non vi verrebbe mai in mente di associarlo a un poeta o a un filosofo, vero?
Ma per interpretare Daryl come fa lui occorre avere un animo profondo, e il cuore di un artista… Alcuni esprimono i propri sentimenti con parole dolci e versi meravigliosi, mentre altri scelgono di rinchiuderli in un lungo, intenso viaggio su una strada assolata.