Prima di iniziare sono d'obbligo due precisazioni: qui parlerò UNICAMENTE del personaggio di Negan visto fino ad ora all'interno della Serie Tv, non faccio quindi riferimento a tutto ciò che riguarda il fumetto. E inoltre, sottolineo che questa è la mia personale opinione sul personaggio, voi siete liberi di condividerla o meno. Rispetto le vostre idee e gradirei che voi rispettaste la mia. Detto questo, passiamo alla parte divertente. Quella dove vi faccio arrabbiare perché non mi piace il personaggio di Negan. Ecco, l'ho detto.
Venerato come un dio, considerato tra i più come uno dei villain più belli di sempre, e il migliore cattivo visto finora in The Walking Dead. Sempre secondo la maggior parte dei fan; ma non per me. Non critico la recitazione di Jeffrey Morgan – su cui non c'è nulla da dire – ma proprio il personaggio in sé. E vi dico il motivo per cui, nonostante sia un cattivo ben fatto e piuttosto valido, Negan non mi convince del tutto. Insomma, io non lo considero nemmeno lontanamente il miglior villain di sempre.
Iniziamo con il dire che i montati di testa, pieni di sé, che si credono onnipotenti non mi sono mai piaciuti, che sia nella vita reale o in una Serie Tv. Anche Rick, quando ha attraversato il periodo del "sono il più forte di tutti" mi stava abbastanza sulle scatole. Ecco, la cosa positiva di Negan è che mi ha permesso di ritornare ad amare il personaggio di Rick, perché grazie a Negan ha capito di non essere invincibile. Ma torniamo al vero protagonista.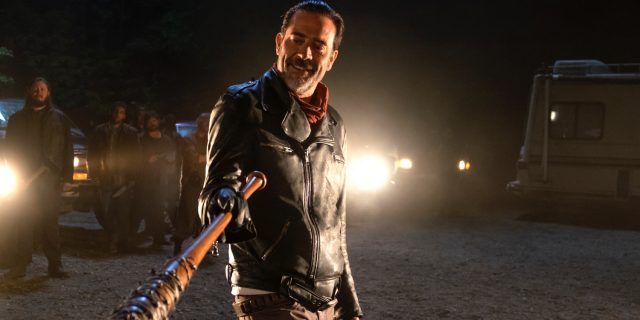 La sua onnipotenza, quindi, è uno dei motivi per cui non mi convince. Un vero cattivo sa che può perdere, sa che può esserci qualcuno in grado di sconfiggerlo, e gioca proprio su questo, nel cercare di prevedere ciò che potrebbe accadere e prepararsi ad affrontarlo. Negan è furbo, ma non abbastanza. La sua sicurezza non gli permette di vedere oltre quel che sembra. È sicuro del suo potere, grazie a tutti coloro che lo seguono e che diventano lui.
La forza di Negan sta nei suoi seguaci ma, tolti loro, perde il suo potere.
E questa non è una cosa che non potrebbe mai accadere. I suoi adepti sono con lui perché sono terrorizzati da lui, non perché lo adorino. Un villain come si deve dovrebbe conquistare la fiducia dei propri sostenitori, e fare in modo che questi provino una vera e propria venerazione nei suoi confronti. I suoi seguaci dovrebbero essere Negan perché lo rispettano e lo amano, non perché hanno paura di lui.
Questo è un grande errore che Negan fa, perché basta una scintilla per far saltare in aria il suo regno. Basta uno spiraglio, e tutti gli si rivolteranno contro. Basta accorgersi che la sua forza sta in coloro che lo seguono – e che senza di loro Negan non fa paura – per essere sconfitto. Ma nessuno ha il coraggio di ribellarsi, perché sanno a cosa andrebbero incontro. Questo però non può durare per sempre. Basare la propria forza sugli altri è il più grande errore che un villain possa fare. Ed è proprio quello che Negan ha fatto.
Non si è ancora a conoscenza di come Negan sia arrivato fin lì, e di com'era prima di essere così. Ma non mi convince quello che vedo. Avrebbe potuto essere un cattivo davvero eccezionale, ma ha punti deboli che – a mio parere – non lo rendono tale, e che potrebbero portarlo alla sconfitta.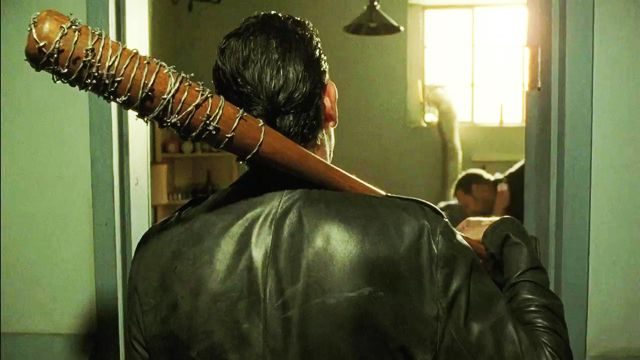 È indubbiamente molto cattivo, pericoloso ed odioso. Deve suscitare odio e su quello ci riesce molto bene. Ma, per certi aspetti, ho addirittura preferito il Governatore a Negan. Aspettate a scatenare la vostra furia su di me e lasciatemi spiegare il perché.
C'è da dire che abbiamo avuto modo di conoscere meglio il Governatore e la sua storia rispetto a Negan (finora). Ma il punto forte del capo di Woodbury era proprio il suo sembrare un buono agli occhi degli abitanti del suo piccolo mondo. Il Governatore era ammirato, stimato e apprezzato dai suoi seguaci. Quando la guerra è iniziata, li ha trovati tutti pronti a schierarsi al suo fianco, convinti che lui fosse dalla parte della ragione, e che gli altri (Rick & Co) fossero i cattivi. È stato abile e furbo, insomma un cattivo convincente. Sfruttava la sua gente per innalzare il suo potere, senza che questi se ne accorgessero. Cosa che Negan non nasconde affatto, ed è proprio questo il suo sbaglio.
Considerando che sembra non avere sentimenti o affetti a cui badare, non ha altre debolezze; se non avesse avuto questi piccoli grandi punti deboli, sarebbe stato praticamente invincibile.
Avrebbe potuto essere il cattivo più furbo, più stronzo, più odioso e incredibile di tutti i tempi. Ma a mio parere, non lo è affatto. Resta comunque un ottimo personaggio, oltre ad essere il cattivo che serviva in The Walking Dead. Ma sono rimasta un po' delusa. Sinceramente, mi aspettavo di meglio.
Non dimenticatevi di passare da qui: Norman Reedus Italia, The Walking Dead ITA , The Walking Dead-Italy , The Walking Dead Italia, TWD – Am I the only one Zen around here? Good Lord. , Caryl Italia, Andrew Lincoln Italy, Daryl Dixon ITA e FIGHT the Dead. FEAR the living – The Walking Dead gdr, The Walking Dead Pagina Italiana ! In più vi consigliamo un canale YouTube di un nostro affiliato Don't Open Dead Inside !