E così anche questo attesissimo finale di stagione (qui la recensione) è arrivato. The Walking Dead continua a stupirci e a lasciarci senza fiato.
Negan ha finalmente fatto la sua comparsa (e che comparsa!), Rick e i suoi sono in mano a lui, qualcuno è rimasto di guardia ad Alexandria, Morgan e Carol stanno cercando di trovare la "strada" e lungo il percorso hanno inontrato nuovi potenziali alleati.
Le premesse per una settima stagione ci sono tutte, ma per ora possiamo concentrarci solo su ciò che ci hanno voluto trasmettere con i dialoghi di questa settimana.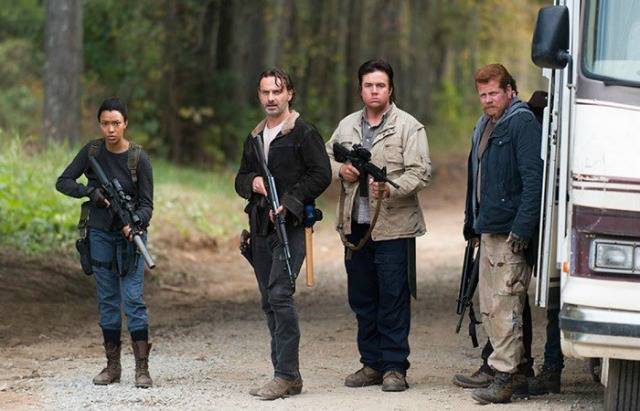 -So di poter essere utile. E' il momento giusto e il posto giusto. Non sottovalutarmi. Sarò la vostra ancora, dannazione, lo sarò! (Eugene)
C'è bisogno di tutti, sempre, perché tutti sono indispensabili. Ognuno ha le sue competenze, le sue conoscenze, le sue abilità e può metterle a disposizione degli altri. In questa ultima puntata della sesta stagione di The Walking Dead abbiamo la prova definitiva che all'interno del gruppo di Rick tutti hanno un compito. Proprio come diceva Hershel, proprio come ha continuato ad affermare Maggie in suo onore. Eugene si mette faccia a faccia con Rick e si impone come accompagnatore perché sa di potercela fare. Padre Gabriel fa lo stesso ponendosi come primo difensore di Alexandria. Il leader sa che ha bisogno di ogni singolo pezzettino del puzzle affinché tutto funziona e sa di avere nei suoi uomini la piena di fiducia. Un cenno, un "ok", un "sì" costituiscono quindi l'investitura ufficiale di quei personaggi considerati per un po' di tempo assolutamente inutili per il gruppo intero.
-E se non dovessi tornare più? Come potrei continuare a vivere? Cosa diavolo dovrei fare?
-Sopravvivere..in qualche modo.
Carl e Enid richiamano a piena voce il motto della ragazza "J.S.S." protagonista di un'intera puntata della stagione e della sua fuga da Alexandria durante l'invasione degli zombie e dei Lupi. Enid ha accettato il fatto di poter avere nuovamente dei legami, degli affetti, in poche parole una vera vita. Lo ha accettato prendendosene il rischio e ora non vorrebbe mollare né Maggie, né Carl per il loro viaggio. Lui le impedisce di seguirli e gli fa notare che, anche se le cose dovessero andare male, lei potrebbe farcela in qualche modo. D'altronde si sa, è una delle regole del mondo di The Walking Dead: affezionarsi a qualcuno significa prendersi il rischio che quella persona prima o poi ti lasci, significa sapere di dover sopravvivere in qualche modo anche in sua assenza, anche se sembra impossibile, per quelli che restano.
-Ti porteremo lì. Il medico di Hilltop ti aiuterà a stare meglio.
-Come lo sai?
–Tutto quello che abbiamo fatto lo abbiamo fatto insieme. Siamo arrivati qui insieme e siamo ancora qui. Sono successe molte cose ma è sempre andato tutto bene perché siamo sempre stati tutti insieme. Ecco come lo so. Perché finchè resteremo uniti potremo fare qualunque cosa.
E' il primo dei due dialoghi tra Rick e Maggie. In questo si può notare tutta la forza positiva di Rick, tutta la forza che come leader deve trasmettere ai suoi uomini, tutta la forza che ha proprio perché sa di poter contare su suoi uomini. Queste parole sono molto simili a quelle pronunciate da Glenn durante la sua ricerca di Daryl, prima del rapimento di Dwight, e non è un caso. Tutti i membri del gruppo sono consapevoli che il loro legame, ciò che gli unisce, sia la loro vera forza, il motivo per cui sono riusciti ad arrivare così lontano. Ce l'hanno fatta perché sono rimasti uniti nonostante tutti i problemi, tutte le perdite, tutto il dolore, tutti i punti su cui non erano d'accordo. Ce l'hanno fatta perché in fondo, per tutti loro, la famiglia è la cosa più importante.
-Dateci la vostra roba. Probabilmente dovremo uccidere uno di voi, è così che vanno le cose, ma poi potremo occuparci degli affari. Non dovete fare altro che ascoltarci.
-Sì..questo accordo però a noi non sta bene. In realtà io volevo chiedervi di darci la vostra roba solo che non vorrei uccidere nessuno di voi..nessun altro di voi.
Il grande confronto finalmente arriva. Il confronto tra il gruppo di Rick e i Salvatori, tra la politica di Rick stesso e la politica di Negan. Queste due posizioni hanno dato a tutti molto di cui parlare. Chi sono i veri assassini? Chi sbaglia, chi fa la cosa giusta? Gli autori ci avevano già lasciato tanti piccoli indizi per farci creare la nostra opinione personale, ma arrivati a questo punto serviva un confronto diretto. I Salvatori vogliono manifestare la loro superiorità non solo con armi e uomini, ma anche con la violenza. Non sono disposti ad un accordo, come del resto non lo è Rick sapendo con chi ha a che fare. Rick non li lascerebbe vivere, ma nemmeno li farebbe lavorare per lui. Rick li ucciderebbe, ma non userebbe un altro uomo, torturato ed umiliato, per convincerli. Rick li provoca, li mette alla prova senza sapere cosa lo aspetta, ma dimostrando senza dubbio la sua superiorità morale.