Finalmente The Walking Dead è tornato. E' tornato come un uragano. Ci ha presi, ci ha sbattuti, ci ha commossi e ci ha riadagiati a terra lasciandoci di nuovo qualche piccola perla attraverso i suoi dialoghi sempre azzeccati.
Vediamo insieme le migliori citazioni di questa settimana di The Walking Dead.
– Quando volevo scappare mi hai detto: "è così che si perdono le persone, anche dopo che se ne sono andate". Che diavolo vuol dire?
Le persone che ami, ti rendono quello che sei, fanno parte di te. Se smetti di essere te stessa, l'ultimo pezzetto di loro che è in te, chi sei tu, se ne va. […] Sono ancora qui, perché tu sei ancora qui.
Glenn, che ormai si è guadagnato la fiducia e la stima di Enid, ci regala così una delle sue più grandi convinzioni: è importante non perdersi di vista, non farsi sopraffare da quanto di cattivo, crudele e spietato ci si trova accanto, rimanere fedeli a se stessi, alla propria umanità e al ricordo delle persone che se ne sono andate per continuare a vivere.
– Non volevo ferirti, volevo solo fermarlo.
Lo hai salvato per te stesso, non per noi.
Frecciatina di Carol per Morgan che riassume in una singola frase tutto il suo pensiero (un po' anche il nostro). Carol, ormai abituata a rimuovere i problemi alla radice, afferma che avrebbe dovuto ucciderlo così da evitare altri casini. Morgan ovviamente le risponde dicendo che non può farlo e noi non possiamo che aspettare che la questione "morale" tra di loro venga a galla definitivamente.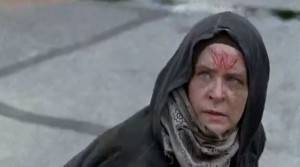 – Insieme possiamo farcela.
Ovviamente questa frase di The Walking Dead non può che essere di Rick. L'uomo che si dimostra ancora una volta il leader indiscusso di tutto il gruppo, l'uomo che guida la resistenza all'invasione, l'uomo che con un figlio in punto di morte non si arrende, che è disposto a combattere fino allo stremo anche da solo se necessario, l'uomo che ha educato la sua "famiglia" ad andare avanti e a non chinare il capo, l'uomo per cui tutti sono disposti a prendere in mano le armi e uscire di casa non sapendo se ci torneranno perché "insieme ce la possono fare", perché lo hanno imparato proprio da lui.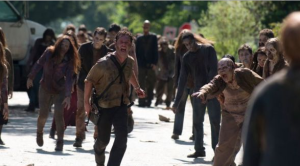 – Abbiamo pregato insieme, abbiamo pregato Dio di salvare questa città. Ha esaudito le nostre preghiere: Dio salverà Alexandria, perché ha dato a tutti noi il coraggio di salvarla da soli.
Il nostro padre Gabriel ha tirato fuori quel "coraggio" di cui parla, quella voglia di riscatto e di "fare il bene del gruppo" che tutti i fan di The Walking Dead stavano aspettando. Prima si offre di portare al sicuro Judith per permettere a Rick di continuare il suo piano e poi si mette in prima linea per aiutarlo e per trascinare gli altri abitanti a farlo. Gli insegnamenti del leader, le lezioni di machete di Rosita e lo spirito combattivo di tutto il gruppo dei nostri protagonisti hanno raggiunto i cuori degli abitanti di Alexandria e di chi ancora aveva paura di affrontare la realtà, così ora hanno tutti il "coraggio di salvarsi da soli".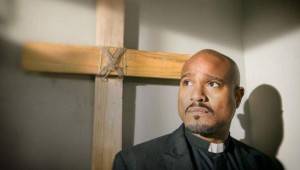 – Mi sbagliavo. Pensavo che dopo aver vissuto dietro a questa recinzione così a lungo, forse non potessero più imparare. Ma oggi ho visto di cosa sono capaci, di cosa noi siamo capaci se restiamo uniti. Ricostruiremo la recinzione, espanderemo la recinzione. Non finisce qui, non può finire qui. Tutto quello di cui parlava Deanna è possibile, è tutto possibile, adesso lo capisco. Quando ero lì fuori con loro, quando è finita, quando ho capito che questo posto era di nuovo nostro ho avuto questa sensazione. Ci ho messo un po' a ricordare cosa fosse perché non la provavo da prima che mi svegliassi in quel letto di ospedale: voglio mostrarti il nuovo mondo Carl, voglio farlo diventare realtà per te. Ti prego Carl, lascia che te lo mostri. Ti prego figlio mio, non morire.
Il monologo di Rick in veglia a Carl è il riassunto perfetto di tutta la nona puntata della sesta stagione di The Walking Dead, che ci catapulta totalmente nel cuore di Rick, nei suoi dubbi, nella sua paura e nelle sue nuove e rinnovate convinzioni. Carl e Judith sono il suo appiglio alla realtà e ciò per cui fino alla fine troverà il modo di combattere e sconfiggere tutto il male che si troverà davanti. Rick però sa che da solo non può fare nulla e nello scontro con l'orda degli zombie si rende conto che ancora una volta "non è finita e non può finire", capisce che la sua "famiglia" si è di nuovo allargata, che quelle persone che credeva deboli possono farcela, che insieme possono andare avanti e costruire qualcosa di migliore per chi amano.