È ormai dal 2010 che, in The Walking Dead,  i nostri sopravvissuti preferiti combattono per la loro sopravvivenza in un mondo popolato di zombie.
Se all'inizio sembrava una guerra contro i vaganti, piano piano la loro avventura si è trasformata in qualcosa di più.
Hanno imparato ciò che dovevano per poter andare avanti, hanno perso amici e famigliari, hanno costruito addirittura una nuova comunità ma hanno anche dovuto fare i conti con se stessi e con le persone che sono diventate lungo il percorso.
Mantenere la lucidità è difficile, tanti di loro l'hanno persa dopo ripetuti traumi. Grazie alla loro esperienza abbiamo potuto vedere come una persona può reagire o meno allo stress, come un individuo può perdere una parte di sé o scoprirne una totalmente nuova, arrivando ad essere anche ciò che non è mai stato prima.
I personaggi e le storie che abbiamo incontrato in questi sette anni sono molteplici, alcuni ci accompagnano ancora, altri sono apparsi brevemente ma ognuno di loro ha mostrato come la guerra contro gli zombie si è tramutata in una contro sé stessi: è il lato oscuro di The Walking Dead, il lato oscuro di ognuno di noi.
Fare i conti con la perdita delle persone care è già difficile, ma nel mondo di TWD diventa ancora più complicato. La perdita dei punti di riferimento toglie la speranza nel futuro. Abbiamo visto personaggi perdersi dietro quel dolore: Sasha, dopo la perdita del fratello Tyreese e del compagno Bob, affronta un periodo lungo di crisi. Lo stress post traumatico la segna pesantemente, crea un isolamento mentale e fisico che le fa perdere il contatto con la realtà.
Alcune persone come Carol e Michonne, hanno affrontato un trauma enorme e hanno reagito immediatamente. Sono cresciute e hanno mostrato una progressiva freddezza che di fronte a situazioni limite lascia a bocca aperta.
Carol ha visto sua figlia diventare uno zombie ed essere uccisa di fronte ai suoi occhi; la casalinga dell'inizio si è trasformata in una guerriera senza timori che, per il bene e la sopravvivenza di tutti, ha compiuto azioni inimmaginabili. Michonne ha vagato da sola per mesi in mezzo agli zombie, portandosi dietro il fidanzato e l'amico zombie mutilati e incatenati per confondersi in mezzo a loro.
In un mondo così difficile il lato oscuro ha colpito e coinvolto soprattutto i bambini e i ragazzi apparsi nella serie.
Abbiamo Carl, la cui infanzia e adolescenza è stata segnata da molti episodi che lo hanno fatto precocemente maturare e reso quasi un gelido baby killer: gli hanno sparato, ha dovuto uccidere sua madre, ha affrontato il mondo e fa di tutto pur di proteggere la sua famiglia; il suo sguardo lucido mentre suo padre quasi è costretto a tagliargli il braccio è davvero sconcertante. Enid ha visto i suoi genitori morire e ha vagato per mesi da sola. Tutto questo l'ha segnata e si nota chiaramente quanto faccia fatica a convivere con tutto il dolore provato.
La storia che sicuramente ha segnato di più i telespettatori è stata quella di Lizzie e Mika. Le due bambine dopo aver perso i genitori sono state cresciute dalla comunità della prigione e principalmente da Carol. Mentre Mika ha mantenuto la sua dolcezza, Lizzie ha sconvolto tutti con i suoi comportamenti poco equilibrati. La bambina è rimasta estremamente scioccata dalla situazione iniziando a non capire la differenza tra i vivi e morti, volendo giocare con gli zombie, considerandoli suoi amici e attirandoli in tutti i modi nella prigione. Purtroppo le sue azioni sono state sottovalutate e a farne le spese è stata la sorellina, uccisa da Lizzie in modo che si trasformasse.
La scena della sua morte ha mostrato in ogni sfaccettatura il lato oscuro della serie e ha lasciato in Carol una ferita troppo difficile da rimarginare ("Guarda i fiori, Lizzie..").
The Walking Dead, lungo le sette stagioni, ha aperto e chiuso tanti capitoli, alcuni anche in modo molto veloce. Anche quelle brevi hanno segnato profondamente il programma e i suoi protagonisti. L'esempio più grande è proprio il protagonista principale Rick. Dopo Terminus non è più stato lo stesso. L'ex sceriffo ha iniziato la sua storia nel nuovo mondo comportandosi ancora come un poliziotto, applicando i suoi principi e la giustizia; andando avanti però ha cambiato e riscoperto sé stesso, tanto che il Rick della prima stagione sembra un lontano parente di quello che Deanna intervista ad Alexandria. Ha affrontato il tradimento e la morte di sua moglie, del suo migliore amico, ha dovuto proteggere ad ogni costo la sua famiglia allargata mettendo da parte la gentilezza e la solidarietà.
Due sono gli episodi che ci hanno mostrato il suo lato oscuro.
Prima si rifiuta di aiutare il ragazzo con lo zaino arancione nonostante le insistenze del figlio: l'uomo non mostra nessun indugio nel non fermarsi e nessun senso di colpa nel vedere al ritorno il povero ragazzo in preda degli zombie. L'altro momento chiarificatore della sua nuova personalità è quando morde al collo l'uomo a capo del gruppo che aggredisce lui, Carl e Michonne: le facce sconvolte dei suoi cari mostrano quanto quel nuovo istinto animale lasci a bocca aperta anche coloro che lo conoscono bene e che condividono con lui ogni momento.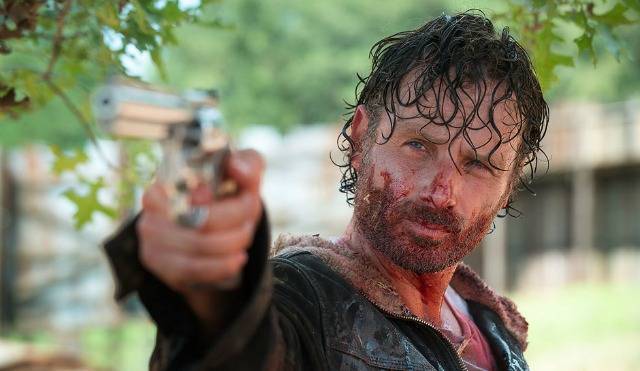 I nostri protagonisti hanno incontrato altri sopravvissuti e capito che la battaglia si era spostata Non più vivi contro morti ma vivi contro vivi. I fatti avvenuti a Terminus hanno ridisegnato completamente il loro percorso, il loro modo di agire e per diversi motivi ognuno di essi rappresenta una ulteriore sfaccettatura del lato oscuro della serie. Il gruppo ha imparato a non contare solo sulle proprie forze, a difendersi, a combattere veramente e a fare i conti con la fiducia mal riposta. Quei momenti li hanno segnati molto più che l'incontro con il Governatore e la perdita della prigione. Rick, come detto, è quello apparso più cambiato tra tutti.
Dall'altra parte abbiamo conosciuto gli abitanti di Terminus, la vera faccia del lato oscuro.
 Sono l'esempio di come il trauma può cambiare un essere umano e soprattutto di come i nostri beniamini potrebbero diventare se non mantenessero sempre saldo un pezzo della loro umanità mentre vivono la loro vita. Terminus è la prova di come, dopo un tremendo shock, ci si può perdere completamente, si può diventare insensibili, si può diventare animali in ogni senso. Le loro azioni sono arrivate a un punto in cui non c'è più perdono o giustificazione.
The Walking Dead ci mette di fronte alle più grandi difficoltà della vita e ci offre diversi punti di vista per affrontarle. Ci dà la possibilità di immedesimarci ora in un personaggio, ora in un altro attraverso le scelte che fanno. Il lato oscuro emerge spesso, a volte senza che ce ne rendiamo conto, poiché ci siamo fortificati insieme a loro e difficilmente riflettiamo su eventuali evoluzioni di trama (esclusa la mazzata della 7×01 con il duo Negan-Lucille, messaggio chiaro degli showrunner: non vi adagiate troppo!), ma è in fin dei conti proprio questo lo scopo della serie, mostrarci un mondo portato al limite cosi come i sopravvissuti che lo popolano. A tal proposito è giusto ricordarvi il pensiero del creatore Robert Kirkman attraverso le parole di Rick Grimes in uno dei momenti più difficili nel cammino del suo gruppo:
"we are the walking dead"