Quando ho iniziato a seguire The Walking Dead, la prima stagione era già stata prodotta. Avendola trovata tutta in streaming, l'ansia da "attesa del nuovo episodio" non è iniziata subito.
Poi c'è stato il disagio.
Ormai i fan di The Walking Dead lo sanno: i produttori sono sadici. Amano vederci soffrire, amano farci attendere, amano vederci fare mille congetture (la maggior parte delle volte sbagliate), ed amano fingere di far morire i nostri protagonisti preferiti per vedere quante e quali strane ed esagerate reazioni scateneranno in noi.
Ma non divaghiamo e torniamo all'articolo: la giornata tipo di un fan di The Walking Dead prima della puntata. Sì, perché – anche se probabilmente non ce ne rendiamo conto – ci sono degli aspetti che caratterizzano la nostra quotidianità del "pre-episodio" che ci accomunano più di quanto pensiamo: primo tra tutti, l'ansia.
Chi morirà? Carol sarà in versione Terminator o Madre Teresa? Daryl incontrerà l'acqua? Glenn è vivo o morto?
Adesso, lasciando da parte coloro che sanno già tutto ciò che accadrà nell'episodio che andranno a vedere il lunedì sera – come mi mancano gli appuntamenti del lunedì! – grazie agli spoiler, concentriamoci sul modo in cui i fan "ignari di tutto" si preparano al tanto atteso episodio.
Ore 07:00  
La sveglia suona.
La spegniamo ed imprechiamo perché è lunedì, ed il lunedì è una brutta giornata perché significa che la settimana ricomincia e dobbiamo tornare a studiare, a lavorare e ad adempiere ai nostri compiti.
Ma poi lo ricordiamo: lunedì significa anche The Walking Dead.
Spalanchiamo gli occhi ed iniziamo ad elaborare, a pensare, a sperare che la giornata passi il più in fretta possibile per poterci fiondare davanti allo schermo e scoprire finalmente come continuerà la storia di Rick, Carl, Daryl, Glenn e tutti gli altri. No, di Padre Gabriel non ci importa. Lo odiamo a prescindere.
Ci alziamo ed andiamo a fare colazione: latte, tè, caffè… possiamo scegliere quello che più ci piace. Ed è in questo momento che ringraziamo il cielo che non ci sia per davvero un'Apocalisse zombie. Insomma, vi immaginate che bella sensazione sarebbe quella di far colazione con uno scoiattolo appena cacciato?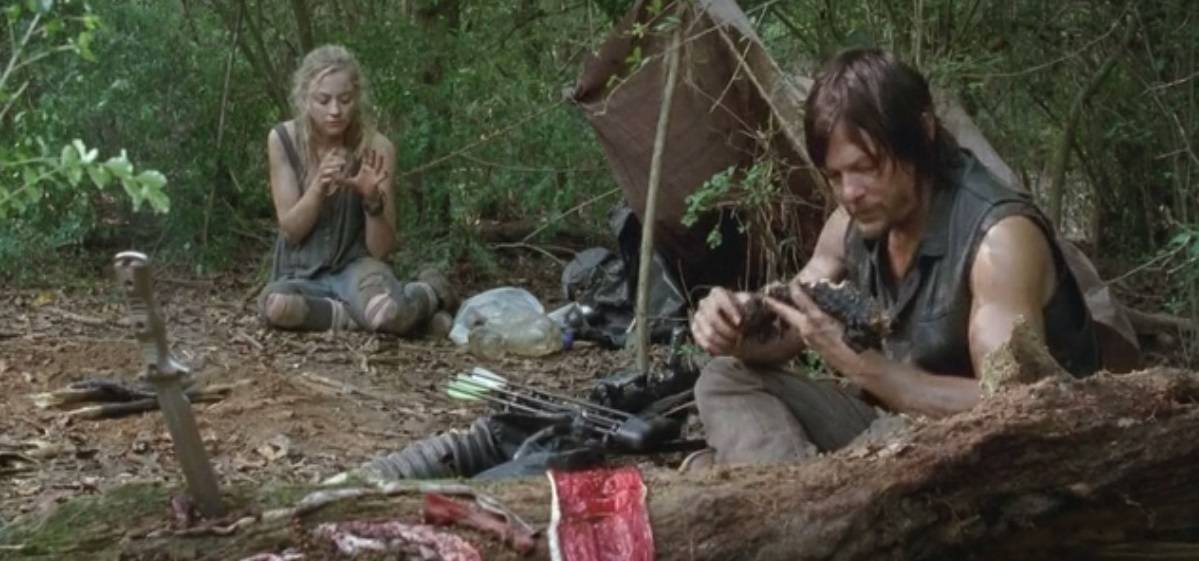 Ad ogni modo, dopo aver fatto colazione ed aver provato un moto di compassione per Rick & Co. (ma se non esistono nemmeno?!) andiamo a vestirci per poi dirigerci verso la scuola / l'università / il nostro posto di lavoro.
Ore 10:00 
A questo punto, arrivata all'incirca l'ora della pausa-caffè, sappiamo bene cosa fare: dobbiamo cercare quell'amico / collega che, come noi, non fa altro che aspettare che arrivi la sera. Ci avviciniamo a lui facendo i vaghi, magari gli offriamo un caffè, lo guardiamo con finta indifferenza, finché arriva la domanda: "Che succederà nell'episodio, secondo te?". E via ad una serie di presupposizioni, dicerie, speranze… spoiler.
Appena sentiamo una frase che si avvicina a "Ho sentito che…" lo blocchiamo.
EH NO! Qui volevamo confrontarci, non rovinarci tutto il divertimento.
Torniamo tra i banchi, in ufficio o dove ci pare ed aspettiamo di ricominciare a fare ciò che avevamo interrotto. Probabilmente la nostra mente continuerà a vagare per tutta la mattinata, ma perlomeno in questo modo ci illuderemo di star facendo qualcosa di produttivo.
Ore 13:00
Che si ritorni a casa o si rimanga sul posto di studio / lavoro, questa è l'ora del pranzo: un altro momento in cui dovremo necessariamente star vicini alla gente. Gente che, probabilmente, apprezza gli spoiler e se ne ciba quasi fossero un elisir. Ripensando all'amico che solo qualche ora prima stava per rovinarci la sorpresa guardiamo tutti con diffidenza, e preferiamo prepararci un piatto e sederci al tavolo isolandoci un po' dal resto del mondo.
Mentre mangiamo prendiamo il cellulare ed iniziamo a vagare sui social, pur di ingannare l'attesa.
GRANDISSIMO ERRORE!
Social = Spoiler. Ancora. Maledettissimi spoiler!
Riponiamo il cellulare e continuiamo a mangiare, pensando che forse in questo caso non ci saremmo cibati di uno scoiattolo… magari del cibo in scatola. Che bello il mondo non-apocalittico!
Ore 17:00
Ormai siamo tornati a darci da fare, consci del fatto che mancano soltanto poche ore al fatidico momento.
Probabilmente qualcuno, da qualche parte del mondo, è in uno stato d'ansia per la serata che lo attende per altri motivi: un appuntamento galante, l'attesa di una notizia, una partita sportiva… ma non noi. Noi, oggi, siamo particolarmente nerd e non vediamo l'ora di rintanarci nella nostra stanza, magari con una bella pizza davanti, a guardare questo benedetto episodio.
Il tempo che passa è, ovviamente, direttamente proporzionale all'ansia che sale; arriveremo alla sera con in testa la metà dei capelli che ci ritrovavamo la mattina.
Ma non importa.
Ore 20:00
Finalmente è ora di ritornare a casa!
Ci precipitiamo nella nostra dimora ed intimiamo a tutti coloro che vivono con noi di non disturbarci una volta che l'episodio sarà iniziato. Ovviamente chi vive con noi è già abituato a tali minacce velate, e non ci dà particolarmente peso, ma noi preferiamo ricordare a tutti la sacralità del momento che ci attende.
Prepariamo la nostra cena – o ordiniamo una pizza, che sarebbe meglio -, prendiamo una bibita e ci fiondiamo nella nostra camera. Chi ha SKY accenderà la televisione e si sintonizzerà sul canale stabilito, gli altri saranno costretti a pregare persino che lo streaming non si blocchi.
Che triste la vita da telefilm addicted.
Ore 21:00
Siamo finalmente pronti a goderci il nostro episodio, ad imprecare come un camionista e, soprattutto, siamo già preventivamente pronti persino al pensiero che l'ansia tornerà di lì a poco ad accompagnarci per un'altra settimana.