La coscienza fa brutti scherzi. Esistono uomini in grado di sbeffeggiare la classica etica e inclini a giocare con i propri sentimenti. Esseri cinici e infami capaci di seppellire completamente il proprio animo in un tormentato e districato limbo di bugie e subdoli pensieri. Inganni in grado di plasmare la coscienza stessa dell'uomo che dimentica completamente il proprio passato per assumere il nuovo "Io" che cerca disperatamente di prevalere. Ma siamo tutti capaci a fare ciò? Fa parte dell'umana predisposizione mentire a se stessi, o è una prerogativa di pochi? Leggere nello sguardo di Dwight è molto più difficile rispetto al destreggiarsi tra le mille piaghe che affliggono il suo volto. I suoi occhi nascondono molto più di quello che traspare superficialmente. Egli subisce il peso di un infernale compromesso e del suo carissimo conto da pagare.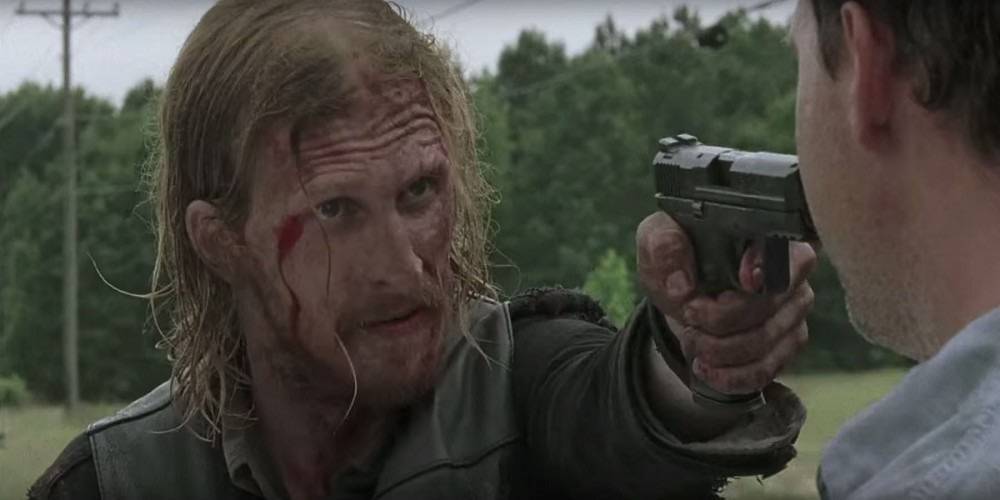 Gli occhi sono lo specchio dell'anima e rappresentano l'unico mezzo plausibile con la quale essa comunica. Ed è vero che analizzando scrupolosamente uno sguardo si può evincere quale sia il significato delle strazianti, ma silenziose, grida interiori che riecheggiano nell'anima umana. Si può odiare alla follia una persona che vive con un peso immane che esige costantemente il proprio tributo?
Il volto sfigurato di Dwight è lo specchio della sua anima lacerata e soppressa: un individuo reso inumano dalle atrocità subite.
Finora l'avversione che la sua aura invocava alla sua visione ha pregiudicato ogni possibile parvenza positiva di Dwight. Ciò che ha fatto a Denise, e i torti inflitti a Daryl sono probabilmente le coseguenze di quello che sottostare a Negan gli comporta. Pregiudicare la propria innocenza e umanità per assecondare i deliri di un pazzo despota è una pratica apparentemente folle, ma che rappresenta l'unico modo per preservare gli ultimi brandelli di ciò che una volta chiamava "famiglia".
Dwight trasuda pentimento e voglia di evasione da ogni singolo sguardo. Il modo in cui guarda Daryl e il modo in cui cerca di istruirlo al Negan-pensiero sono comportamenti emblematici della sua anima combattuta e spacciata. Sa bene che l'essersi piegato a Negan è il peggior inganno che egli possa fare a se stesso, ma è anche l'unico modo che ha per garantire alla sua Sherry di continuare a respirare in maniera dignitosa. Lei d'altro canto decide di sposare il leader folle come baratto necessario per salvare Dwight. A quel punto la dolorosa ustione è solo una piccola goccia in un oceano di dolore.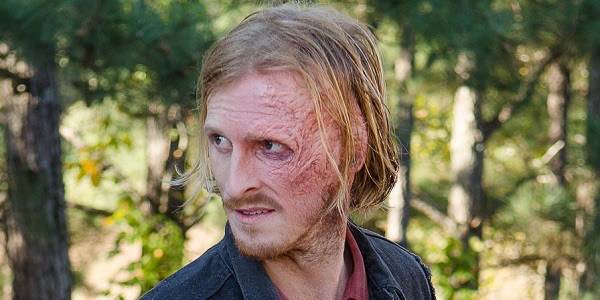 Dolore che accompagna sempre Dwight e che funge da deterrente per compiere atti ignobili, i quali tuttavia non nascondono sadismo o malato divertimento ma solo prostrazione ad un secondo fine. Il voler assomigliare a Daryl, e il voler appropriarsi dei suoi effetti personali, nascondono un bisogno recondito di imitare la personalità che più rispecchia la sua voglia di  di ribellione e ricerca.
Dwight si appropria dell'identità di Daryl perché esso rappresenta il suo desiderio piu profondo e ambito, l'allegoria dell'orgoglio e dell'uomo che non si piega mai e per nessun motivo. Vivere in una cella denudato e malnutrito è meglio che inginocchiarsi ai piedi di Negan e della sua assetata Lucillle.
Dwight premedita ciò, e gli eventi che lo legano a Daryl hanno per lui il sapore della provvidenza. Il tentativo di essere il suo boia durante l'osceno teatrino di Negan è una folle e avventata prova cui lui vuole sottoporsi per scoprire se davvero il suo destino è già scritto. Il suo "andrà tutto bene" soffuso e sfocato dopo aver sparato a Daryl tempo prima, è l'emblema della sua personalità combattuta.
Dwight è il simbolo dell'uomo post-apocalisse: colui che abbraccia il nuovo mondo ma rimpiange quello vecchio.

LEGGI ANCHE: 
Recensione 7X03: The Walking Dead e Negan ci stanno mettendo duramente alla prova 
Negan: il sangue, la violenza e l'osceno teatrino
Re Ezekiel: il racconto della vita in un mondo morto
10 motivi per cui vorremmo essere come Daryl Dixon
The Walking Dead: l'inferno e la tragedia secondo Kirkman
Non dimenticatevi di passare da qui: Norman Reedus Italia, The Walking Dead ITA , The Walking Dead-Italy , The Walking Dead Italia , TWD – Am I the only one Zen around here? Good Lord. , Caryl Italia, Andrew Lincoln Italy, Daryl Dixon ITA e FIGHT the Dead. FEAR the living – The Walking Dead gdr, The Walking Dead Pagina Italiana ! In più vi consigliamo un canale YouTube di un nostro affiliato Don't Open Dead Inside !