"In a land of Gods and Monsters I was an Angel
Living in the garden of Evil…"
                             (Lana Del Rey, "Gods and Monsters")
Osservando la sigla d'apertura della quinta e della sesta stagione di The Walking Dead, notiamo che per rappresentare il personaggio di Daryl Dixon sono stati usati due oggetti, entrambi assai rappresentativi del carattere del balestriere: la sua moto, graffiante e "cattiva", e il gilet che porta sempre, quello con le due grandi ali disegnate sulla schiena.
Il giovane comincia a indossarlo più o meno dalla metà della seconda stagione, e a mio parere tale tempistica non è stata inserita a caso dagli autori… Perché, sempre secondo chi scrive, le ali non sono un semplice segno di riconoscimento del personaggio, né tanto meno un accessorio messo là per mostrare che il nostro eroe "cura il suo look" o per attirare il pubblico dei fan, che comunque ha già iniziato a cercare nei negozi e sui siti dedicati alla serie lo stesso gilet.
Come saprete, Daryl parla molto poco; perciò sono i suoi atteggiamenti, le sue scelte e, non ultimo, il suo aspetto a descriverlo silenziosamente. Vediamo un po', allora, cosa possono significare le grandi ali che si porta addosso da cinque stagioni…
Un paio d'ali per portare la libertà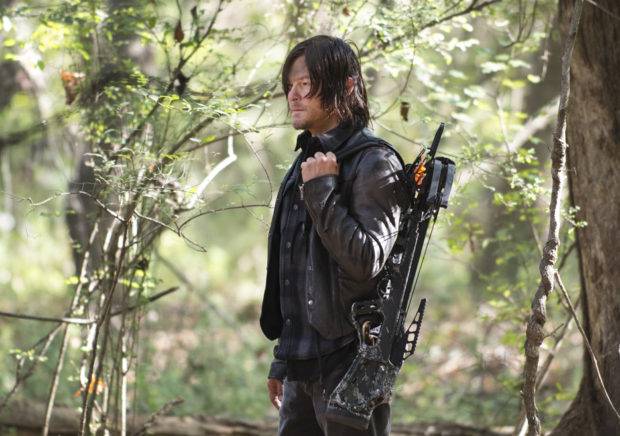 Daryl Dixon è uno spirito libero, lo sappiamo: si sottomette malvolentieri al controllo degli altri, e anche quando se ne sta buono nel gruppo e asseconda il volere del "capo", in lui c'è sempre una componente ribelle, un'autonomia di decisione, che lo porta a seguire prima la sua coscienza e poi gli ordini di Rick.
Perciò, in quest'ottica, potremmo vedere le sue ali come delle ali d'aquila (le quali, tra l'altro, sono anche uno dei simboli dei bikers, cui lui appartiene, in quanto amante delle moto): ali d'aquila ampie e desiderose di spiccare il volo, appartenenti non a un uccellino che segue lo stormo, ma a un animale in grado di vivere secondo la propria volontà.
Prima di unirsi al gruppo di Rick, Daryl Dixon è soltanto un outsider aggressivo e, per altro, soggiogato dalla volontà del fratello; nella seconda stagione, quando Merle è lontano e il giovane impara a integrarsi nella comunità e a rispettare i bisogni di tutti, finalmente le sue ali possono aprirsi nel modo giusto: non più per andare contro al mondo, ma per poter essere se stesso anche e soprattutto convivendo con gli altri. Daryl Dixon conserverà sempre una personalità unica e per certi versi differente da quella della maggior parte della gente (lo vediamo bene nelle puntate in cui il gruppo entra ad Alexandria…), però sarà anche saggio ed equilibrato, proprio come un'aquila.
Oltretutto, non porta la libertà solo a se stesso e alla sua vita: è lui a dare a Carol una speranza di ritrovare la figlia, anche laddove tutti gli altri pensano già al peggio, anche se non lo dicono; è lui a spronare l'amica a continuare a credere in un possibile ritorno di Sophia, sebbene ciò vada contro la logica, le probabilità e il resto… Con i suoi gesti e le sue parole, Daryl vuole insegnare a Carol ad avere il coraggio di sperare.
E' lui il primo ad andare a cercare il latte per la piccola Judith, perché non vuole permettere che lei muoia. E così si prende la libertà, e la conferisce al resto del gruppo, di lottare affinchè una piccola vita possa crescere, anche senza la madre, anche se il padre si trova in un momento di temporanea (e neppure tanto temporanea) pazzia.
E' lui a far capire a Beth che può e deve imparare a cavarsela da sola, e a combattere anche se crede di essere rimasta sola al mondo. E' lui a perdonare Carol dopo che la donna ha assassinato Karen e David, e con questo gesto si prende un'altra libertà, cioè quella di mettere l'amicizia al di sopra degli sbagli e delle regole morali…
Forse Daryl è insicuro e a volte un po' impulsivo, ma per coloro che lo circondano è una fonte di coraggio e autostima: il coraggio di essere se stessi, di decidere con la propria testa.
Un paio d'ali per proteggere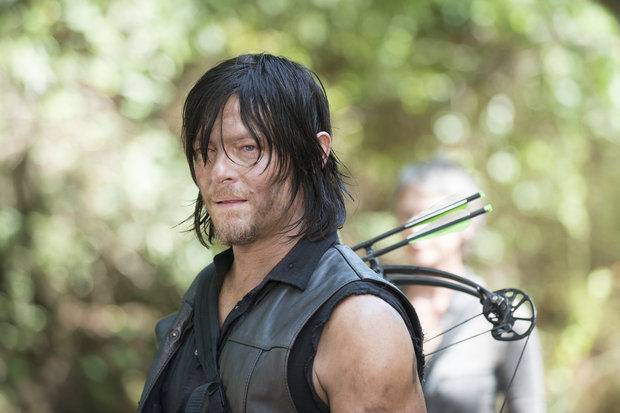 In secondo luogo, potremmo vedere le sue ali come ali d'angelo e, nel medesimo tempo, di demone.
D'angelo perché, dalla seconda stagione in poi, egli diviene una figura protettrice per tutti i suoi amici: ciò inizia proprio durante le ricerche di Sophia, quando il giovane si aggira per i boschi per ritrovare una bambina perduta (non ha un che di fiabesco?) e prosegue nelle stagioni successive.
Daryl Dixon protegge sempre le persone cui tiene, lo dicono persino Aaron ("e poi ho visto che li hai salvati. E allora ho capito: dovevo portarti con me") e Denise ("perché a volte mi sento davvero al sicuro con te").
E' un angelo, ma può essere anche un demone, come testimoniano i tatuaggi che ha sulla schiena e sull'avambraccio, i quali rappresentano proprio dei diavoletti alati. E non mi riferisco solo al fatto che quando si arrabbia può diventare molto cattivo, addirittura spietato: è un demone perché conserva sempre un velo di oscurità, perché è tormentato dal passato e dal presente, perché nasconde più cose di quante non ne mostri.
Perché il mondo in cui si è trovato a vivere, ancora prima dell'apocalisse zombie, ha tirato fuori la parte buia di lui, che ora convive con quella luminosa.
La bontà e il sentimento di protezione di Daryl, la sua "angelicità", non hanno niente a che vedere con l'esistenza di una divinità felice che sparge amore sulle sue creature: Daryl Dixon crede solo in un dio personale, il quale abita dentro di lui e a volte sorride, e altre si chiude tristemente in se stesso, estraniandosi da tutto ciò che sta attorno.
Un paio d'ali per volare: il futuro di Daryl Dixon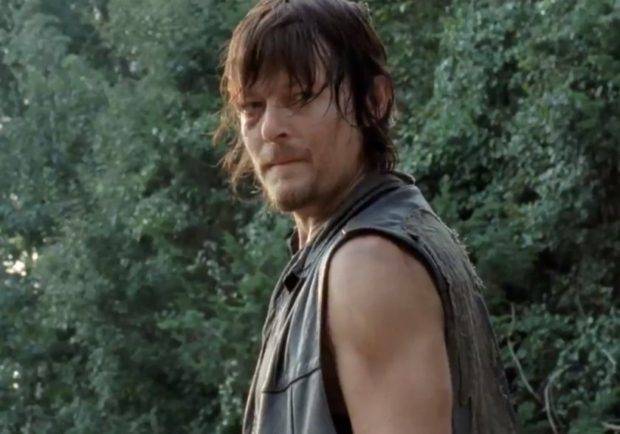 Da ultimo, osserviamo che le ali di Daryl Dixon potrebbero non essersi ancora spalancate del tutto: il suo cammino, infatti, è ben lontano dall'essere giunto alla fine (e speriamo davvero che Negan non intenda mettersi in mezzo…). Ci sono ancora tante cose che questo personaggio potrebbe conquistare e dare agli altri, perché noi tutti abbiamo la sensazione che in lui ci sia di più, e che meriti un futuro in grado di consentirgli di aprire finalmente le ali che ha sulla schiena, e di volare…
 "La tua vera natura, la giustizia del mondo, che punisce chi ha le ali e non vola"
                           (Lorenzo Cherubini, "Baciami ancora")
 Nel frattempo.. passate a trovare queste pagine: The Walking Dead Italia, The Walking Dead ITA, Caryl Italia, TWD – Am I the only one Zen around here? Good Lord, The Walking Dead-Italy , The Walking Dead Italia. e Norman Reedus Italia !