La prima stagione di The Umbrella Academy ha già conquistato il cuore degli spettatori, rendendola una delle serie tv più seguite su Netflix.
Nonostante l'adattamento televisivo di Steve Blackman differisca in molti aspetti dall'opera originale di Gerard Way e Gabriel Bá, The Umbrella Academy presenta in entrambi i casi una trama ricca di azione, incentrata sulle vicende di un gruppo di "eroi disfunzionali" intenti a riesumare i segreti di famiglia e, nel mentre, a sventare l'apocalisse.
Si tratta di un tema che negli ultimi tempi sembra spopolare nel mondo delle serie tv: persone dotate di abilità sovrannaturali ma molto distanti dallo stereotipo del supereroe classico, alle prese non solo con i propri limiti e le proprie paure (come nel caso di Doom Patrol), ma anche con le reazioni della società che li circonda (come in Watchmen, la trasposizione della graphic novel di Alan Moore). Un argomento senz'altro interessante, che ci permette di scorgere le sfumature più realistiche e verosimili di questi universi immaginari, e di sviluppare anche una maggior empatia con alcuni personaggi. Ad esempio, con Klaus Hargreeves.
Il medium eccentrico di The Umbrella Academy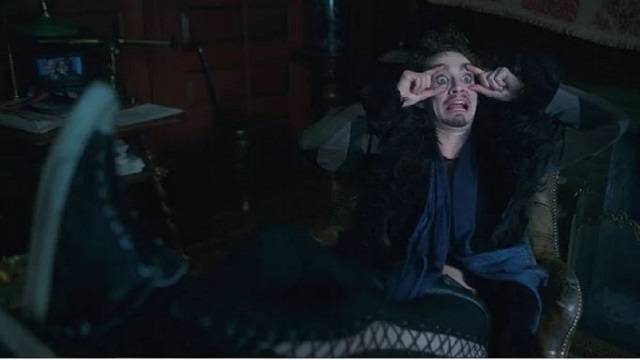 Chi, tra noi, non ha preso da subito in simpatia la pecora nera della famiglia Hargreeves? Interpretato da Robert Sheehan (l'amatissimo Nathan di Misfits, per intenderci), Klaus è uno dei sette bambini adottati della Umbrella Academy, appositamente addestrati per salvare il mondo. Lui in particolare ha la capacità di comunicare con i morti, anche se per la maggior parte del tempo cerca di sopprimere il suo potere. Questo "dono", infatti, non gli ha portato altro che traumi e sofferenze sin dall'infanzia.
Non è solo il suo lato oscuro ad affascinare i fan: Klaus ha conquistato tutti con la sua indole giocosa, ironica e totalmente disinteressata al giudizio altrui (tralasciamo per un attimo gli effetti di tutte le droghe che assume). Numero Quattro diventa anche una sorta di simbolo per la comunità LGBT, distanziandosi totalmente dagli stereotipi di genere e facendoci commuovere con la sua tragica e bellissima storia d'amore con il soldato Dave.
Contrasti familiari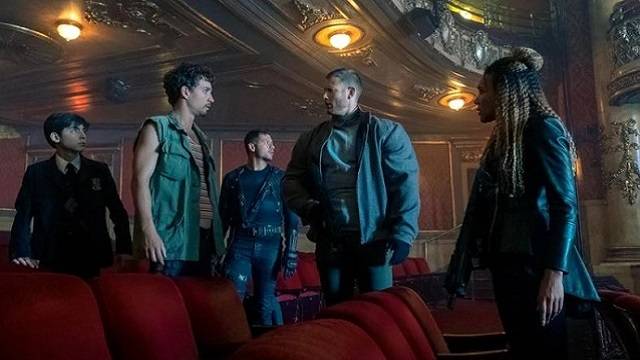 Klaus crede di essere un disastro e, nonostante l'amore per i fratelli, anche loro ne condividono l'opinione. Tuttavia, il ragazzo cerca effettivamente di fare del suo meglio, seppur reduce dai danni emotivi subiti prima in famiglia e poi in guerra. Fin dalla prima apparizione di Cinque, Klaus tenta di proteggere il fratello dalla rissa in cui si immischiano Luther e Diego. Nonostante i suoi sforzi, Numero Quattro è il membro della famiglia che non viene mai notato, quasi come fosse lui stesso uno spettro.
Anche quando viene catturato da Hazel e Cha-Cha, nessuno si rende conto della sua scomparsa. Paradossalmente, colui che più gli è vicino è Ben, il fratello morto anni prima, il cui fantasma è sempre nei paraggi. Ciò fa riflettere su quale sia il legame tra i due: che Klaus sia in qualche modo responsabile della misteriosa dipartita di Ben? In ogni caso, nonostante le droghe e i tentativi di rimanere legato al mondo dei vivi, Numero Quattro cammina continuamente su un confine sottile: viene ignorato da coloro che gli sono accanto in carne e ossa, mentre i morti gli dedicano fin troppe attenzioni, imprigionandolo in un limbo dove vita e morte, presente e passato, si sovrappongono.
Droghe e fantasmi
Klaus potrebbe sembrare, a primo impatto, un ragazzo egoista e superficiale, votato allo sballo e al divertimento e privo di scrupoli nei confronti della sua famiglia. In realtà soffre di un profondo disturbo da stress post-traumatico, causato proprio dal trattamento crudele che Reginald Hargreeves gli ha riservato durante l'infanzia: immaginatevi un bambino rinchiuso in una tomba buia, per ore, con la sola compagnia degli spaventosi fantasmi che popolano la sua mente. Chi non impazzirebbe? Così Numero Quattro cresce, seppellisce il suo potere sotto strati di alcol e stupefacenti, e con esso la fiducia nelle altre persone.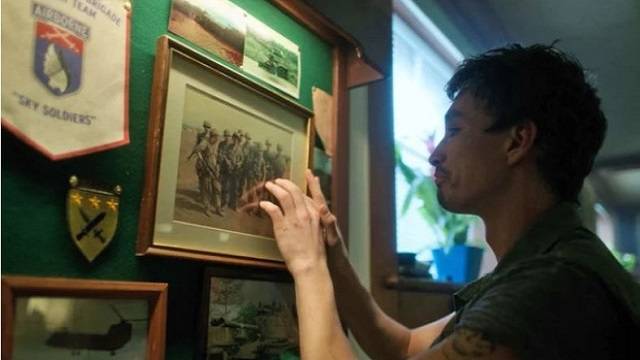 Questo almeno fino a quando non si ritrova catapultato nel passato, ai tempi della guerra in Vietnam, dove incontra Dave, concedendogli tutto il suo cuore e la parte migliore di sé. Dopo la morte del compagno e il ritorno al presente, il disturbo di Klaus torna a galla più prepotente di prima, lasciando il ragazzo in uno stato di disperazione totale. Proprio in questa condizione si decide finalmente a rimanere sobrio, pur di rivedere il fantasma dell'amore perduto. Sembra quasi che, per Numero Quattro, il contatto con l'aldilà possa diventare una nuova dipendenza.
Anche il fisico di Klaus risente dell'oscuro potere che non riesce a gestire: in diversi momenti di The Umbrella Academy, infatti, il ragazzo dimostra di non dare minimamente valore al suo corpo: nel tentativo di aiutare Cinque nella ricerca dell'occhio bionico, si fracassa una palla di neve in testa senza pensarci due volte solo per spaventare il dottore, senza preoccuparsi del dolore o del sangue. Anche quando viene catturato e torturato da Cha-Cha e Hazel, dà l'impressione di essere quasi divertito dalle pene che gli vengono inflitte. Non teme nemmeno di finire in overdose per tutte le droghe che assume, come se il suo corpo non fosse altro che un involucro da maltrattare e distruggere. Che il rapporto con i defunti lo abbia desensibilizzato rispetto al valore dell'esistenza?