# #
Estrarre 10 episodi da un racconto da vivere tutto d'un fiato come The Shield non è facile. La sua struttura prevede, infatti, una successione concatenata di eventi che, quasi sempre, sfocia in un cliffhanger. Insomma, Shawn Ryan ha realizzato una delle serie più adatte al binge-watching ben prima che questa pratica diventasse moda.
# #
Vi sono tuttavia alcuni episodi che sono più significativi di altri, perché scandiscono le tappe che hanno portato a uno dei più incredibili finali di Serie che la TV ci abbia mai regalato. Attraverso un viaggio lungo 10 episodi proviamo a ripercorrere i momenti più importanti per Vic Mackey e il suo team, nonchè tutto quello che hanno rappresentato per noi.
Naturalmente si tratta di una ricostruzione parziale della Serie che non tiene conto di mille altre sfaccettature e personaggi come Aceveda o Dutch, di villain atipici come Gilroy e Antwon Mitchell, o delle introspezioni psicologiche dei serial killer.
# #
Quello delineato è un percorso lineare che mette in evidenza il lato più emozionale di The Shield, ciò che innegabilmente più di tutto ci spingeva a premere il tasto play puntata dopo puntata.
1) Il Pilot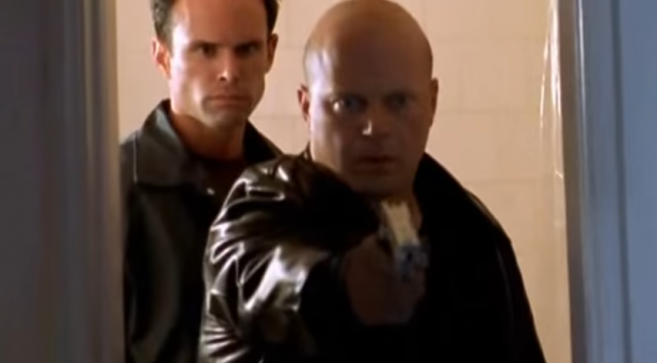 Per come si stava sviluppando il pilot di The Shield sembrava che la FX avesse dato vita a un crime come tanti altri. Qualche poliziotto corrotto di troppo, un linguaggio fuori dagli schemi ma, tutto sommato, nulla che non si fosse già visto. Poi, a pochi secondi dal termine dell'episodio, Vic spara in faccia a Terry Crowley riscrivendo i canoni della TV generalista e lasciando tutti gli spettatori a bocca aperta.
Non solo: ai fini della trama, la morte di Terry rappresenta il primo dei tanti fardelli che si ergerà tra Vic e il suo braccio destro, Shane.
In sostanza non c'era modo migliore in cui The Shield potesse far capire di che pasta fosse fatta.