Remake statunitense di una produzione britannica, The Office si è concluso ormai nel 2013, dopo ben nove stagioni. L'umorismo impacciato di Michael Scott (interpretato da Steve Carell) e dei suoi colleghi, le puntate in stile mockumentary hanno superato l'originale inglese, tanto da vincere anche numerosi premi (tra cui un Golden Globe e due Emmy). Lo scorso anno la NBC aveva illuso i fan con la notizia di un possibile revival, smentita dallo stesso Carell, che si era dichiarato in disaccordo con il progetto.
Insomma, bisogna arrendersi al fatto che The Office non tornerà! Nel frattempo, però, 5 serie tv presenti sul catalogo Netflix possono compensare il vuoto lasciato da questa fantastica comedy, e far divertire il pubblico con una molteplicità di storie e personaggi carismatici.
Ecco a voi 5 ottime serie tv che vi faranno compagnia in mancanza di The Office!
1) Brooklyn Nine-Nine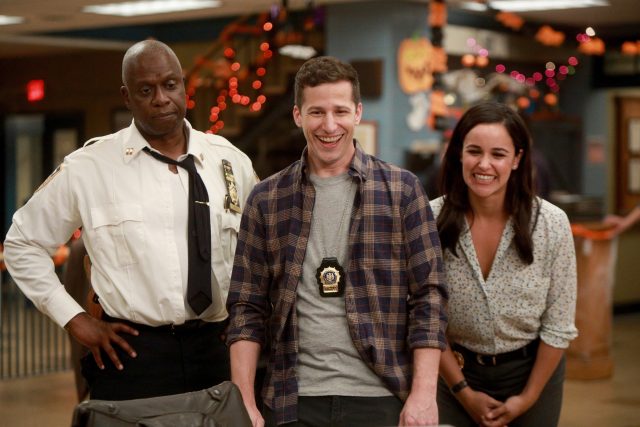 Un anno importante anche per Brooklyn Nine-Nine il 2013, data del suo debutto prima su Fox e poi sul canale NBC. I protagonisti del 99° distretto di polizia puntano tutto sull'umorismo e la faccia tosta di personaggi come Jake Peralta, Charles Boyle, Terry Jeffords e molti altri, ma soprattutto sulla figura del capitano Ray Holt (paragonabile a Michael Scott). Differenti sono l'ambientazione e il genere, ma la capacità di attirare l'attenzione del pubblico è la stessa.
Vincitore di ben due Golden Globe nel 2014, uno come Miglior serie commedia o musicale, l'altro come Miglior attore in una serie comedy ad Andy Samberg, Brooklyn Nine-Nine può senz'altro compensare la mancanza di The Office. A febbraio di quest'anno, il gruppo di inusuali poliziotti del 99° distretto ha ottenuto il rinnovo per la settima stagione (di cui qui vi forniamo tutti i dettagli), senza la partecipazione di Chelsea Peretti, interprete di Gina Linetti.