Nonostante le decisioni discutibili, gli psicodrammi a cui sembrava essere puntualmente abbonata e la quasi patologica allergia a una vita senza turbamenti, per le adolescenti degli anni 2000 Marissa Cooper (a cui sembra quasi ispirata la canzone Acida, non credete?) è stata una vera e propria icona di stile. Tra una baguette Louis Vuitton e un'infinita collezione di polo preppy firmate Ralph Lauren, la cattiva ragazza di The OC è stata a suo modo la madre delle influencer, facendo schizzare i fatturati dei brand che indossava e trasformando una semplice t-shirt stampata in un must have irrinunciabile.
In questo meraviglioso universo fatto di scarpe, borse e luccicanti vestiti da sera, però, non sono mancate le bucce di banana, look che si sarebbero meritati molto più che un indignatissimo "ma come ti vesti" urlato a gran voce nei cortili della Harbour, molto più che una serie di lettini da spiaggia scaraventati nel bel mezzo di una piscina in preda a un attacco di rabbia. Direte: "Beh, magari adesso nessuno mai indosserebbe quegli abbinamenti ma 20 anni fa erano la moda, eccome se lo erano". No, no e no: ci sono outfit che non dovrebbero vedere la luce del sole in nessuna epoca, in nessun universo, in nessuna galassia.
E tra questi, sicuramente, i cinque che abbiamo selezionato dall'armadio di Marissa in The OC meritano a occhi chiusi l'Oscar del cattivo gusto.
1) Quel terribile maglioncino multicolor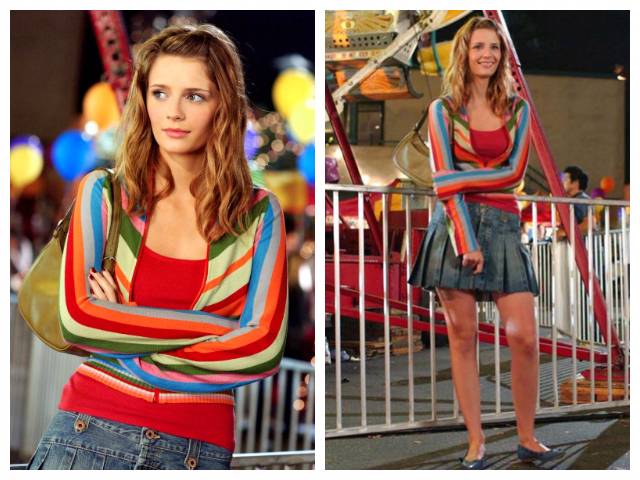 Per quanto possa essere stato di tendenza, ammettiamolo: questo maglione è oggettivamente brutto. E, ancor più brutto, è l'abbinamento pensato dalla nostra Coop: un color block da brividi, con una t-shirt rossa abbinata a un golfino dove lo stilista ha pensato bene di lanciare a random un arcobaleno di colori senza senso, una minigonna in denim (che, forse, è l'unica cosa salvabile del disastro) e una borsetta in vernice del peggior verde che si possa immaginare. L'unica spiegazione che riesco a darmi davanti a tutto questo è che Marissa non avesse proprio voglia di pensare a come vestirsi e che abbia optato per un sereno e ben più rapido tuffo nell'armadio. O, forse, è sempre stata daltonica ma è riuscita a nasconderlo bene. Tranne, ovviamente, quella sera.