Ogni tanto fa bene fare un piccolo tuffo nel passato, e il miglior modo per farlo è parlare di The O.C. Ricorderete tutti la bellissima sigla "California" dei Phantom Planet che accompagna le bellissime immagini delle spiagge californiane. Come dissociare l'idea di estate da quelle coinvolgenti note?
Oggi vogliamo ricordare insieme questa serie, andando a curiosare un pochino nei suoi retroscena. Ci sono tante curiosità legate al mondo di Orange County, ma abbiamo deciso di selezionare per voi le più belle ed interessanti. Se siete degli appassionati potreste già conoscerle, altrimenti può essere una piacevole scoperta anche per tutti coloro che hanno gustato The O.C. recentemente.
1) L'amore anche al di fuori del set
Come ben ricorderete, le due iconiche coppie in The O.C. erano Ryan con Marissa e Seth con Summer. I quattro protagonisti ci hanno accompagnato per quasi tutti gli episodi dello show, diventando un simbolo per gli adolescenti dei primi anni duemila.
Oggi questo ci sembra quasi scontato, ma c'è stato un momento in cui sembrava non essere così. Summer, infatti, doveva inizialmente comparire sulla scena come semplice guest star e solo con il tempo divenne un personaggio principale. A quanto pare la sua presenza non fu determinante solo per Seth Cohen, ma anche per i due rispettivi attori, i quali si fidanzarono ufficialmente per tutta la durata delle riprese fino al 2006.
Adam Brody e Rachel Bilson erano ventenni ai tempi di The O.C. Eppure, vedendola in maniera ingenuamente romantica, i due attori sembrano aver vissuto in parallelo quell'amore adolescenziale che ci veniva racconto sul piccolo schermo.
2) Una mente giovane
Josh Schwartz, l'ideatore di The O.C., aveva solo 25 anni quando scrisse la serie. Proprio per questo si ispirò molto alle sue esperienze di vita. E spesso, anche nei dettagli più sciocchi, si nascondono meravigliosi retroscena che rendono il tutto ancora più bello.
Il nome del cavallo giocattolo di Summer, Princess Sparkle, viene dalla Hasbro (azienda dove lavorava il padre di Josh Schwartz). L'ideatore conserva ancora i due cavalli iconici della serie tv nella sua camera.
Un altro dettaglio riguarda la morte di Marissa, in cui il produttore e il creatore di The O.C. hanno preso posizioni differenti. L'ideatore ha giustificato quella scelta dichiarando che fu una mossa necessaria per salvare la serie tv ,ormai con ascolti bassissimi rispetto al suo esordio. Il produttore invece disse che si pentì della morte di Marissa, momento che per lui segnò il destino di Orange County. Questo perché aveva dato retta a una percentuale di commenti sui forum in cui la gente odiava il personaggio di Marissa.
Fu un bene? Difficile dirlo, ma la morte di Marissa è diventata una delle scene più iconiche della tv.
3) Le storie dietro le citazioni
Molte citazioni, sia quelle iconiche che non, hanno una storia dietro o qualche curiosità singolare. Oggi ve ne proponiamo alcune, arredate da alcuni dettagli che magari non avete colto, e che potrebbero farvi rivivere quello scambio o quella scena con altri occhi.
Sei una Cohen. Benvenuta in un mondo di insicurezza e dubbi paralizzanti
Questa frase viene detta da Seth Cohen a Lindsay quando viene a sapere che è sua zia per metà. Quella scena fu molto destabilizzante per tutti i protagonisti, primo fra tutti Ryan, in quel momento fidanzato di Lindsey. Questa stessa citazione fu usata sempre da Seth Cohen il giorno in cui Ryan varcò le porte di casa sua.
"Quanto vomiti? Come la ragazza del Sesto senso o il ragazzo di Monty Python?"
Questa frase viene dette da Seth Cohen a Marissa, durante uno dei suoi innumerevoli momenti di abbattimento fisico e psicologico. La cosa singolare è che Mischa Barton, interprete di Marissa, interpretò anche la bambina del Sesto Senso a cui Seth fa riferimento.
Benvenuto a O.C., stronzetto!
Una delle frasi più iconiche non solo in The O.C. ma in tutto il panorama seriale.
Fu detta da Luke a Ryan in uno dei primi episodi della serie tv e divenne immediatamente famosa. La cosa incredibile è che questa battuta fu improvvisata, poiché non presente nei copioni.
4) Cosa si nasconde dietro il personaggio di Seth Cohen?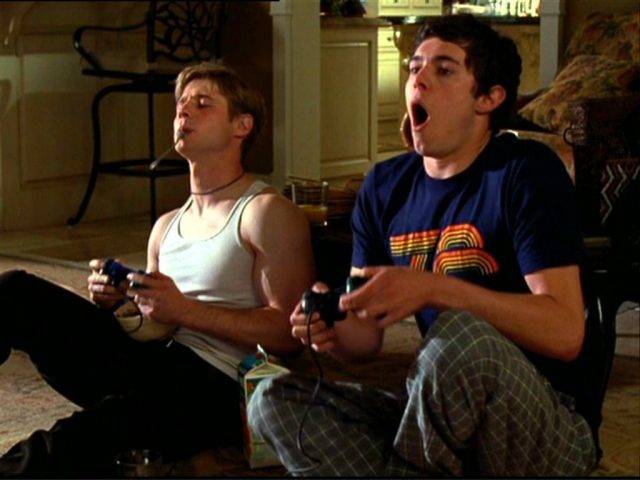 Molti segreti. A cominciare dal fatto che non sarebbe dovuto essere Adam Brody l'interprete, dato che arrivò all'audizione improvvisando, non avendo letto il copione. Tuttavia dopo un mese, senza aver trovato nessun altro, rivalutarono l'attore inserendolo nel cast.
A quei tempi Adam Brody aveva 23 anni e lavorava in un blockbuster, era appassionato di cinema ma aveva paura delle barche. Infatti nel season finale della prima stagione, in cui Seth Cohen si allontana in barca, venne usata una controfigura.
Come se non bastasse, inizialmente il personaggio di Seth Cohen doveva essere ben inserito nell'elité sociale dei suoi coetanei, solo successivamente decisero di farlo diventare un emarginato.
5) La grande importanza di Sandy Cohen
Peter Gallagher, interprete di Sandy Cohen, padre naturale di Seth Cohen e adottivo di Ryan Atwood, è stato uno dei primi scritturati nello show. Un grande nome e un grande attore che incarna l'immagine dell'uomo buono, corretto e onesto. Un uomo che farebbe di tutto per amore della sua famiglia.
I sani principi di Sandy Cohen sono stati trasposti anche nella vita reale e hanno ispirato la creazione di una borsa di studio alla Berkeley Law School chiamata "Sandy Cohen Public Defender Fellowship" per promuovere gli avvocati guidati da sani e giusti valori, figure che possano ancora sognare e perseguire la strada eticamente più giusta di giusta di questa professione.
Come se non bastasse, Sandy Cohen è una delle migliori interpretazioni in The O.C. ed è un volto rimasto impresso nei ricordi di tutti. Per un periodo gli sceneggiatori hanno pensato di far diventare Ryan suo figlio illegittimo.
Forse è stato giusto così, probabilmente questa scelta avrebbe sporcato l'immagine di quel personaggio.
6) Le storie d'amore non sono mai scontate
Oggi non possiamo immaginare altre coppie al di fuori delle due iconiche che abbiamo amato in The O.C (e qui le analizziamo approfonditamente). Seth Cohen e il suo amore eterno per Summer Roberts, Ryan Atwood insieme alla fragile Marissa Cooper.
Eppure c'è stato un momento in cui gli sceneggiatori hanno deciso di capovolgere tutte le carte in tavola e far accoppiare i personaggi in modo totalmente differente. Tra le opzioni avevamo Seth e Marissa, Ryan e Anna, Luke e Summer.
Rimanendo fedeli alla regola degli opposti che si attraggono, forse avremmo potuto assistere a un'interessante versione dei fatti. Tuttavia questo in qualche modo accade anche nella storyline ufficiale, dove i membri delle due coppie sembrano davvero diversissimi.
Per quanto riguarda Anna, l'ideatore di The O.C. aveva intenzione di fare uno spin-off sulla sua vita che poi non andò in porto.
7) Un destino diverso era possibile
Ed è lo stesso show a mostrarcelo. Nell'episodio numero 7 della quarta stagione intitolato "Realtà parallela", le cose sono andate in modo molto diverso per i nostri protagonisti. Ognuno ha vissuto una vita completamente opposta a quella della storyline ufficiale.
Ciò che davvero risulta invariata è la morte di Marissa, ma si scopre che Ryan le ha regalato tre anni di vita in più, rispetto alla realtà parallela in cui la ragazza morirà di overdose in Messico. Ma la vera curiosità dell'episodio è legata a un piccolo dettaglio che potrebbe essere sfuggito agli spettatori meno attenti.
A un certo punto, viene inquadrato un poster che ritrae Johnny Harper, come una star del surf. Nella storia ufficiale, l'amico di Marissa verrà investito da una macchina per rincorrere Ryan, e vedrà il suo sogno frantumarsi. Nella realtà parallela, Ryan non è mai esistito nelle vite dei protagonisti.