The OA è la Serie Tv del 2016 che più ci ha sconvolto, per la trama, per i personaggi e anche per le ambientazioni. Ma soprattutto perché dopo tanto tempo, ancora non abbiamo capito la maggior parte delle cose che abbiamo visto.
Forse avremmo dovuto fare più attenzione al trailer rilasciato da Netflix. Avremmo dovuto capire che sarebbe stato arduo arrivare alla fine avendo le risposte a tutte le nostre domande.
E a proposito del trailer, quello è stato l'inizio della nostra perdizione nel mondo di The OA.
É stato impossibile, almeno per me, non cominciare a fantasticare su quel primo assaggio della Serie. Non è stato neanche consapevole, è venuto tutto da sé. Ogni scena del trailer mi ha indirizzato in una precisa direzione, che poi neanche a dirlo, si è rivelata completamente sbagliata. O forse no. Va beh, non lo so, diciamo che per quello che ho capito (e che non ho capito) queste mie ipotesi dovrebbero essere sbagliate, ma non si sa mai.
Certo è che la mia mente ha vagato veramente tanto, forse anche troppo, e quello che è uscito fuori da una prima visione del trailer è qualcosa di veramente assurdo! Come testimoniano questi cinque piccoli viaggetti mentali.
Per chi se lo fosse perso, o non lo ricorda, questo qui è il trailer: 
1) L'istituto di igiene mentale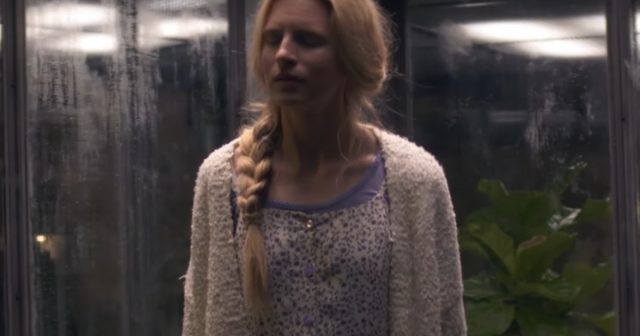 La bambina nella sua infanzia aveva problemi di salute mentale. Così i genitori l'hanno portata in un istituto di igiene mentale, considerando che faceva anche finta di non vedere. Perché si sa, i problemi della vita non si possono affrontare se non si riesce a vederli. Tutto confermato dall'affermazione del padre:
Non ci aveva mai visti.
Si, non li aveva mai visti in realtà. Non li aveva mai visti per come erano. Non era mai riuscita a uscire da quello stato depressivo in cui fin da piccola era stata costretta a vivere.
Questo istituto è però molto strano, diverso da quelli convenzionali, gestito da alieni. I pazienti sono rinchiusi in celle di vetro insieme a delle piante, forse per una sorta di terapia che coinvolge anche il giardinaggio.