[Attenzione, rischio spoiler!]
Se avete guardato la nuova Serie Tv che ha sfornato Netflix prima che potesse finire il 2016, sicuramente sarete anche voi in una situazione di perplessità generale. Appena concluso il primo episodio di The OA abbiamo pensato:
"Cosa ho appena visto?!"
Appena concluso l'ultimo episodio abbiamo pensato:
"COSA HO APPENA VISTO?!"
Insomma, nella sua interezza questa serie tv è stata coerente nella sua unica assurdità. Il 2016 ci ha viziati con prodotti seriali di qualità e che hanno creato un certo grado di dipendenza: da Stranger Things a Westworld abbiamo assaporato narrazioni di ogni tipo. Non avevamo, però, ancora guardato nulla di lontanamente simile a The OA. Ha spaccato in due il pubblico accanitissimo e sempre più esigente di Netflix, e non solo.
Prima di dire qualsiasi altra cosa, posso scrivere e sottoscrivere che ho amato The OA, mi ha fatto viaggiare in un'altra dimensione in ogni senso. La forza della serie tv è stata quella di ingannare il telespettatore, ingannarlo e poi lasciarlo nel più completo ignoto.
Gli interrogativi che adesso ci assillano sono speciali: continuiamo ad essere legati alle vicende e a ciò che abbiamo guardato. Come se fossimo appena scesi da una montagna russa, frastornati, attoniti, compiaciuti e pronti a fare il secondo giro. Ho pensato che parlarne in prima persona mi avrebbe fatto immergere totalmente nell'analisi e mi avrebbe resa la protagonista di questo giro mozzafiato.
Quando ad inizio dicembre ho guardato il trailer, non ho capito nulla. Da amante della fantascienza e dei gialli, i presupposti sembravano interessanti e soprattutto sembravano le basi per una succulenta esperienza spaziale, letteralmente parlando. Ero sicura che si potesse trattare di un rapimento alieno o qualcosa del genere. Prairie Johnson, protagonista del trailer, della serie tv e delle mie domande al momento, viene ritrovata dopo anni dalla sua scomparsa. Per la prima volta riesce a vedere i volti dei suoi genitori adottivi, Abel e Nancy. La ragazza, infatti, a causa di un incidente durante la sua infanzia, ha perso la vista. E' stata ritrovata mentre tentava il suicidio, stavolta miracolosamente vedente e con delle strane cicatrici sulla schiena.
Durante gli episodi, tranquillamente godibili con un sano binge watching, vediamo la storia prendere sempre… meno senso. Non che sia una peculiarità negativa, ma solitamente serie tv di questo tipo prima o poi sciolgono tutti i nodi, o comunque una buona parte.
The OA non fa altro che fidarsi dello spettatore, sperando possa credere in tutto ciò che Prairie e i produttori gli hanno voluto raccontare.
Una (quasi) certezza datami dall'intuito nel guardare il trailer è stata addirittura presa come cartastraccia e buttata nel cestino: non si parla di alieni. La dimensione in cui ci ha voluto catapultare il prodotto Netflix è ultraterrena, che va al di là anche dell'universo.
L'aldilà, la luce in fondo al tunnel, l'atto di fede più difficile che l'umanità abbia dovuto considerare fin dall'inizio dei tempi.
E voi avete avuto l'intenzione di compiere un atto di fede verso una serie tv come The OA? Una serie tv che ha pluri-interpretazione in base a ciò che vogliono vedere i nostri occhi e a ciò che vuole impulsivamente credere il nostro cuore?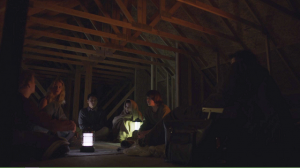 "Prairie ci ha raccontato una storia. Solo che non era vera."
Alfonso, uno dei cinque a cui la ragazza ha raccontato la sua terribile esperienza, ha iniziato a dubitare quando le prove sembravano andare contro a tutta la storia. Angeli, varchi dimensionali, resurrezioni hanno trovato appoggio in un gruppo di cinque persone che fin dall'inizio non hanno dubitato delle parole di Prairie. E voi? Voi avete dubitato?
Homer, Scott e Rachel hanno vissuto come la bionda ragazza un'esperienza di post mortem. Hanno tutti scoperto un mondo, una dimensione, diverso dal nostro, dove viene data la possibilità di restare, oppure di tornare. Hanno scelto di tornare, Prairie al costo della vista. Uno scienziato psicopatico e fin troppo preso dalla sua scoperta decide di rinchiuderli tutti, per poterli studiare come topi da laboratorio. Le cose a cui abbiamo assistito insieme a lui sono davvero fuori dalla nostra cognizione e dalla tangibile realtà. Ognuno dei ragazzi ha un movimento, delle mosse che unite a quelle degli altri possono aprire un varco, possono guarire e riportare in vita. Che la post mortem li abbia resi degli angeli?
Che siano tornati perché anelli di una catena che dovrà spezzarsi in dei momenti ben precisi?
Prairie si innamora di Homer e, quando torna dalla famiglia, il suo unico scopo è quello di scoprire un modo per poterlo salvare. E' come se i suoi sensi fossero sviluppati, come se le sue sensazioni debbano diventare sogni premonitori, nonché fatti futuri che accadranno. Vuole farsi aiutare da altri ragazzi che, dopo aver scoperto di libri contenenti tutti i fatti raccontati da Prairie, non sanno come potersi aggrappare ancora alla fede.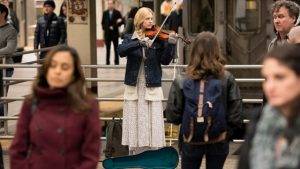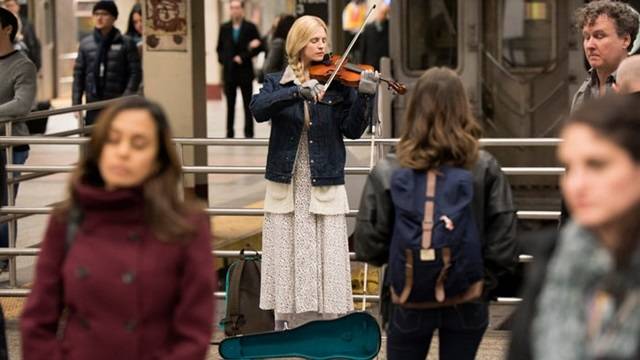 Ho posticipato quanto più possibile questo momento: parlare del finale. Dopo averlo guardato e riguardato, restando estasiata dalla soundtrack, dai minuti di tensione e dalle scene davvero toccanti, continuo a non riuscire a decifrarlo. Prairie fa per l'ennesima volta un incubo, lo stesso che ha raccontato al padre varie volte durante le notti beffarde. Stavolta, però, riesce a capire cosa sta per accadere. Ciò che sta per accadere ai cinque elementi di una soluzione finalmente ovvia: i movimenti non sono la chiave per un varco, bensì una danza dal sapore suicida.
Un uomo armato di fucile entra nella scuola dove sono presenti i cinque e inizia a sparare. Loro ritrovano la forza, la fede e il coraggio di agire: la volontà di non fermarsi all'apparenza li aiuta a salvare centinaia di vite, comprese le loro. L'uomo viene preso, grazie al loro intervento, ma Prairie ne subisce le conseguenze: un proiettile la colpisce in petto. Il suono che sentiamo sembra essere quello di un'anima che lascia il suo corpo. I ragazzi se ne rendono conto.
Che sia questo il varco che voleva aprire Prairie? Morire per salvare altre vite? Morire per ritrovare il suo Homer?
In precedenza ha preferito tornare da sconosciuti per aiutarli dallo scienziato folle a discapito di un'eternità con il padre. Stavolta forse ha deciso di restare per un'eternità con il suo Homer.
Ad essere sincera potrebbe essere una conclusione tutt'altro che sensata, ma dopo momenti di panico e di completo spaesamento dare un'interpretazione assoluta credo sia impossibile.
La scelta di considerare The OA una strabiliante scoperta o un completo fallimento è nostra. Possiamo far parte della cerchia e avere uno di quei movimenti innati, in noi. Oppure possiamo continuare a pensare che dopo la morte c'è il nulla. Una questione del genere ha tormentato e tormenta l'uomo fin dall'inizio dei tempi. The OA non vuole risolverla. Vuole alimentarla, aprire la nostra mente a nuove prospettive. Non fraintendetemi, non dovete credere in varchi dimensionali e cose del genere. Sono prospettive nuove che riguardano il credere in fatti che non possono essere dimostrati. Il credere nel credere.
The OA l'ho amata per questo. Mi ha emozionato e non so bene il perché, mi è entrata dentro. Mi è piaciuta tantissimo e non so perché.