Un prodotto che meriterebbe di più è sicuramente The Newsroom. La serie HBO è formata da tre stagioni, andate in onda dal 2012 al 2014, ed è davvero qualcosa che vale la pena guardare. Eppure, sebbene sia ben fatta, con un cast strepitoso, un'eccellente sceneggiatura, musiche e tutto il resto, non è riuscita a colpire la grande maggioranza del pubblico, restando una serie di ottimo livello, ma messa lì, nell'angolino.
Il motivo di tutto ciò si può identificare in un'unica pecca. Il "problema" della serie, che in realtà è anche il suo punto di forza, è la presenza predominante di dialoghi, spesso lunghi ma veloci, ma sempre brillanti. Sono tante le citazioni e i riferimenti che vengono fatti in ogni campo. Dalla letteratura, alla musica, al cinema, sport e così via. Non è una serie d'azione, ma ha un ritmo veloce e riesce a mantenere sempre alto il livello di interesse e di concentrazione, perché, davvero, ogni parola conta.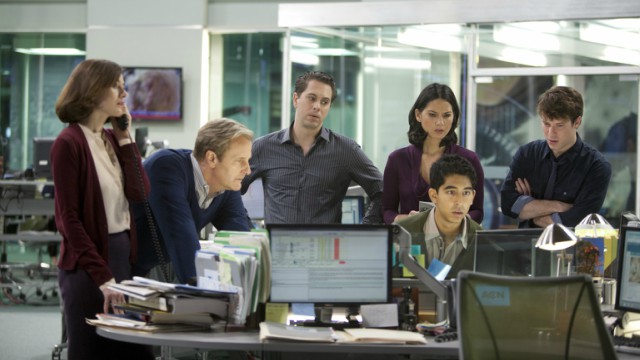 Riuscire a creare una serie tv di 3 stagioni sulla base della comunicazione non è facile, ma il creatore Aaron Sorkin ci riesce alla grande. Proprio per questo, però, The Newsroom non è una serie tv che fa per tutti. Chi preferisce serie di azione, con sparatorie e vicende che si susseguono velocemente senza approfondire, chi ha voglia di vedere qualcosa di leggero che vuole solo intrattenere, la troverà sicuramente noiosa.
The Newsroom richiede un minimo di impegno, ma non c'è un solo minuto che faccia annoiare. L'azione, se vogliamo, c'è. È ambientata, appunto, nella newsroom dell'ACN, e tutto gira intorno alle vite personali e lavorative dei componenti del team dei notiziari della rete. Sempre alla ricerca della verità, con una fame insaziabile di sapere per poi informare il pubblico, il notiziario News Night è proprio quello di cui avremmo bisogno. Il protagonista è l'anchorman Will McAvoy, interpretato da un perfetto Jeff Daniels. Insieme a Emily Mortimer (che interpreta Mackenzie McHale), i due riescono a trasmettere l'energia e la magia del rapporto complicato e passionale dei due protagonisti.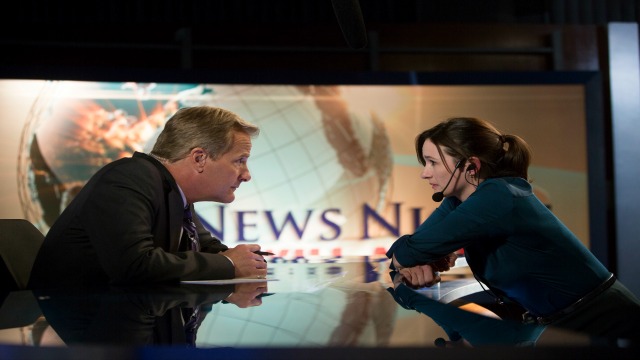 The Newsroom è una serie colta, che però non ha la presunzione di esserlo. Non vuole essere una serie per pochi o solo per chi è in grado di capire. È, semplicemente, una serie che pretende la totale attenzione dello spettatore. Non ha dialoghi incomprensibili, anzi sono molto chiari. E spesso sono divertenti, pungenti, sarcastici. È proprio la parola il punto centrale della serie. La capacità di comunicare che trasforma la serie in una lunga, irresistibile, perfetta melodia.
Il finale sembra chiudere un cerchio, e lo fa con una canzone (That's How I Got to Memphis) capace di trasmettere tutte le emozioni di quel momento. Non per la canzone in sé, ma per quel che rappresenta. Un cerchio dicevamo, aperto con le parole scontrose e offensive di Will McAvoy e chiuso con un semplice e sereno Buonasera, pronunciato dallo stesso Will.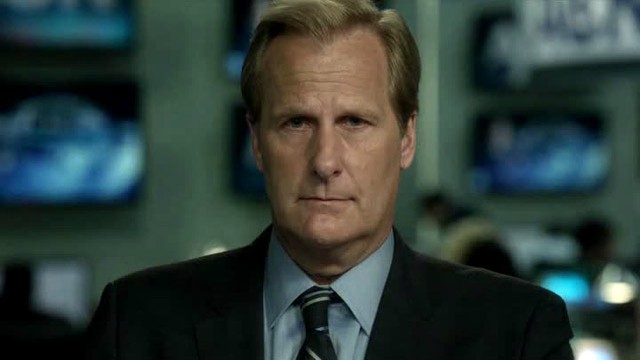 La bellezza di The Newsroom non risiede in una trama complessa, ma nella semplicità di un susseguirsi di eventi che rompono la "routine" dei lavoratori nella newsroom. Eventi che possono riguardarci da vicino, o che al contrario non ci riguardano affatto. Eppure il livello di coinvolgimento è sempre alto, a prescindere dal tipo di avvenimento rappresentato.
Questa serie ha solo un difetto: finisce. Ma sicuramente anche questo ha contribuito a renderla di qualità, perché se fosse durata anche solo una stagione in più probabilmente avrebbe perso qualcosa. The Newsroom è davvero una serie memorabile che riesce a entrarti dentro con la sua semplicità, per poi rimanere lì, come un'armoniosa melodia che ascolti a occhi chiusi e i brividi sul corpo.