L'articolo contiene spoiler di The Newsroom
Cosa succederebbe se esistesse una rete televisiva in grado di fornire al pubblico notizie interessanti, vere e importanti, escludendo tutto il gossip e la voglia di fare semplice share? Cosa succederebbe se a gestire questa rete non fossero solo ottimi giornalisti, competenti nel loro ambito, ma anche persone pure di cuore che vogliono portare un cambiamento positivo negli Stati Uniti? Per molti questo tipo di realtà si definisce utopia, una versione impossibile e non credibile del mondo, dove i più grandi sogni sono realtà. Per noi questa realtà ha un nome diverso, di due parole invece che una: The Newsroom. Lo show HBO in grado di sviscerare il mondo dei palinsesti americani come mai prima di allora.
Non stiamo parlando di persone perfette o situazioni convenevoli. Il punto di partenza della serie è quanto di più lontano e realistico possa esistere: un diretto pugno in faccia a tutti gli errori del mondo, anzi, dell'America nel mondo. Cosa rende questo paese il migliore? Nulla, assolutamente nulla secondo Will McAvoy, voce severa e critica dell'esponente televisivo più controverso degli Stati Uniti. Ma sin dai primi minuti del primo episodio un pensiero viene piantato nella testa dello spettatore: potrebbe esserlo. L'America non è il miglior paese al mondo, ma un tempo lo era e potrebbe tornarlo. Servirebbero le giuste situazioni, le giuste persone e soprattutto qualcuno che unisca il tutto.
Un punto di partenza in cui si gratta il terreno sotto i nostri piedi, facendo rumore e spingendoci a guardare in basso per osservare l'inizio del viaggio e, una volta lontani, ricordarci di esso. Un viaggio in cui non si cammina e non si corre, o stai davanti alla telecamera o dietro di essa e in entrambi i casi devi voler cambiare la storia. Tra le guerre coi grandi network televisivi, i capi al vertice e persone che non credono nell'idea di rivoluzionare il settore, The Newsroom parla della divisione news della ACN. Pronta a regalare al pubblico "semplicemente" le migliori news possibili, sempre.
Scordatevi della tv spazzatura, in tutti i sensi
Migliori news vuol dire coraggio, vuol dire fiducia, vuol dire controllare mille volte le proprie fonti e non mettere mai il proprio pensiero di fronte a quello che lo spettatore ha diritto di comprendere. Il ruolo dell'anchorman Will McAvoy e della produttrice esecutiva MacKenzie McHale, sono i punti cardine dell'essenza del canale esattamente come i due personaggi sono le basi della serie. Il loro incontro e scontro di ideologie smuove il pensiero di entrambi, portandoli ad avere ancora più fiducia nel progetto, quasi come sfida nel dimostrarsi superiore all'altro.
È questa sana competitività che, opposta alla tossica in grado di avvelenare i notiziari giornalmente, porta The Newsroom a ricordarci quanto voler vincere non è né un pregio né un difetto, ma un mezzo. Si può voler vincere facendo del bene e voler vincere ingannando il prossimo, ma la prima scelta è la più difficile perché è quella la cui vittoria appare meno evidente sul momento. Ma mai l'idea della ACN News è stata di ottenere successo da un giorno all'altro, anzi. La vittoria del progetto è l'arrivo al senso di normalità più totale che pervade i lavoratori quando trasmettono in diretta quello che un tempo sembrava troppo articolato per essere fruito dal pubblico.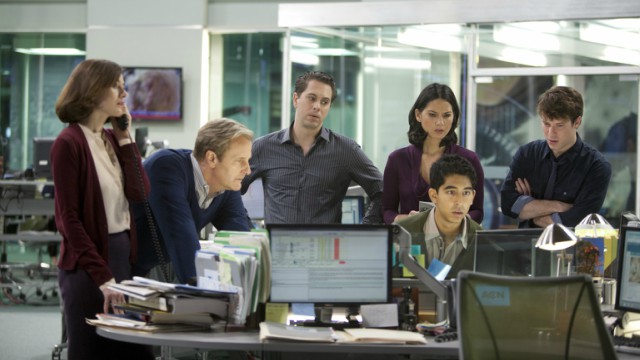 Alla ricerca di fonti chiare, di notizie che meritano la trasmissione e di diagnosi vere e lontane dal gossip, quello che si troveranno davanti i personaggi è un'infinita serie di ostacoli. Posti dai loro sentimenti, dalle paure che costantemente si ripresentano, dai piani alti e quelli altissimi, dagli avversari e a volte perfino dalla legge. Questo non è altro che carburante per la locomotiva del gruppo, elettricità per le telecamere che si accendono giornalmente. Un gruppo di personaggi, colleghi, uomini, pronti a mettersi contro il mondo per averlo esposto a tutti nel suo lato più fragile e debole.
Con aiuti inaspettati di persone convertite alla causa e piccoli successi portati a casa, le giuste situazioni e le giuste persone ci sono. Serve la causa scatenante, l'evento che ci porta a vivere quest'esperienza. Il tutto ha un nome: Charlie Skinner. Capo della divisione dal quale vediamo messe in atto lotte ad alti livelli per difendere il progetto ma mai comprendiamo fino in fondo. Fino a quando il fondo lo raggiungiamo, nel finale di serie.
Utopistico il mondo e lo stratega che ne tesse le fila
Mai avremmo pensato di ammirare così tanto un uomo che si rivela essere dietro ogni singola azione compiuta nella serie. Ma se vogliamo trovare il nucleo di questo mondo utopistico, il cuore dell'essenza stessa di utopia, il prodotto di Aaron Sorkin ci mostra come anche spingere il prossimo ad agire in un certo modo non sia sbagliato. Skinner è un uomo anziano che ha vissuto questo settore lavorativo più di chiunque altro e soprattutto ha vissuto le giornate del suo paese nei momenti più bui e bassi. Nella versione più fumettistica di un colloquio lavorativo, Skinner spinge i suoi due pupilli verso lo stesso incontro in modo tale da creare la scintilla giusta.
Charlie non è il protagonista, ma ha il fuoco interno tale da rivoluzionare il mondo tramite le braccia competenti di Will e Mac. E soprattutto non parla tanto. Una caratteristica singolare per un'opera di Aaron Sorkin, i cui personaggi in grado di ispirare sono sempre oratori patiti dei grandi discorsi e lunghi monologhi. La capacità di Skinner è l'umanizzazione del concetto televisivo al quale aspira: poche parole ma importanti, vere. Nessuna metafora per ingannare o lunghi esempi, Charlie punta al cuore con la verità e il desiderio di rivoluzione.
Un ribaltamento di fronte
Dato il creatore, in questo mondo utopistico dove la rete televisiva cerca di fare il meglio per le persone mostrando il marcio del mondo politico, ci troviamo a sorridere a pensare come questo show sia un po' il perfetto parallelismo di The West Wing e la sua utopia politica. Questa è la bravura di quest'uomo, in grado di setacciare e limitare le proprie idee in modo da mostrare a schermo più facce della stessa medaglia, tutte equivalenti e ugualmente importanti.
Anche qui la domanda sorge e ci viene da chiedersi quanto l'utopia sia veramente presente. Perché se il pensiero alla base del progetto lo è, questo rimane chiuso e raccontato da una rete televisiva importante e di successo, ma non pone un nuovo standard per il mondo. The Newsroom sa dove spingersi e fin quando osare per non cadere mai nell'impossibile. Ed è proprio questo labile filo sul quale oscilla che fa chiedere agli spettatori quanto il progetto sia forse possibile e non così lontano. O addirittura se un'idea del genere, su qualche canale televisivo esista già.
Forse dovremmo spingerci oltre alle apparenze sia nella serie che coi preconcetti, abbandonando quel che crediamo realtà in cerca dell'informazione per sentirci in errore. Il nostro ruolo è duplice, da spettatori di ACN News e The Newsroom, in cerca di risposte e soddisfazione che effettivamente abbiamo trovato. Magari l'intento di Charlie Skinner non era di rivoluzionare il mondo, ma di far stare meglio una persona di fronte allo schermo, sia essa una creazione della serie o noi stessi.
Forse l'utopia vera è l'uomo che, pur di aprire gli occhi alle persone sul mondo, è disposto a chiudere i suoi per sempre.