Paolo Sorrentino è senz'altro uno dei più grandi cineasti del nostro tempo. Il suo ultimo grande successo "La Grande Bellezza" continua a far parlare di sé. Il film vinse nel 2013 l'oscar come miglior film straniero e ancora oggi divide il pubblico di tutta Italia. Non è una novità per il regista napoletano indurre alla riflessione e al dibattito, tutti i suoi film sono infatti espressione di temi ricercati e non fruibili per un semplice intrattenimento. Per le serie tv il suo modus operandi non fa eccezione.
Risale ormai a due anni fa la conclusione della serie rivelazione di Sorrentino "The Young Pope" la quale ebbe un grande successo di critica. Lo show è stata venduto in oltre 110 paesi e ha registrato un ottimo debutto di ascolti negli Stati Uniti sulla rete HBO. The Young Pope racconta la storia di un papa giovane ( come da titolo ) alle prese con i suoi dubbi e la sua umanità. Il suo freddo raziocinio e il suo cinismo sono espressione di un età in cui ancora si covano incertezze, sia sulla propria vita che sul cammino professionale o spirituale che si è intrapreso.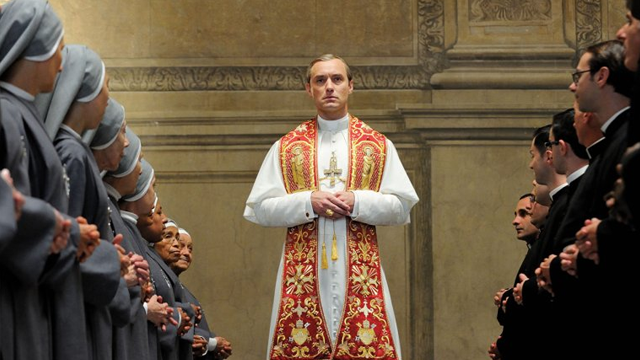 Rimanendo in tema spirituale, a battezzare questo 2019, è l'inizio delle riprese per la seconda stagione, dal titolo "The New Pope". Questa volta la location si sposta dal centro Italia a Venezia, location in cui saranno girate gran parte delle scene e degli episodi. Nella medesima città, in occasione del 73esimo festival del cinema, venne presentata nel 2016 la prima stagione della serie.
Grandi nomi sia per la produzione che per le interpretazioni. Per quanto concerne i primi, la serie tv sarà co-prodotta da Sky e HBO, il che potrebbe essere garanzia di un altro grande successo. Per le interpretazioni si riconferma Stefano Accorsi come primo ministro italiano e Silvio Orlando nel ruolo di Voiello. Inoltre si vocifera la presenza di Sharon Stone.
Per The New Pope non si hanno ancora concrete informazioni sulla trama. Tuttavia abbiamo la prima foto ufficiale dal set, la quale ritrae Lenny Belardo e il nuovo papa, interpretato da John Malkovich, direttamente dal canale Twitter della HBO:
I just confessed four sins looking at this photo.

Here's the first image of Jude Law and John Malkovich in the upcoming series, The New Pope. pic.twitter.com/hQD7fTiXWd

— HBO (@HBO) 9 gennaio 2019
Siamo curiosissimi di vedere il progetto finito ed entusiasmarci con un altro grande show. Le informazioni a nostra disposizione per ora, regalano premesse accattivanti. Non ci resta che aspettare qualche mese per un trailer e la definitiva data di uscita.