The Middle é una di quelle serie tv andate avanti per così tanto tempo da portare quasi a considerarla come un flusso di episodi senza inizio e senza fine al quale si finisce per affezionarsi senza necessitare di ulteriori informazioni. Eppure The Middle un inizio ce l'ha, e anche una fine ovviamente (sebbene si parlò a un certo punto di uno spin-off della serie, di cui abbiamo parlato qui, notizia però poi smentita, come spieghiamo qui). Una fine che probabilmente i fan avrebbero voluto non arrivasse mai – per la serie che ha come protagonista l'attore che interpretò l'indimenticabile Inserviente di Scrubs, che secondo una teoria si sarebbe rifatto una vita proprio in The Middle – ma che le autrici Eileen Heisler e DeAnn Heline hanno voluto invece per svariate ragioni (qui i migliori finali delle serie tv comedy).
The Middle è stata infatti una delle sitcom di maggior successo della ABC e nel corso dei nove anni in cui è andata in onda – tra il 2009 e il 2018 – non ha mai sbagliato un colpo. In Italia, abbiamo avuto il piacere di vederla in chiaro su Italia Uno.
Non a caso pare che i dirigenti della ABC non vedessero di buon occhio l'idea di concludere la sitcom nel 2018, ma che volessero altresì portarla avanti per qualche altra stagione. Un'ipotesi che invece le autrici di The Middle hanno preferito scartare in favore di una che vedesse la loro creatura giungere a una fine dignitosa in un momento in cui la serie era ancora molto amata dal suo pubblico. Heisler e DeAnn avevano infatti un'idea molto precisa in merito, che non hanno mai nascosto ai microfoni dei giornalisti.
Quando nel 2017 – prima che la nona stagione andasse in onda – la ABC comunicò che The Middle si sarebbe conclusa proprio con la nona stagione, ci furono commenti molto eloquenti da parte delle due sceneggiatrici in merito. Durante il panel organizzato all'epoca dalla Television Critics Association, la Hiesler infatti comunicò a chiare lettere il motivo della decisione:
"Avremmo potuto continuare a scrivere altre dieci stagioni per raccontare la storia di questa famiglia, ma abbiamo capito che potevamo scegliere tra concludere qui la storia o proseguire proprio per altri dieci anni. Per ora stiamo cercando di terminare il lavoro sull'ultima stagione e poi potremo pensare ad eventuali spinoff o altri progetti"
Un'affermazione che suggerisce una forte necessità da parte della mente creativa all'origine del progetto di dare una giusta conclusione a qualcosa che merita più di un disperato tentativo di portare avanti qualcosa a tutti i costi in cerca di soli profitti.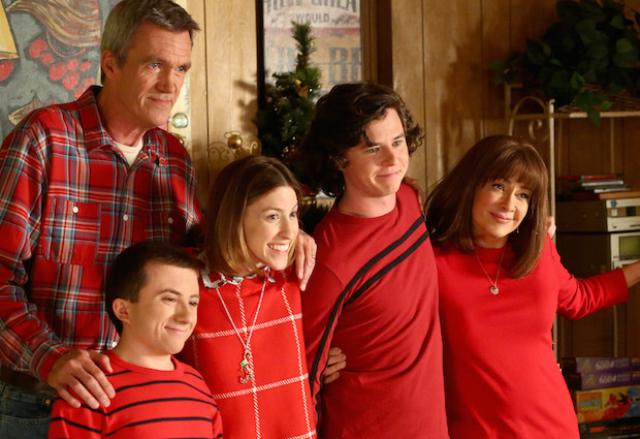 E infatti sia Eileen Heisler che DeAnn Heline hanno voluto precisare durante lo stesso panel come la decisione sia stata frutto di una necessità creativa e non avesse niente a che vedere con un'imposizione da parte della rete.
"La decisione di concludere lo show è stata davvero personale. Quando abbiamo parlato al presidente della ABC Channing Dungey, nella passata stagione, abbiamo accennato alla possibilità che fosse l'ultima. Voleva dire per noi avere l'occasione di dire addio"
Cui la DeAnn ha aggiunto un'affettuosa considerazione del ruolo ricoperto all'epoca da The Middle nel panorama televisivo di quest'ultimo decennio. Ovvero quello che l'ha vista andare in onda nel 2009 per raggiungere un successo sempre crescente già prima del 2018.
"The Middle va in onda attualmente in tutto il mondo e l'aspetto fantastico è che, non importa se vieni da una metropoli o da un'altra nazione, tutti possono identificarsi nella serie"
The Middle è una sitcom che racconta la vita degli Heck, una famiglia della media borghesia americana alle prese con le difficoltà – grandi e piccole – della crisi economica che ha investito il paese (e il resto del mondo) dopo il 2008. La famiglia Heck è composta dalla madre Frankie Heck (Patricia Heaton), dal marito Mike Heck (Neil Flynn) e dai tre figli Axl (Charlie McDermott), Sue Sue (Eden Sher) e Brick (Atticus Shaffer).
Per quanto tutti e cinque i componenti della famiglia Heck rappresentino un importante punto di vista della sitcom potendosi considerare tutti coprotagonisti, è indubbiamente Frankie Heck ad avere maggior spazio nel racconto di The Middle. Il personaggio interpretato da Patricia Heaton è infatti voce narrante della storia. E dunque il punto di vista che ci accompagna lungo lo scorrere degli eventi che interessano la famiglia.
Ma The Middle non è solo una sitcom che snocciola aneddoti divertenti sulla vita di una famiglia qualunque.
The Middle è una serie tv che ha saputo raccontare per quasi dieci anni – in modo ironico ma mai banale – la semplice quanto complessa quotidianità dell'essere famiglia, comunità, esseri umani – di un luogo sconosciuto – legati da relazioni a volte complesse. E attraverso le vicende degli Heck The Middle ha raccontato le difficoltà dell'essere genitori in un mondo sempre più complesso. Ma anche dell'essere ragazzi in cerca di un'identità, di un futuro, o anche solo di una dritta su come navigare in quello stesso mondo fatto di complicazioni sempre crescenti. Nel bel mezzo di un'epoca che non ha risparmiato nessuno in quanto a difficoltà sociali ed economiche.
Ma la serie ambientata a Orson (fittizia cittadina dell'Indiana) va persino più in profondità. Con espedienti narrativi che affrontano con la stessa simpatica verve anche storie relative alle loro interazioni sociali. Tra queste sono incluse quelle con gli odiati vicini (i Glossner), quelle altresì con i vicini più amati, i Donahue. Con il pastore della comunità. E ovviamente anche le relazioni con zii, fratelli e parenti vari. Per non parlare di quelle più intime con cotte e fidanzati/e di Axl, Sue e Brick Heck. Tutti alle prese con le difficoltà dell'adolescenza, della propria crescita emotiva e di quelle dell'età adulta.
E infatti è proprio quando la serie tv giunge a questo punto della trama che The Middle conclude la sua corsa.
Con l'annuncio della fine della sitcom ABC promise fin da subito – così come Heisler e DeAnn – che The Middle si sarebbe conclusa alla nona stagione con un episodio speciale. Un episodio che sarebbe rimasto nel cuore dei fan. E al netto delle polemiche che spesso e volentieri interessano i finali di serie tv lunghe e ampiamente seguite, poremmo dire che in fondo è stato proprio così per la sitcom in questione. The Middle si è conclusa nel 2018 con un episodio pieno di sentimenti di speranza, rimasto davvero nel cuore dei fan che hanno saputo apprezzare la serie fino in fondo.
"L'ultimo vaiggio", ovvero l'ultimo episodio della nona stagione di The Middle – e dunque di tutta la serie – è andato in onda il 22 maggio 2018. E coerentemente al titolo italiano – come anche a quello originale in inglese – ci accompagna attraverso l'ultimo viaggio della famiglia Heck. L'episodio infatti è originariamente titolato "A Hck of a Ride", giocando con le parole per indicare l'intensità e l'importanza del viaggio familiare cui assistiamo. Ovvero la partenza di Axl per Denver.
Axl Heck (Charlie McDermott), figlio maggiore di Frankie e Mike Heck (Neil Flynn), è ormai adulto. Lo abbiamo conosciuto come un adolescente disinteressato e sarcastico per vederlo evolversi attraverso gli anni in un giovane uomo proiettato nel suo futuro. E ovviamente nella necessità di trovare la sua strada.
E la strada scelta, voluta per lui dalle autrici della serie, lo hanno portato su quella di Denver. Il ragazzo decide infatti di accettare un lavoro nella città del Colorado e quindi di trasferirsi lì abbandonando di fatto il nido familiare di Orson. Non solo i genitori, ma anche i fratelli, Sue (Eden Sher) e Brick (Atticus Shaffer), gli amici di sempre e la comunità in cui lo abbiamo visto crescere e formarsi.
Così la famiglia al completo decide di accompagnarlo per un ultimo viaggio insieme che ha quasi il sapore di una transizione dalla spensierata giovinezza alla responsabilità dell'età adulta. Metafora delicata e perfetta del viaggio di crescita e maturazione emotiva compiuto da ogni personaggio di The Middle nel corso dei quasi dieci anni della serie.
Una tipologia di finale abbastanza in linea con quello di sitcom storiche e particolarmente lunghe come Friends o Modern Family. In ognuno di questi casi infatti vediamo concludersi un lungo percorso di crescita. Che sia di un gruppo di giovani amici o delle diverse generazioni di una stessa famiglia. Li vediamo vivere e maturare insieme per poi accompagnarli nell'atto finale attraverso una fisiologica ma dolorosa separazione. Il più delle volte complementare e necessaria alla giusta conclusione di un percorso evolutivo.
E proprio in questo modo abbiamo detto addio anche a The Middle. Una delle più spassose quanto mai banali sitcom degli ultimi dieci anni.
Certamente si tratta di un finale aperto, che lascia ampia possibilità di ripresa in ogni momento. Proprio come suggerito – a metà strada tra lo scherzo e la serietà – dalle autrici stesse. E a parte questa possbiltà, la ABC ha sempre considerato la possibilità di uno spin-off, di cui si è parlato sin da subito. Le stesse Heisler and DeAnn dichiararono già nel 2017 la volontà di dedicarsi a progetti correlati di questo genere.
Tuttavia già nel 2018 il naufragio di questo progetto fece notizia sui giornali e siti web dedicati. Come riportato dall'Hollywood Reporter in questo articolo dello stesso anno, il pessimo regalo di Ringraziamento della ABC quell'anno fu proprio l'annuncio della volontà di non proseguire con Sue Sue in the City. Lo spin-off – come suggerito dal titolo – avrebbe dovuto raccontare la vita di Sue Sue Heck – interpretata da Eden Sher – a Chicago dopo aver concluso il college.
Ma a quanto pare i fan di The Middle non avranno un racconto complementare alla serie madre cui affezionarsi dopo la fine di quest'ultima. Per loro non resta dunque che arrendersi, dandosi imperterriti a un rewatch della sitcom o del tenerissimo finale di The Middle.