Mettersi a scrivere in questi giorni non è un'impresa semplice. Scrivere, scrivere qualsiasi cosa, significa innanzitutto pensare. Possiamo sforzarci di fingere quanto ci pare che quanto accaduto nella notte dello scorso venerdì non ci tocchi, ma certi segni si vedono anche quando sono nascosti. Il punto è semplicemente uno: alla Storia, al Mondo e alla Vita non si scampa, ragazzi. E, che ci piaccia o meno, quanto è accaduto è questo: Storia, Mondo, Vita. Una triade da non vedere come demoniaca o dittatoriale, nel suo imporsi sul singolo, ma densa di possibilità, nel suo essere tanto immensa da spaventare.  Vi racconto tutto questo poichè, per la prima volta, ho scelto di scrivere un articolo proprio perché penso abbia qualcosa da dire e da dire nell'immediato e per l'immediato. Io penso che questa serie ci ricordi delle cose importanti. Ma vediamo di capire perché.
The Man in the High Castle è un'ucronia.
L'ucronia è un genere della narrazione fantastica che prevede che la storia abbia intrapreso un corso diverso da quello reale. In soldoni, si tratta di un Cosa sarebbe potuto succedere se… Ecco, nello specifico, The Man in the High Castle ci racconta una delle possibili evoluzioni del cosa sarebbe potuto succedere se la Germania nazista e l'impero giapponese avessero sconfitto gli alleati nella Seconda Guerra Mondiale. Prima di proseguire vi chiedo di chiudere un secondo gli occhi e provare seriamente a immaginare come potrebbe essere il mondo se avessero vinto le potenze dell'Asse.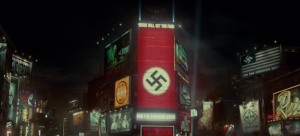 Philip K. Dick (autore dell'omonimo romanzo, edito in Italia, negli anni '60, con il titolo di La svastica sul sole) si immagina questo: il nazismo, ovviamente, si è diffuso in tutto il mondo e l'America è divisa in tre parti. La costa orientale è sotto il controllo tedesco (Grande Reich Nazista), quella occidentale sotto quello nipponico (Stati Giapponesi del Pacifico) e gli stati delle Montagne rocciose sono una Zona Neutrale; fungono, così, da stato-cuscinetto. Amazon ne ha fatto una serie tv in dieci puntate. Il pilot è andato in onda il 15 gennaio. Dal 20 novembre verranno distribuite tutte le puntate.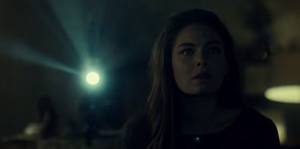 Siamo nel 1962. Juliana Craig vive a San Francisco, pratica l'aikido (una nota arte marziale giapponese) e vive con il suo fidanzato, Frank. La sorellastra Trudy, entrata a far parte della Resistenza, affida a Juliana una bobina che reca la scritta: La cavalletta non si alzerà più (magico, delicato, meraviglioso il momento in cui Juliana guarda il video contenuto nella bobina). A quanto pare essa è opera di un certo Uomo nell'Alto Castello. Essendo stata Trudy freddata dalla polizia, Juliana si ritrova a portare a termine la missione della sorella. Scopre di doversi recare a Canon City, nella Zona Neutrale, per consegnare la bobina. Così farà.
Contemporaneamente, il newyorkese ventisettenne Joe Blake, entra a sua volta a far parte della Resistenza e trasporta un carico a Canon City. Il carico è costituito da "caffettiere", ma una volta scoperto un vano nel camion, Joe troverà una copia de La cavalletta non si alzerà più.
Inutile dirvi che i due si incontreranno a Canon City.
Mr Tagomi è un ufficiale nipponico parecchio in pensiero per la situazione politica. Hitler non è propriamente in ottima forma, che ne sarà delle sorti del mondo una volta morto il Fürher? I suoi successori manterranno lo status quo o vorranno espandere il proprio dominio? Così Tagomi decide di incontrare segretamente un ufficiale nazista di nome Rudolph Wegener.
A parte che tra i produttori esecutivi di The Mn in the high castle compare Ridley Scott (quello di Blade Runner, per capirci), come abbiamo già scritto the man in the high castle pare essere lenta, dandoti il tempo necessario per farsi capire. Questa serie sembra regalarci una cosa che abbiamo perso da molto: IL TEMPO NECESSARIO PER RIFLETTERE. Sì, perché un'opera di fantascienza non è solo il giochino con cui un tizio si inventa un mondo parallelo per distrarti da quello vero. È anche una metafora di cose che nel mondo vero esistono eccome. La Storia ci ha dato la grazia di vedere la fine del Nazismo, ma la morte di una dittatura, la fine di una libertà, di una democrazia, non sono mai definitive: sono conquiste quotidiane. Forse è il caso che questo mondo schizofrenico e ultrarapido si fermi un secondo per attuare quell'abilità che lo distingue dagli altri animali: pensare.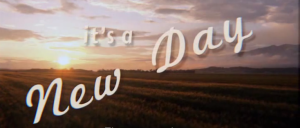 «La vera posta in gioco nella guerra era: il vecchio contro il nuovo», scrive Dick in The Man in the High Castle. Non ritengo sia necessaria sempre una guerra, ma almeno cerchiamo di vivere perché il nuovo sia migliore del vecchio. E, credetemi, non è così scontato.
Elisa Belotti