La terza stagione di The Handmaid's Tale era ancora in corso quando è arrivata la notizia del rinnovo per una quarta. La scorsa stagione ha accumulato e costruito incessantemente una grande quantità di tensione, esplosa in un finale che ha lasciato senza fiato e con mille interrogativi, destinati a dover attendere a data da definirsi. Con la notizia del rinnovo infatti non erano arrivati ulteriori dettagli, ma ora sappiamo finalmente quando arriverà The Handmaid's Tale 4, e abbiamo un'idea di cosa aspettarci.
Arriverà in ritardo rispetto alle prime stagioni, questo autunno (entro il 12 agosto si dovrebbe concludere la stesura). A differenza delle scorse due, sarà composta di dieci episodi, come lo era stata la prima. La scelta, assicura il produttore Bruce Miller, è stata puramente creativa.
Per quanto riguarda l'interrogativo più grande, quello che ci ha lasciato in sospeso negli ultimissimi fotogrammi dell'episodio, Miller ci dice che June dovrebbe essere viva.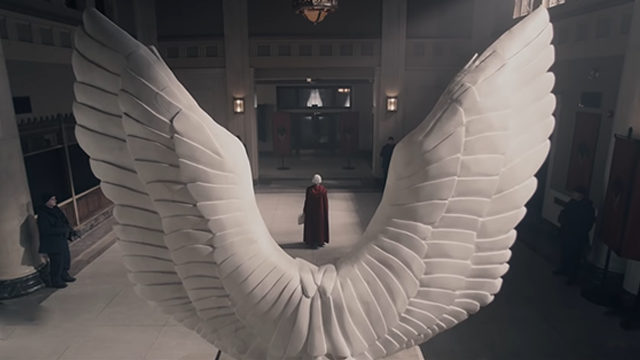 La serie segue June, e June vive a Gilead, e Gilead non è un bel posto e continuerà a non esserlo. Cerchiamo sempre di essere molto realistici riguardo a cosa accadrebbe veramente e a come funzionerebbero le cose, quindi durante la pausa abbiamo parlato con le Nazioni Unite, e abbiamo discusso di ciò che succede ai ribelli in paesi come questo, quindi stiamo esaminando le varie possibilità.
Ma non è solo su June che ha avuto da dire. Ha rivelato che in The Handmaid's Tale 4 vedremo una Gilead particolarmente instabile, specialmente in seguito al terribile colpo che ha subito con la sparizione di tutti i bambini che sono stati portati via.
È stato decisamente un colpo da cui non sarà facile riprendersi. La riproduzione è la ragione ufficiale della loro esistenza. Quindi, quando inizi a portare via i loro bambini, penso proprio che Gilead si infurierà parecchio.
Rivedremo il Comandante Lawrence, rimasto a Gilead per cercare di rimediare ai suoi errori. Scopriremo qualcosa in più del passato di Nick. Rivedremo i Waterford che, entrambi sotto processo, dovranno finalmente fare i conti con tutti gli atroci crimini che hanno commesso.
E, dulcis in fundo, l'ultima rassicurazione. Il produttore esecutivo Warren Littlefield ha assicurato che non è loro intenzione far sì che la quarta stagione di The Handmaid's Tale sia l'ultima. C'è ancora molto da raccontare, e pensa anche al romanzo sequel di Margaret Atwood, I testamenti.
Non la vediamo finire con la quarta stagione e posso dirvi onestamente che non sappiamo di preciso quando finirà. Ma penso che vorremo mantenere alto il livello, e non sarebbe una cattiva cosa lasciare il pubblico con la voglia di vedere di più, e a quel punto potremmo idealmente passare a The Testaments.