Con l'episodio 13 siamo giunti alla fine di questo terzo capitolo di The Handmaid's Tale. Un percorso diverso dai precedenti. A volte troppo lento, altre volte incoerente. Eppure con un finale degno dello spessore emotivo di cui solo The Handmaid's Tale è capace. Non privo di difetti e punti di domanda lasciati aperti, certo. Ma di questo ne parleremo più avanti. Perchè l'epilogo di questa terza stagione, per debole che possa essere rispetto a quelli precedenti, resta pur sempre un groviglio di emozioni su cui non si può sorvolare. La serie di punta di Hulu, come anche l'omonimo libro da cui è tratta, non è semplice storytelling, non punta al puro intrattenimento.
The Handmaid's Tale è pensiero, riflessione, consapevolezza. Un inno al libero arbitrio, alla libertà d'essere se stessi, e a quella di essere diversi. E questo finale è la sua bandiera.
Riflette in vero quelle che erano sin dall'inizio le intenzioni narrative di questa stagione. Raccontare della Resistenza per focalizzarsi sulla reazione di un popolo a un regime di repressione e fanatismo. Mayday ne rappresenta il cuore. Il punto più elevato di una climax ascendente che ci porta nella mente di chi ha rischiato tutto per la libertà. Poco importa se propria o altrui. Come fu quando abbiamo visto Emily giungere in Canada – e forse anche meglio – veniamo abbracciati assieme ai protagonisti dalla commozione di chi è riuscito a scappare dall'orrore. E dalle braccia di chi è stato pronto ad accoglierli. Ma con una differenza sostanziale.
La 3×13 di The Handmaid's Tale è forse l'episodio che più di tutti vuole ricordarci quanto inestimabile sia il valore della libertà.
La prima stagione ci aveva mostrato come i cittadini americani l'avessero perduta con la salita al potere dei Figli di Giacobbe. Questo episodio ci riporta a quei tempi. Ai traumatici cambiamenti che trasformarono il paese delle libertà nell'incubo che è Gilead. E lo fa con una scena che riprende un dramma della nostra storia moderna: le deportazioni naziste.
La tensione è palpabile fin dal primo minuto, quando vediamo June vestita con abiti che a Gilead non esistono più da molto, in un contesto non subito chiaro. In pochi minuti capiamo di essere dinanzi a quanto accaduto subito dopo ciò che abbiamo visto nella prima scena della serie, quando l'incubo di June ha inizio con la separazione da Luke e Hannah. Qui la vediamo venir chiusa bruscamente assieme ad altre donne in grandi gabbie simili a quelle viste nella 3×03. Tutte assistono inermi a quella che sembra una deportazione – se non un'esecuzione sommaria – di donne affette da Sindrome di Down. Come i nazisti, che oltre a deportare ebrei nei lager – come i Figli di Giacobbe deportano donne fertili nei Centri Rossi – sopprimevano infermi e disabili.
L'importanza di questa scena non sta tanto nell'ennesima conferma nella crudeltà di Gilead, ma in ciò che ha insegnato a June. E cioè che in una guerra che non fa sconti a nessuno chi è spietato vince.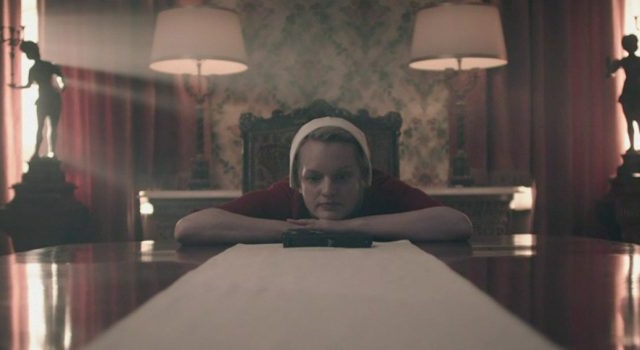 Una lezione che, nonostante i drammi vissuti, June ha dovuto ripassare a sue spese in quest'episodio. Siamo infatti all'alba della più grande impresa della Resistenza: la fuga di 52 bambini da Gilead. Figli strappati ai loro veri genitori cinque anni prima per esser affidati a comandanti e rispettive mogli. Bambini che – come animali cresciuti in cattività – non hanno il minimo ricordo di come fosse "prima", quando tutti erano liberi. Quando si poteva decidere cosa indossare, chi amare, se avere figli o meno. Le Marte della Resistenza portano a casa Lawrence questi bambini e in pochi minuti ci immergiamo in uno dei momenti più commoventi dell'intera serie.
Durante il dialogo con la prima bambina arrivata a casa June descrive come fosse "quel prima". E d'improvviso comprendiamo quanto semplici siano le dinamiche fondamentali della libertà. La sua bellezza e la sua purezza. La stessa che gli estremismi religiosi hanno sempre cercato di demonizzare. Vediamo negli occhi di una bambina di dieci anni tutto il danno che preconcetti e sensi di colpa inculcati dal fanatismo religioso hanno provocato. Lo smarrimento di fronte alle sconfinate opportunità di una vita da persona libera. Il disagio e la paura di non essere amata da Dio per questo. In questa scena il ruolo ormai rivestito da June di esempio e guida si palesa nella verità fondamentale condivisa con la bambina per affrontare le sue paure.
Ognuno deve poter essere libero di diventare nella vita ciò che è senza temere il rifiuto di Dio. Perchè il suo amore è incondizionato.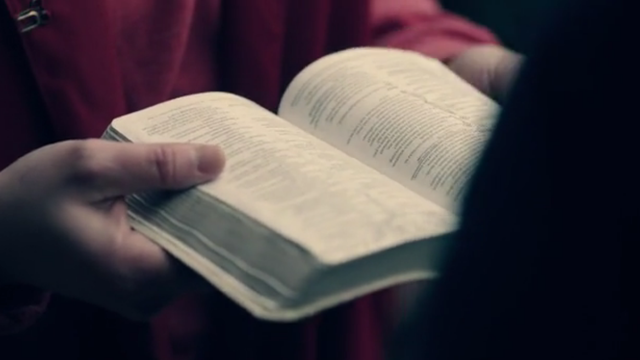 Categorizzare chi sia degno o meno dell'amore di Dio è stato un affare di potere voluto più dall'uomo che dai princìpi religiosi di per sè. Gilead ha dimenticato che questi dovrebbero restare circoscritti a quanto detto dalla bambina durante la preghiera.
"Donar cibo a chi ha fame, acqua a chi ha sete e una famiglia a chi si sente solo."
L'essenzialità dimenticata di una religione che predica umiltà, fratellanza e amore per il prossimo. Mai a scapito della libertà. Qualcosa di inestimabile che June ha intenzione di regalare ai bambini pronti per il volo di mezzanotte. Perchè ogni bambino abbia il diritto di crescere libero. E ogni bambina in special modo, di leggere e amare senza subire mutilazioni. Di scegliere se e quando essere una moglie e/o una madre. Qualcosa che vale la pena difendere anche a costo di essere spietati. Una carta crudele ma vincente appresa da June in quelle gabbie, e in cinque anni di stupri e violenze. Ma non abbastanza da uccidere la Marta lasciata scappare dopo aver cambiato idea sulla fuga. Un gesto umano, che a Gilead, purtroppo, significa subire delle conseguenze. Quasi mai positive.
Viviamo così una mezz'ora di alta tensione. Assistiamo trepidanti a una fuga che sembra impossibile ma si realizza ancora una volta grazie al sacrificio di June. E di chi ha deciso di restarle accanto.
Dopo messaggi in codice, muffin e sussurri nei supermercati, la Resistenza si palesa in tutta la sua tenacia nei sassi lanciati da ancelle e Marte contro i soldati armati. L'azione, mirata a distogliere la loro attenzione dalla strada, permette a Rita di portare indisturbata tutti i bambini sull'aereo. La scena presenta dei buchi di trama che vanno dal numero dei soldati al fatto che nessuno veda ben cinquanta bambini attraversare una strada e salire su un aereo. Eppure risulta ancora molto potente nella sua forma. Il momento è concitato e raggiunge la massima criticità durante l'inseguimento di June, conclusosi con l'ancella a terra. Ferita ma non meno letale. Nella sorte riservata all'Occhio dalla donna risiede tutta la spietatezza appresa da June.
Nello scorso episodio abbiamo visto come la sua trasformazione fosse ormai completa. Ora sappiamo che è proprio questo ad aver permesso alla piccola Rebecca di riabbracciare il suo vero padre in Canada. E ad altri cinquanta bambini di poter conoscere il sapore unico della libertà. La trasformazione di June in un'assassina spietata all'occorrenza, può sembrare a tratti un finale dolceamaro. Tuttavia capiamo quanto ne sia valsa la pena dall'espressione di Moira alla vista dei bambini appena giunti in Canada.
Sentire la piccola Rebecca chiedere candidamente "Signorina, qui possiamo vestirci come vogliamo?" regala allo spettatore un'emozione senza prezzo. Una delle scene più belle di The Handmaid's Tale nella sua disarmante tenerezza.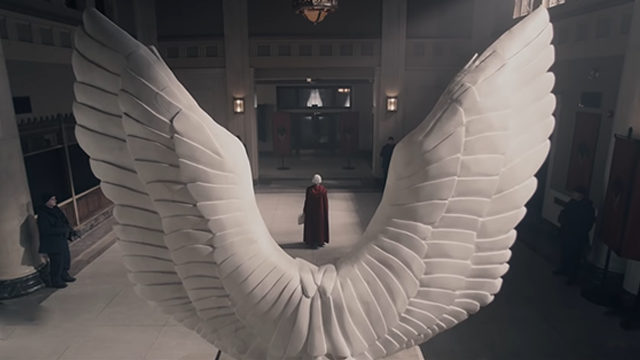 Pensare che tutto questo sia stato possibile grazie a June permette di comprendere più facilmente la scelta degli sceneggiatori di concludere questa stagione con l'immagine dell'ancella ferita trasportata dalle sue compagne come una moderna e distopica versione femminile di Gesù Cristo. I versi della Bibbia riportati in sotto fondo sottolineano ancora una volta il contrasto tra le finalità che la religione dovrebbe perseguire – aiutare gli oppressi – e quelle che invece ha nella realtà, spesso di natura tutt'altro che misericordiosa.
Finisce così un altro capitolo di The Handmaid's Tale. Con un punto di domanda circa la sorte di June nella prossima stagione molto simile a quello lasciato dal finale dell'anno scorso. Ma stavolta in una Gilead molto diversa. Entrambi i Waterford sono finalmente al cospetto di una legge che li giudichi come criminali. Nick è completamente sparito dai radar. E nel cuore del regime c'è ora una ferita ben più profonda della fuga di Emily con Nichole.
The Handmaid's Tale ci ha regalato quasi sempre tensione, paura, inquietudine. Stavolta, invece, una breccia fatta di speranza che porta con sè la conquista del più prezioso dei beni: la libertà.
Sia lode.